Society Pass (SOPA) has Acquired and is Operating in Six Verticals, With More to Come.
Society Pass currently has its fingers in the Travel, Fashion, Food Delivery and Video Advertising markets. Operating as an Incubator in the lucrative SouthEast Asia market, they have made eight acquisitions in short order (under two years) and are on schedule to make dozens more, in the coming years.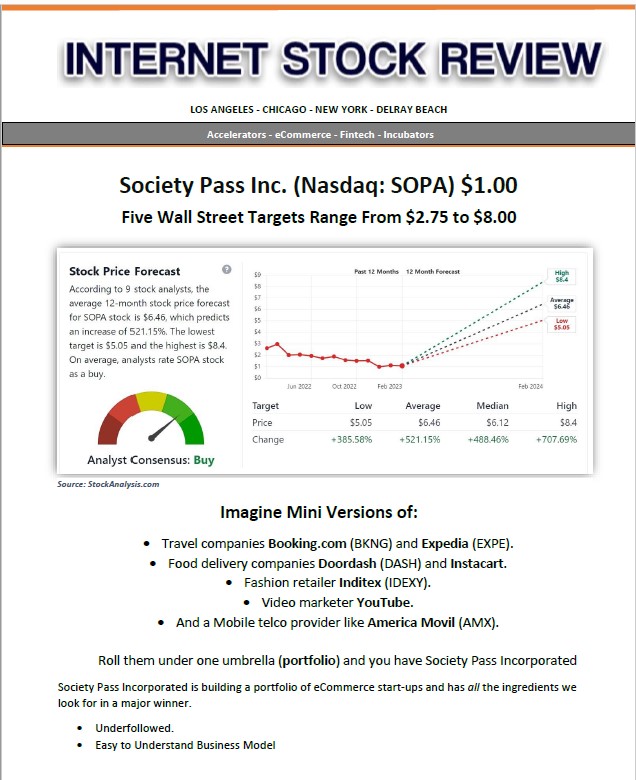 With each acquisition, they move closer to finding an entity which on a stand-alone basis could be valued in excess of $100 million or even grow to Unicorn status. Society Pass operates under the same principals as any venture capital firm, which is just one successful exit, can can be valued greater than a dozen fairly performing or underperforming investments.
While there may be little chance of any of the start-ups in Society Pass portfolio of catching up to the leaders, they don't need to, in order to be individually valued in excess of $100 million, and for the shares of Society Pass to run, with good operating performance. Especially when the entire portfolio (Society Pass's market capitalization) is valued at only only $28 million, despite having $19 million in the bank.
Consider this:
Travel: Booking (BKNG) valuation $99 billion, Trip.com (TCOM) $22 billion, Expedia (EXPE) $13 billion.
Fashion: Inditex (IDEXY) valuation $106 billion, Tapestry (TPR) $9.9 billion.
Food Delivery: DoorDash (DASH) valuation $22 billion, InstaCart $13 billion, Grab Holdings (GRAB) $10.6 billion, Delivery Hero (DHERF) $9.3 billion.
Video, Photo Network Advertising: TikTok $200 billion, YouTube $180 billion, Instagram $34 billion, Pinterest $18 billion.
Society Pass with a little of all of the above verticals in their portfolio: $28 million and again, with $19 million in the bank.
Could the future hold the acquisition of an Asian social media network like Facebook, or a Asian Dating app like Bumble, Match or Tinder? Only time will tell. In the meantime, we wouldn't dream of selling!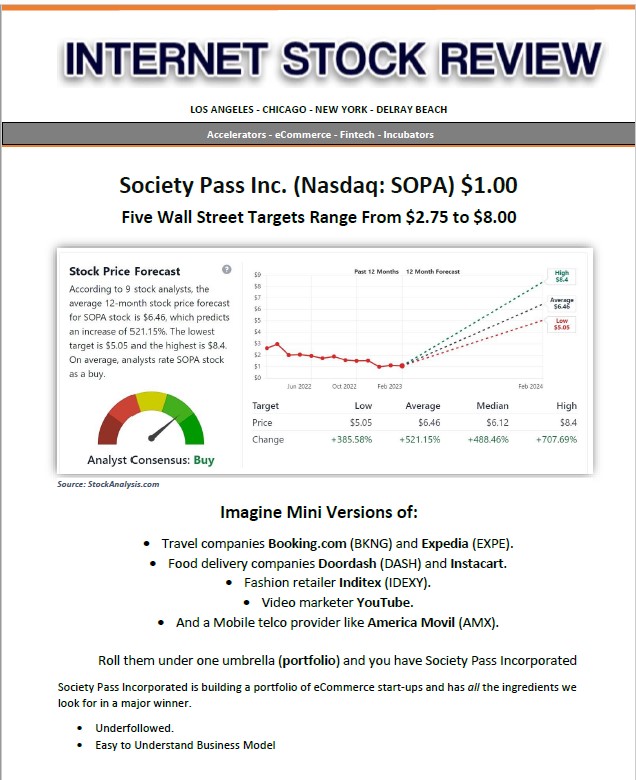 #SOPA, $SOPA
News coverage client, please see report for 17b disclosure and disclaimer details.