Adding to 2023 Biotech Stock Review Watch List. We Think This One Has Legs.
Starting Due Diligence Now.
It takes us about 15 minutes after talking to most management teams, to think "go or pass." We came to the "go" conclusion after 15 minutes, though we spent another 45 minutes with the Company, going though the slide presentation.
They had us at 15 minutes, but as every minute went by, we got more and more excited.
The share price has been beaten down to a $52 million market cap, despite their having $59 million in the bank, which management believes can take them to "..achieve corporate milestones and fund operations into 2026."
We read that as "enough money to achieve corporate milestones, the kind that can spur the share price significantly higher!" Of course they won't say that, but we're experts at reading between the lines.
Without getting too scientific, the story is about treating Pericarditis. What is Pericarditis you ask? If it sounds somewhat familiar, it's probably because it (and Myocarditis) have made the mainstream press, because of young athletes falling to the ground mid-game and dying and how it may also be related to mRNA vaccines.
Pericarditis is inflammation of the lining outside the heart and Myocarditis is inflammation of the heart muscle. Pretty simple stuff.
Here's just one article from Fortune magazine, there are hundreds if not thousands of articles:
Strokes, heart attacks, sudden deaths: Does America understand the long-term risks of catching COVID?
Note this isn't a "covid play." It's an inflammation play.
Pericarditis and Myocarditis has been around for ages, but the Florida Department of Health found that the mRNA vaccines are associated with an 84% increase in cardiac-related adverse events among males 18-39 years old. So it's in the news.
Here are the 'big picture' numbers – which to us translates into how many patients could use this drug some day, if approved.

An important thing to be aware of is that having an 'inflamed' heart isn't a death sentence.
What is does mean though is debilitating chest pain, shortness of breath, and depression. And what that means is…visits to the hospital. And if that can be prevented, insurance companies get interested, as those are the folks who would ultimately pay for this type of treatment.
If we could provide cost per treatment math, then we'd have something you could really get excited about and start talking about the "B" word as in billions.
We are aware that one FDA approved treatment (Rilonacept) for patients who have more than three reoccurrences' per year, costs $150,000 annually. Hmm.
That's made by Kiniksa (KNSA) which has a market cap of $749 million.
But this report is just a heads-up, so we won't go into that, though we intend to in a follow up report, if the Cardiol decides to work with us to provide news coverage for them.
This is just the date and price timestamp of where we got interested enough, to add it to the Watch List for our track record, which as of late (and since 2002) been quite stellar.
Come Back and See us in a Year!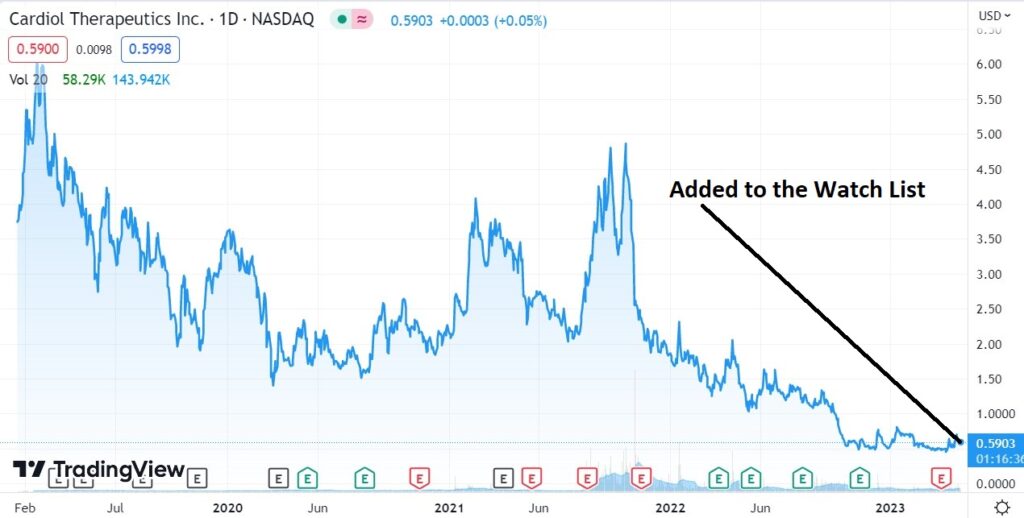 So it's official, we like this (maybe love once we study further) at $0.59. Start your due diligence now.

NEWS
Cardiol Therapeutics Announces Year-End 2022 Update on Operations
POWERPOINT (which is what got us excited)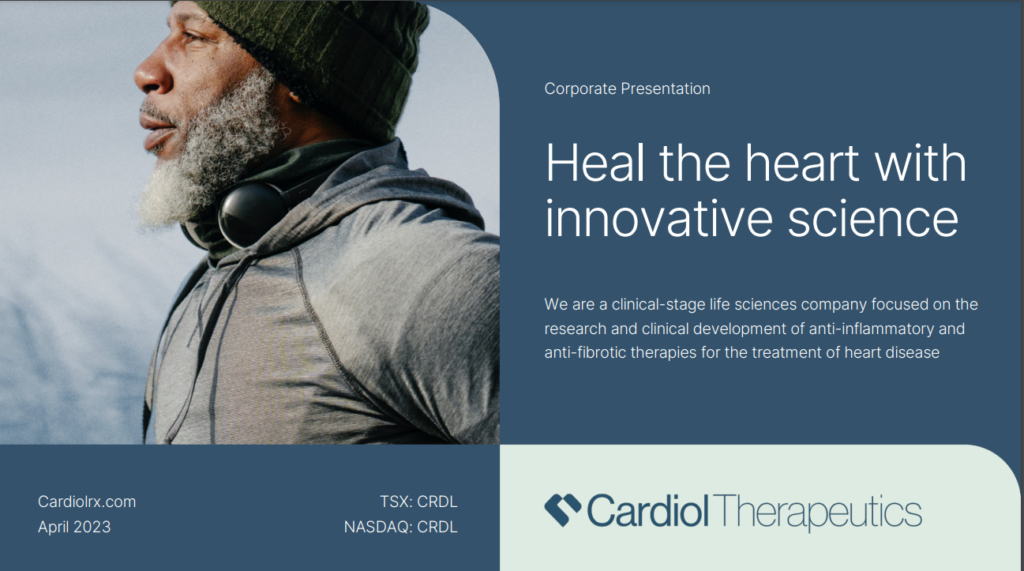 DISCLAIMER
For more information about Cardiol Therapeutics, please visit cardiolrx.com.
Cautionary statement regarding forward-looking information:
This news release contains "forward-looking information" within the meaning of applicable securities laws. All statements, other than statements of historical fact, that address activities, events, or developments that Cardiol believes, expects, or anticipates will, may, could, or might occur in the future are "forward-looking information". Forward looking information contained herein may include, but is not limited to, statements relating to the Company's focus on developing anti-inflammatory and anti-fibrotic therapies for the treatment of heart disease, the Company having enough capital to achieve its corporate milestones and fund operations into 2026, the molecular targets and mechanism of action of the Company's product candidates, Cardiol being well positioned to pursue its objective of developing new treatment options to improve health and quality of life for patients with heart disease, the Company's Phase II open-label pilot study being designed to evaluate improvement in objective measures of disease, the Company's ARCHER study being designed to study the safety and tolerability of CardiolRx, as well as its impact on myocardial recovery, the Company's expectation that the ARCHER study will enroll 100 patients, the authors of a clinical study concluding that manufactured cannabidiol may represent a novel therapy for treating pericarditis, the Company's expectations that its corporate milestones will be key drivers of shareholder value over the next 12-24 months, the completion of patient enrollment in the Company-sponsored Phase II open-label pilot study investigating the tolerance, safety, and efficacy of CardiolRx™ in patients with recurrent pericarditis, the completion of patient enrollment into the ARCHER, the Company's Phase II multi-national, double-blind, randomized, placebo-controlled trial designed to study the safety and tolerability of CardiolRx™, the Company's intended clinical study and trial activities and timelines associated with such activities, the Company's plan to advance its novel subcutaneously administered drug formulation of cannabidiol as a potential anti-fibrotic and anti-inflammatory therapy for use in heart failure and the Company's plan to advance the development of a novel subcutaneous formulation of CardiolRx™ for use in heart failure. Forward-looking information contained herein reflects the current expectations or beliefs of Cardiol based on information currently available to it and is based on certain assumptions and is also subject to a variety of known and unknown risks and uncertainties and other factors that could cause the actual events or results to differ materially from any future results, performance or achievements expressed or implied by the forward-looking information, and are not (and should not be considered to be) guarantees of future performance. These risks and uncertainties and other factors include the risks and uncertainties referred to in the Company's Annual Report dated March 28, 2023, as well as the risks and uncertainties associated with product commercialization and clinical studies. These assumptions, risks, uncertainties, and other factors should be considered carefully, and investors should not place undue reliance on the forward-looking information, and such information may not be appropriate for other purposes. Any forward-looking information speaks only as of the date of this press release and, except as may be required by applicable securities laws, Cardiol disclaims any intent or obligation to update or revise such forward-looking information, whether as a result of new information, future events, or results, or otherwise. Not a client, though we would like them to be.
For further information, please contact:
Trevor Burns, Investor Relations +1-289-910-0855
trevor.burns@cardiolrx.com
$CRDL