Peloton just reported the $805 million for three months worth of business ended September. That's $9 million worth of fitness everyday. And the machines don't even do anything. It's not like a car, press the peddle and you're off. YOU have to do all the work. You go America!
It was however the third straight down consecutive quarter. Here's the September quarterly year over year. 2019 – $228M, 2020 – $757M, 2021 – $805M.
Have the Sellers Overdone it? Only Time Will Tell – Earnings Transcript Out (below).
So Much For Safety in Numbers!
YEARLY

QUARTERLY

10 PAST QUARTERS

---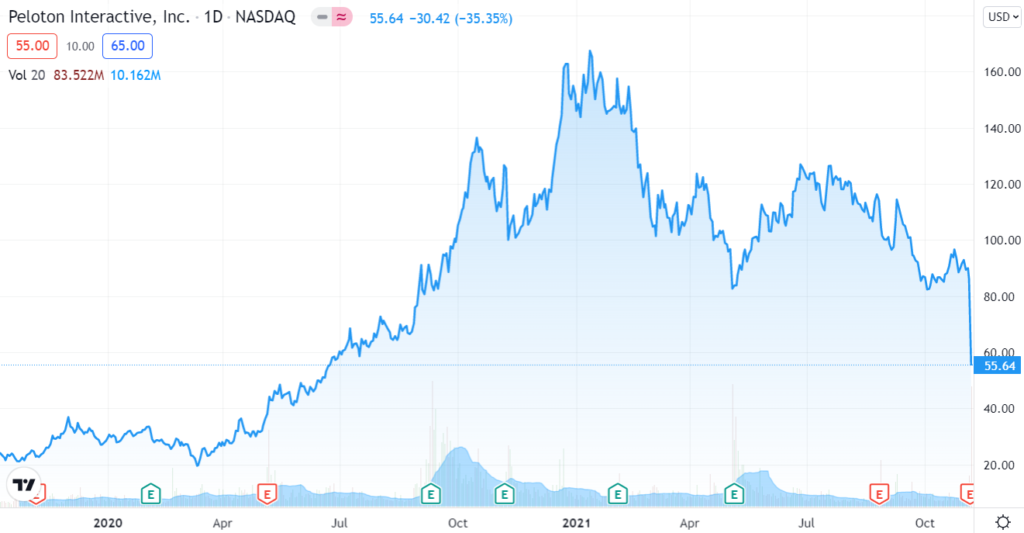 ---
Users love being connected – as opposed to working out watching Oprah or Duck Dynasty on their basement TV, like they did a decade ago.
Connected fitness product sales, which made up 62% of Peloton's total revenue, dropped 17% to $510 million. Subscription revenue was up 94% to $304.1 million. Peloton reported 2.49 million connected fitness subscribers, up 87% year-over-year.
The pandemic thing was of course a welcome boost to business, but we think that the widely reported pandemic phenomenon, masked the boost from enabling users to track health parameters, such as pulse rate and calories, and much more – is being overlooked as a permanent and 'HIGH-MARGIN' change to the landscape.
The Global Wellness Fitness Institute reports 28 million steaming on demand subscribers in 2019 (not sure if that was just US or 'international.')
OUR FAVORITE INDUSTRY BULLET POINTS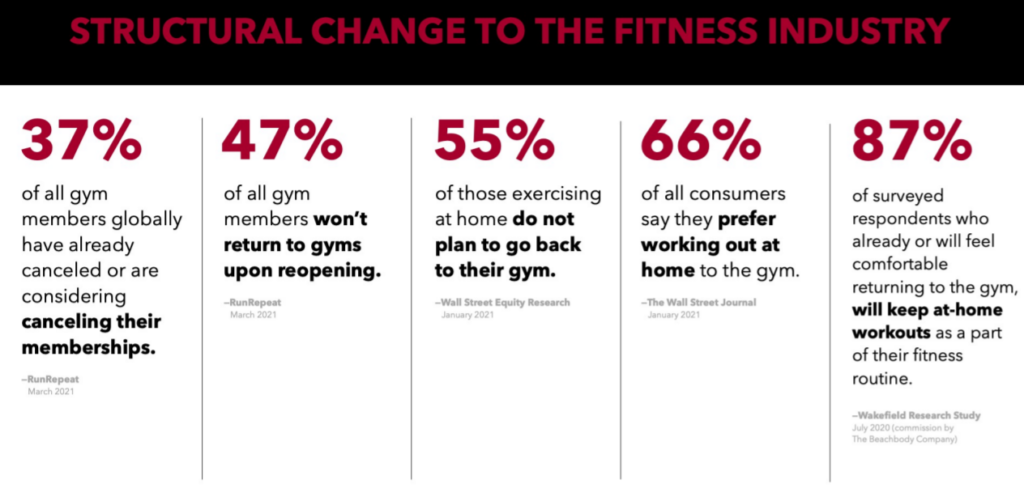 Street Ratings & Price Targets:
Bank of America has a Buy rating and lowered the price objective from $138 to $112.
MKM Partners has a Neutral rating and slashed the price target from $130 to $70.
Raymond James has a Market Perform rating.
KeyBanc has an Overweight rating and lowered the price target from $155 to $110.
Needham has a Buy rating and cut the price target from $130 to $105.
Telsey Advisory Group has a Market Perform rating and cut the price target from $135 to $70.

Did we mention they have they ended the quarter with $924 million of cash and marketable securities and have additional liquidity in the form of an untapped $285 million credit facility.
Macquarie Capital analyst Paul Golding in a research note to clients reiterated an Outperform rating with an $85 price target. Long-time Peloton bear Simeon Siegel at BMO Capital Markets reiterated an Underperform rating and issued a $45 price target.
---
Q1 2022 Earnings Call Transcript (Motley Fool Transcribing)
A few select excerpts:
We remain committed to our goal of winning connected fitness, and our long-term thesis of fitness moving into the home is unchanged.
We firmly believe at-home fitness customers will want one subscription for a comprehensive home fitness platform, and we are determined to be that one subscription.
Ask any bike member who joined the platform three years ago to compare the experience today versus when they purchased their bike, there's no comparison.
The original bike price reduction accelerated sales, allowing us to convert more price-sensitive households.
…our global Peloton member community now stands at over 6.2 million. Engagement per connected fitness subscription totaled 16.6 workouts per month..
In the quarter, we continued to aggressively invest behind content and new software features for our members. We produced over 2,500 new classes and launched features requested by our members.
Sales and marketing expense was 35.3% of total revenue versus the prior year period of 15.1%.
Our revised full year revenue forecast is $4.4 billion to $4.8 billion, representing 14% year-over-year growth and a 59% two-year CAGR at the midpoint of the range. Our revised outlook for full year fiscal '22 is a loss of $425 million to $475 million on an adjusted EBITDA basis.
It is clear that we underestimated the reopening impact on our company and the overall industry. We know the positive impact we are having on our members' lives.
We love what we do, and we have never been more excited about our future than we are today. With that, I'll turn it over to the operator for questions.
PS. Nautilus numbers (NLS) – are out next Tuesday. It's down 66% from its March high. Talk to you after. We smell sector opportunity here – for long term investors, looking two plus years out!
Everyone loves quoting Warren "Be fearful when others are greedy and greedy when others are fearful." And so here we are and what are most investors doing?
We have additionally found two other fitness companies of great interest. Hmm.