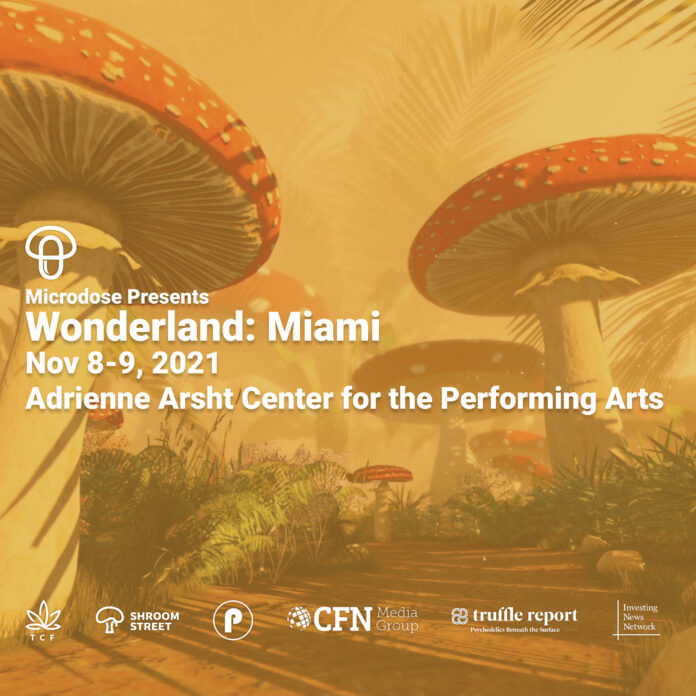 Plenty of public companies making an appearance. Way outnumbered by the experts and 'thought-leaders' from the medical community – but we can all get along!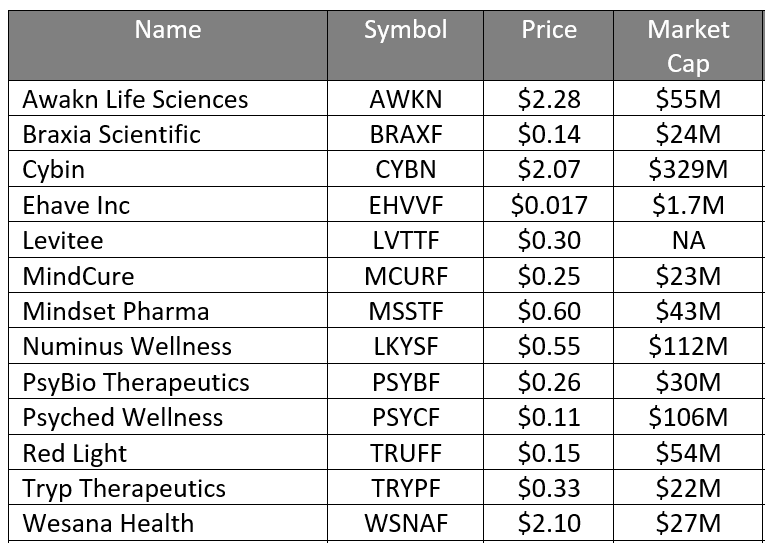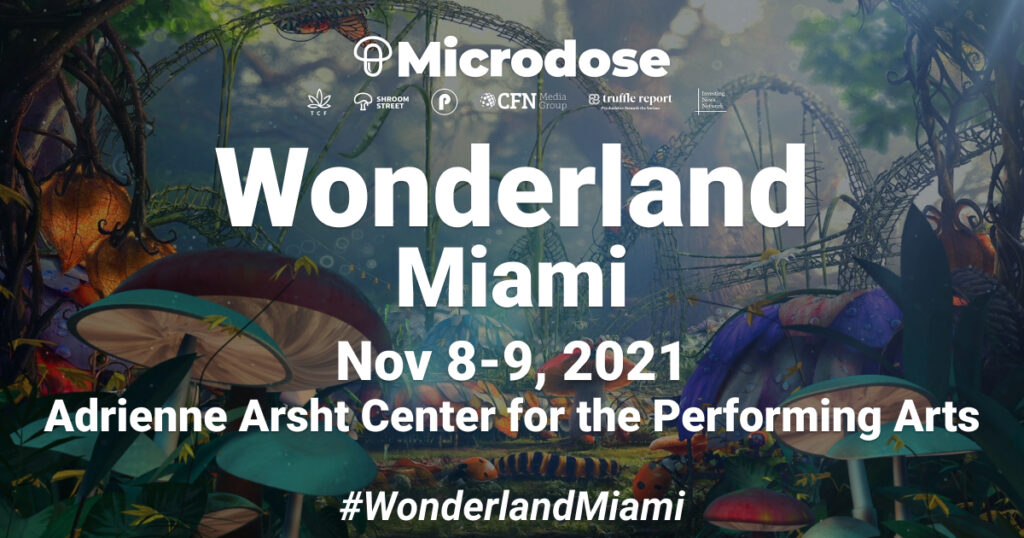 Awakn Life Sciences (AWKNF) Awakn Life is a biotechnology company with clinical operations, developing and delivering psychedelic therapeutics (medicines and therapies) to better treat addiction. Awakn's team consists of world leading chemists, scientists, psychiatrists, and psychologists who are developing and advancing the next generation of psychedelic drugs, therapies, and enabling technologies to treat addiction. Awakn will deliver these evidence backed psychedelic therapies in clinics in the UK and Europe and through licensing partnerships globally.
Braxia Scientific (BRAXF) Braxia Scientific is a medical research company with clinics that provide innovative ketamine treatments for persons with depression and related disorders. Through its medical solutions, Braxia aims to reduce the illness burden of brain-based mental disorders such as major depressive disorder among others. Braxia is primarily focused on (i) owning and operating multidisciplinary clinics, providing treatment for mental health disorders, and (ii) research activities related to discovering and commercializing novel drugs and delivery methods. Braxia seeks to develop ketamine and derivatives and other psychedelic products from its IP development platform. Through its wholly owned subsidiary, the Canadian Rapid Treatment Center of Excellence Inc., Braxia currently operates multidisciplinary community-based clinics offering rapid-acting treatments for depression located in Mississauga, Toronto, Ottawa, and Montreal.
Cybin (CYBN) Cybin is a leading ethical biopharmaceutical company, working with a network of world-class partners and internationally-recognized scientists, on a mission to create safe and effective therapeutics for patients to address a multitude of mental health issues. Headquartered in Canada and founded in 2019, Cybin is operational in the USA, UK and Ireland. The Company is focused on progressing Psychedelics to Therapeutics by engineering proprietary drug discovery platforms, innovative drug delivery systems, novel formulation approaches and treatment regimens for mental health disorders.
Ehave (EHVVF) Ehave (EHVVF) Ehave, Inc. is a provider of digital therapeutics delivering evidence-based therapeutic interventions to patients. Our primary focus is on improving the standard care in therapeutics to prevent or treat brain disorders or diseases through the use of digital therapeutics, psychedelics, independently or together, with medications, devices, and other therapies to optimize patient care and health outcomes meeting privacy and HIPAA & GDPR Compliant. Our main product is the Ehave Dashboard which is a mental health informatics platform that allows clinicians to make objective and intelligent decisions through data insight using Blockchain technology. The Ehave dashboard offers Offline Encrypted Digital Records Empowering Healthcare providers and patients and it's a powerful machine learning and artificial intelligence platform using artificial intelligence to extract deep insights from audio, video and text to improve research with a growing set of advanced tools and applications developed by Ehave and its leading partners. This empowers patients, healthcare providers, and payers to address a wide range of conditions through high quality, safe, and effective data-driven involvement with intelligent and accessible tools.
Levitee (LVTTF) Levitee is establishing itself as a leader in the integrative wellness space. Through leveraging an M&A regimen that focuses on the centralization of complementary integrative wellness assets, Levitee aims to transform mental health and addiction treatments through the integration of psychedelic medicines and therapies. The Company's current portfolio of assets includes: Levitee Clinics™, a group of five operating addiction and pain treatment clinics in Alberta; Levitee Pharmacies™, three pharmacies operating in Alberta specializing in filling prescriptions for patients with substance use disorders, mental health conditions, and chronic pain; BlockMD, the first technology company in Alberta to receive provincial approval for electronic-prescriptions in the addiction treatment space; and Earth Circle Organics, a direct-to-consumer and wholesaler of supplements and superfood products with 180+ SKUs in its product lineup across three brands.
MindCure (MCURF) Mind Cure Health ("MINDCURE") is a life sciences company focused on innovating and commercializing new ways to promote healing and improve mental health. The company is developing digital therapeutics technology and researching psychedelic compounds to support access to safe, evidence-based psychedelic-assisted therapies globally.
Mindset Pharma Inc. (MSSTF) Mindset Pharma Inc. is a drug discovery and development company focused on creating optimized and patentable next-generation psychedelic medicines to treat neurological and psychiatric disorders with unmet needs. Mindset was established in order to develop next generation pharmaceutical assets that leverage the breakthrough therapeutic potential of psychedelic drugs. Mindset is developing several novel families of next generation psychedelic compounds, as well as an innovative process to chemically synthesize psilocybin as well as its own proprietary compounds.
Numinus Wellness Inc. (LKYSF) Numinus Wellness helps people to heal and be well through the development and delivery of innovative mental health care and access to safe, evidence-based psychedelic-assisted therapies. The Numinus model – including psychedelic production, research and clinic care – is at the forefront of a transformation aimed at healing rather than managing symptoms for depression, anxiety, trauma, pain and substance use. At Numinus, we are leading the integration of psychedelic-assisted therapies into mainstream clinical practice and building the foundation for a healthier society.
PsyBio Therapeutics Corp. (PSYBF) PsyBio is an intellectual property driven biotechnology company developing new, bespoke, psycho-targeted therapeutics to potentially improve mental and neurological health. The team has extensive experience in drug discovery based on synthetic biology and metabolic engineering as well as clinical and regulatory expertise progressing drugs through human studies and regulatory protocols. Research and development is currently ongoing for naturally occurring psychoactive tryptamines originally discovered in different varieties of hallucinogenic mushrooms, other tryptamines and phenethylamines and combinations thereof. The Company utilizes a bio-medicinal chemistry approach to therapeutic development, in which psychoactive compounds can be utilized as a template upon which to develop precursors and analogs, both naturally and non-naturally occurring.
Psyched Wellness Ltd. (PSYCF) Psyched Wellness Ltd. is a Canadian-based health supplements company dedicated to the distribution of mushroom-derived products and associated consumer packaged goods. The Company's objective is to create premium mushroom-derived products that have the potential to become a leading North American brand in the emerging functional food category. The Company is in the process of developing a line of Amanita muscaria-derived water-based extracts, teas and capsules designed to help with three health objectives: promote stress relief, relaxation and assist with restful sleeping.
Red Light Holland Corp. (TRUFF) The company is an Ontario-based corporation positioning itself to engage in the production, growth and sale (through existing Smart Shops operators and an advanced e-commerce platform) of a premium brand of magic truffles to the legal, recreational market within the Netherlands, in accordance with the highest standards, in compliance with all applicable laws. Red Light Oregon is an Oregon-based company that is a 50/50 joint venture between Halo Collective Inc. and Red Light Holland Corp. Red Light Oregon is developing a commercialization strategy for Psilocybin Services in Oregon utilizing a holistic approach based on the latest neuroscience research and in accordance with Measure 109
Tryp Therapeutics Inc. (TRYPF) Tryp Therapeutics is a pharmaceutical company focused on developing psilocybin-based compounds for the treatment of diseases with unmet medical needs through accelerated regulatory pathways. Tryp's Psilocybin-For-Neuropsychiatric Disorders (PFN™) program is focused on the development of synthetic psilocybin as a new class of drug for the treatment of chronic pain and other indications. The Company has announced upcoming Phase 2a clinical trials with the University of Michigan and the University of Florida to evaluate its drug products for fibromyalgia and overeating disorders, respectively. Tryp is also developing a proprietary psilocybin-based product, TRP-8803, that uses a novel formulation and route of administration to improve the patient experience.
Wesana Health Holdings Inc. (WSNAF) Wesana Health is an emerging life sciences company championing the development of innovative approaches for better understanding, protecting and improving neurological health and performance. Through extensive clinical research and academic partnerships, Wesana Health is developing evidence-based formulations and protocols, including psilocybin-based therapies, that empower patients to overcome neurological, psychological and mental health ailments.
---
Over 14,000 Psychedelic Investors have downloaded the 2021 Psychedelic Investor Guide.
Subscribe to get your copy today.
For further information contact: Roland Rick Perry 310-594-8062