Adding Nautilus to the Watch List. Conference Call Transcript Below
New Street Targets at $15 per Share.
How often do you come across a Company reporting sales like this..
QUARTERLY

ANNUALLY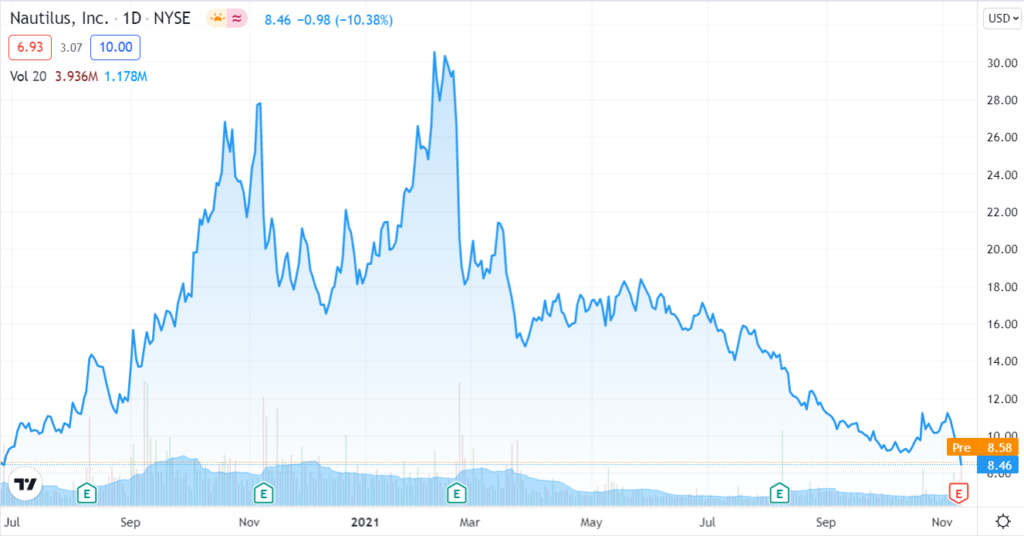 ---
Net sales were $138.0 million for the quarter, compared to $155.4 million, a decline of 11.2% versus last year — but up 2.3X the $61 million they reported a couple years back. Trailing 12 months numbers are $664 million. That's a lot of fitness.
Market valuation is at $8.50 is $260 million, so it's selling for 40% of sales. No, your eyes do not deceive you.
For comparison Peloton (PTON) the former and still current 'darling' of the industry – had trailing 12 month numbers of $4 billion. At $48 it's valued at $14 billion (down from $46 billion) so it's selling for 300% over sales.
RELATED: Peloton Plunges $9 Billion in Value, on a $805 Million Quarter!
If Nautilus was selling for 300% over sales – the stock would be selling for $25 per share.
If Peloton was selling for 40% of sales- the stock would be selling for $5.80 per share.
Interesting factoid, right? As is 75% of the Peloton holders are institutional. So much for that advantage institutions supposedly have – they're down $32 billion in 11 months- OMG!
CASH
Cash, cash equivalents, and restricted cash were $21.5 million, compared to cash, cash equivalents, restricted cash and available-for-sale securities of $113.2 million as of March 31, 2021. The decrease was primarily due to the strategic decision to increase on-hand inventory for the holiday season and the acquisition of VAY.
Inventory was $162.7 million, compared to $68.1 million as of March 31, 2021. The increase in inventory is driven by the strategic decision to increase on-hand inventory levels ahead of the fitness season given continued disruption in global logistics. About 40% of inventory as of September 30, 2021 was in-transit.
So this can easily be described as a 'value-play.' That's our story and we're sticking to it! The only issue we have is the miniscule amount of insider holdings – which is always at the top of our favorite features list. Oh well.
We'd love to find a small cap player in this sector with a ton of insider ownership. We're looking, maybe in Canada?
---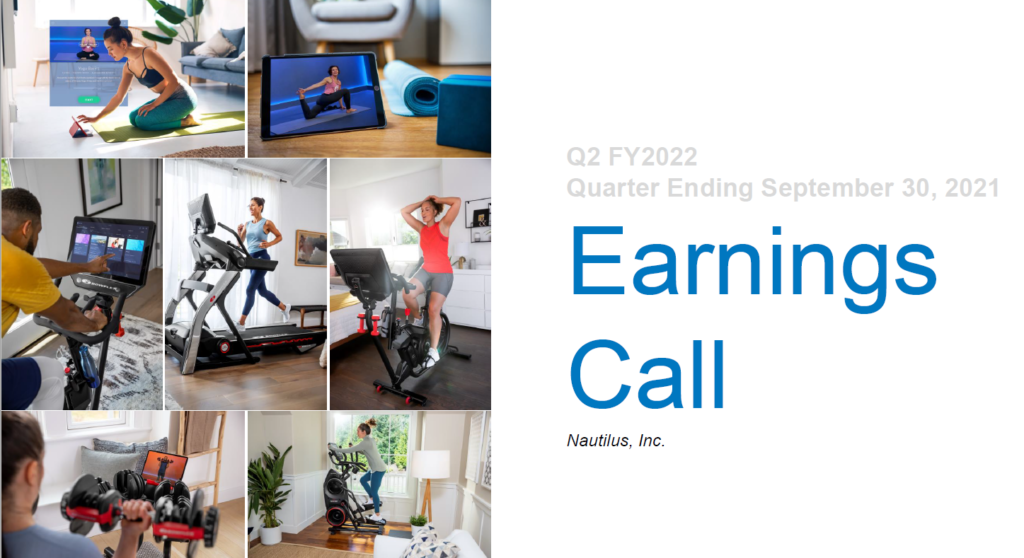 ---
RELATED: Peloton Plunges $9 Billion in Value, on a $805 Million Quarter!
---
Street Ratings & Price Targets

Institutional Investors

---
Q2 2022 Earnings Call Transcript (MotleyTranscripts)
A few select excerpts:
There is strong evidence that much of this market expansion may be permanent because the principal driver is profound and fundamental secular changes in workout attitudes and habits that favor home fitness.
Our frequent surveys continue to indicate that 25% of former gym goers do not intend to ever go back to the gym and that others who say they will return to the gym plan to work out more often at home than they did pre-pandemic due to remote or hybrid work models. Workout place is highly correlated with workplace.
Connected fitness and our transformation are still in early innings. I'm proud that we have positioned ourselves well during the pandemic for post-pandemic success. We now have a portfolio of new connected products, a strengthened JRNY digital offering.
For the first half, net sales were $323 million, a 28% comp to LY and a 215% comp to LLY excluding Octane. Keep in mind 2022 is comping against the pandemic sales in 2021. So we're quite pleased with our first six months' performance.
This quarter, we announced and completed the acquisition of VAY, a leader in motion and vision technology. This acquisition directly supports our aim to accelerate our software development capabilities and add new and innovative features to its JRNY platform, moving us closer to our vision for JRNY as your highly personalized one-on-one fitness coach.
VAY's proprietary technology enables computers to understand human motion using cameras on its computer vision software, analyzes movements, and provides real-time, individualized feedback and coaching on exercise. JRNY brings what we call entertainment beyond the class. And we provide all this at a great value, typically one-half to one-third of the price of our competition.
We were also excited to announce last week our latest connected cardio product, the new connected Bowflex Max Total 16. The new Max offers a 16-inch HD, touch screen and integration with the JRNY digital fitness platform. So users stay engaged and motivated during high-calorie burn interval workouts.
We've increased JRNY content, adding over 100 explore-the-world, immersive experiences, and have released hundreds of new trainer-led videos during the first half of the fiscal year.
While it is early, our growth is extremely promising. I am pleased to report that our current member count is approximately 200,000, more than three times the year-ago period when we had about 65,000 members.
We have improved our liquidity by increasing our line of credit to $100 million. This allowed us to deploy cash for tuck-in acquisitions like VAY, gave us working capital to invest in inventory, and importantly, gives us room to accelerate our long-term investments.
Given the continued disruption in global logistics, we made a strategic decision to bring inventory in earlier to be in a better position to meet peak seasonal demand. Our inventory is concentrated in our best-selling products, and we're incurring incremental storage and transportation fees to position us well for holidays.
We now expect JRNY members to be between 250,000 and 350,000 by the end of fiscal '22.
In closing, our liquidity position is strong. We've invested our cash in our best-performing inventory, and we have an expanded 100 million credit line. We are well prepared for the upcoming fitness season with a robust inventory position, strong digital offering, well-funded marketing, leading equipment connectivity, and a team passionate about our vision of creating a healthier world one person at a time.
Read the full transcript including the membership goal of 2 million and the margins related to the digital offerings.
Again, this may not be for traders – but investors looking out three years, could be amply rewarded for their patience.
Full report coming out soon. Subscribe to get your copy.

#NLS, $PTON