(We think a better headline would have been "Mission to be the World's Last Cigarette Brand Standing," but we didn't write it..)
Here's the big picture: 22nd Century starts selling its cigarettes in April of 2022, when the shares were trading near $30. Today after rolling out to 14 states, it's selling near $3.00. Will the rollout be a flop with 26 million smokers and the government on their side. Only time will tell, but we don't think so..
22nd Century Group (XXII) $2.11, Added to Watch List in July.
22nd Century Group, Inc. (Nasdaq: XXII) is a leading agricultural biotechnology company focused on improving health and wellness through plant science.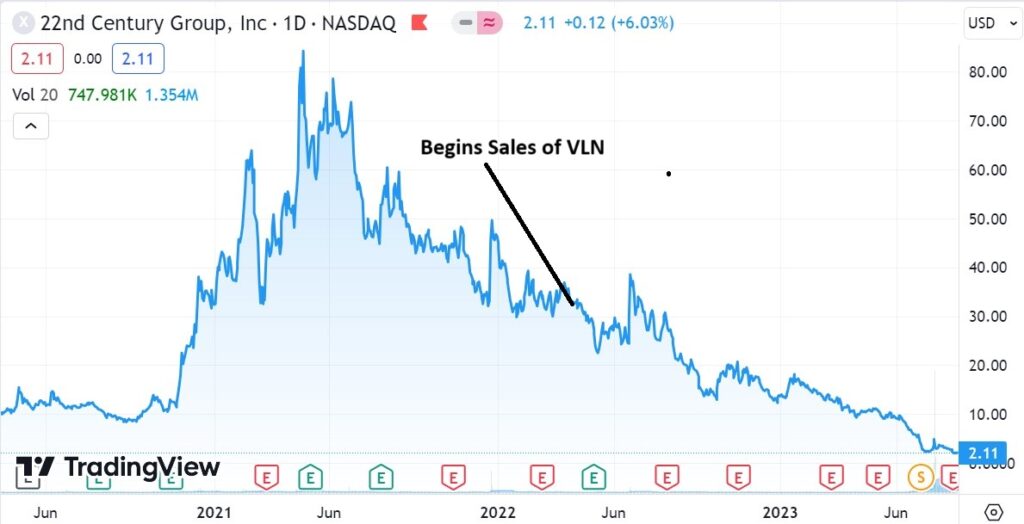 Our 10 Top Turnaround Situations Under $5.00.
"Our focus in 2023 remains 22nd Century's transformation from a primary emphasis on research and development to a fully commercial enterprise providing innovative harm reduction and consumer health and wellness products to key end markets."
"We have now significantly advanced our commercialization plan for VLN ® sales across targeted states, 14 of which are now in place and two more states scheduled in September." John Miller, interim Chief Executive Officer of 22nd Century Group.
---
One of 22nd Century Group's goals is to sell the last combustible tobacco cigarette before the start of the 22nd Century. To achieve this, we are now selling the world's first and only FDA-authorized reduced nicotine content cigarette, designed specifically to break the chains of nicotine addiction.
Using its proprietary VLN® tobacco plant lines that yield 95% less nicotine, 22nd Century's reduced nicotine content products are clinically proven to help existing adult smokers to smoke less.
VLN® products also align perfectly with the growing demand from government agencies to implement new tobacco harm reduction programs that reduce the negative health effects of nicotine and highly addictive combustible tobacco.
– C. Everett Koop, MD, ScD
SHORTER TERM CHART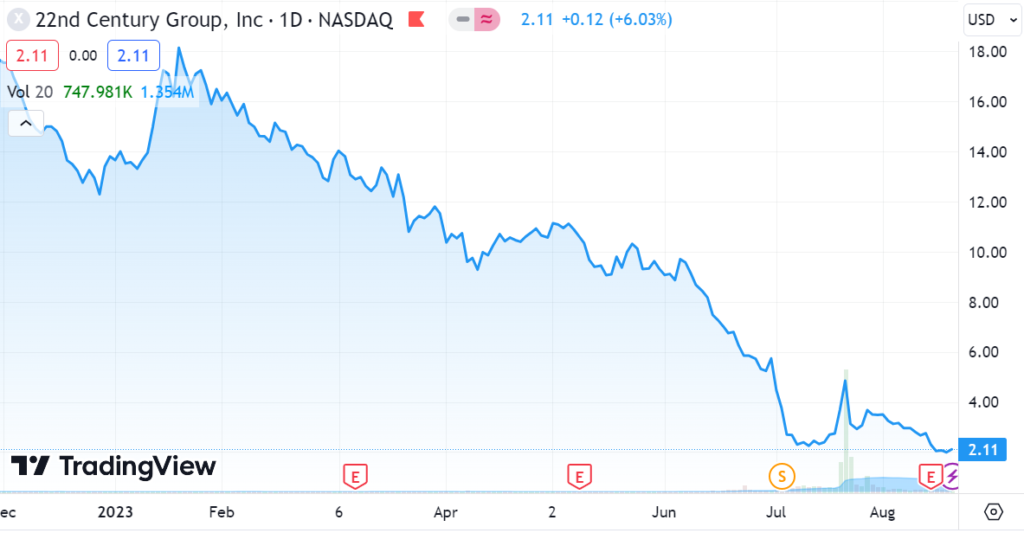 How Did We Get Here?
In 1994, Neal Benowitz, M.D., of the University of California, San Francisco, and Jack Henningfield, Ph.D., of the National Institute on Drug Abuse, proposed the implementation of federal regulations that limit the nicotine content of cigarettes to reduce nicotine dependence.1 Research shows that, at 95% reduced nicotine, cigarettes neither create nor sustain addiction, making it easier for currently addicted smokers to reduce their habit naturally and successfully over time.
This is accomplished by providing just enough nicotine to trigger the reward system and ward off withdrawal symptoms.In 2009, the FDA gained broad authority from Congress to regulate tobacco products through the Family Smoking Prevention and Tobacco Control Act, including the ability to implement such a strategy through FDA defined Tobacco Product Standards.
Although the Act prevented the Food and Drug Administration from requiring zero nicotine in cigarettes, the law permits the FDA to establish requirements for greatly reduced nicotine levels in cigarettes to benefit public health.
In July of 2017, the FDA reiterated the link between smoking-related illnesses, the addictive properties of nicotine, and the acute susceptibility of young people to nicotine addiction.
While continuing public health efforts have reduced the percentage of adults who smoke to around 11% of American adults (roughly 28 million people), nearly 16 million smokers live with smoking-related diseases that cause almost 500,000 deaths per year.
Millions more suffer from diseases associated with second-hand smoke.As a result, the FDA launched evidence-based policy initiatives to reduce smoking by lowering nicotine content in cigarettes to non-addictive levels and removing menthol and other flavoring agents that make cigarettes more attractive to young people.
Over the course of this century, these policies are expected to prevent 8 million tobacco-related deaths and stop as many as 33 million Americans from ever becoming addicted to cigarettes.
Tobacco consumption by country
Our Primary Mission in Tobacco is to Reduce the Harm Caused by Smoking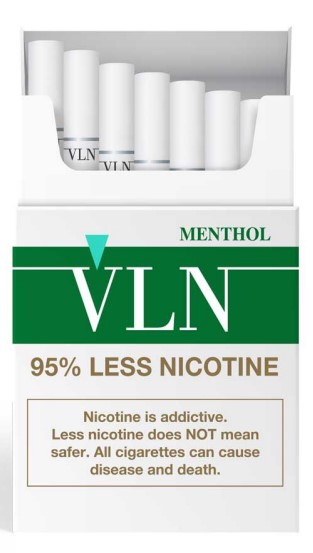 Through world-class plant research and breeding, 22nd Century Group has developed tobacco with 95% less nicotine than the tobacco typically used in today's highly addictive cigarettes. 22nd Century's reduced nicotine content tobacco is used to produce our innovative VLN® brand of reduced nicotine content cigarettes: the first and only FDA authorized cigarettes designed specifically to help smokers to smoke less.
The effectiveness of VLN® is backed by more than 160 independent, peer-reviewed, published, scientific studies that demonstrate the benefits of reduced nicotine content cigarettes. Those who smoke often find comfort and pleasure in the act of smoking itself. However, when the addictive level of full-strength nicotine is almost entirely eliminated, the pleasure of smoking is correspondingly diminished.
Several studies, in particular, were crucial for the FDA's acceptance of VLN®. In 2019, Benowitz et al. found that using very low nicotine cigarettes (VLNC) did not lead to greater "compensatory" smoking to make up for the lack of nicotine. So, those who smoke were not smoking more as their levels of nicotine intake diminished.2 In 2022, White et al. found that, when those who smoke switched to very low nicotine cigarettes (VLNC), they initially increased their puff intensity. However, in a mere four days, this smoking behavior normalized.3
Since smoking is often sustained in an attempt to abate withdrawal symptoms, it was important to assess VLN® in this context as well. In 2020, Robinson et al. found that using very low nicotine cigarettes disrupted this feedback loop over the course of 6 weeks.4 Furthermore, in 2021, Carroll et al. found the benefits of VLNC for smoking attenuation applied to all, regardless of race/ethnicity, educational attainment, or gender.5 Remarkably, in 2022, Klemperer et al. found that, when those who had no interest in ceasing their smoking habit were trialed with VLNC, their smoking and nicotine dependence severity were reduced and remained reduced, even one month after the trial ended.6
FDA Must Finalize Rules to Prohibit Menthol Cigarettes and Flavored Cigars Without Delay
What We've Done
After extensive clinical testing and scientific review, the FDA has authorized both the VLN® King and Menthol King as lower risk tobacco products.
April 2022 marked the first commercial sales of VLN® as part of a limited pilot program. Late in 2022, we commenced our first commercial launch of the brand. Since then, 22nd Century has developed retail partnerships in 14 states and is targeting 4 more for VLN® distribution.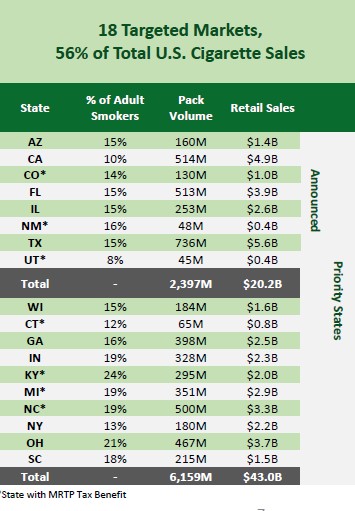 These 18 states are home to nearly 60% of the 28 million Americans who smoke. Unlike other products intended to help smokers smoke less, VLN® does not direct users to "go cold turkey" or even taper their usage to zero. Over time, the product itself gives those who smoke less and less incentive to continue.
The FDA's scientifically-based menthol ban and reduced nicotine content policies are directly supported by the VLN® product line. Due to their low nicotine content, VLN® Menthol King cigarettes could be exempt from the menthol ban, providing an important off-ramp to adult menthol smokers.
In response to interest by other nations, 22nd Century is advancing pilot VLN® programs in Switzerland, Japan, and South Korea. New Zealand's reduced nicotine mandate will take place in about 2 years. 22nd Century is already planning to scale its production to accommodate this market.
What We Still Need to Do
22nd Century is a small company in comparison to the corporations of "Big Tobacco." Nonetheless, we now provide an effective means for those who smoke to reduce or eliminate their habit. The costs to develop the VLN® strain of tobacco, scale its production, conduct scientific studies on its effectiveness, obtain regulatory approvals, secure wide distribution networks, and create effective marketing have been and continue to be enormous.
To secure greater brand recognition, shelf space, and revenue while VLN® was reviewed by the FDA and launched, 22nd Century provided contract manufacturing for conventional cigarettes. We are currently fulfilling an agreement to produce the full-strength nicotine brand, Pinnacle, for a convenience store retail chain. Sales of Pinnacle and other products will help fund VLN® production and distribution at this critical time.
22nd Century Adds Private Label Brand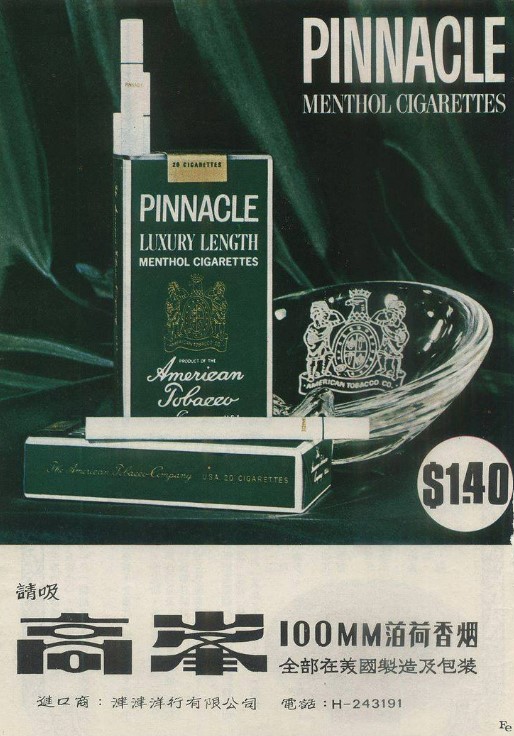 So, how will Pinnacle fit into 22nd's long term strategy for VLN®? First, Pinnacle will always be a manufacturing contract, not a 22nd Century brand. At present, the revenue from this contract is supporting the launch of VLN®.
Pinnacle's success can provide adult smokers with an economical alternative in the near term, while funding the launch of VLN® to help them eliminate their nicotine addiction entirely when they are ready to reduce their smoking.
We are firmly committed to our mission to sell the world's last combustible tobacco cigarette. As we expand our business into hemp/cannabis and hops, we fully expect these product lines to be the prime movers of our company in the future. Our main objective of harm reduction through reduced nicotine content cigarettes has not changed.
What will it take to make VLN® a stand-alone financial success?
On January 30, 2023 the Federal Trade Commission announced that 190 billion cigarettes were sold in the US in 2021. This comes out to roughly 950 million cartons. (200 cigarettes per carton.)
According to the Centers for Disease Control, Philip Morris USA, Reynolds American Inc., ITG Brands, and Liggett provided 92% of these cigarettes. Securing only a small fraction of the overall market, even just 1%, will enable VLN® to sustainably help those who wish to reduce their cigarette usage and nicotine intake.
Given that about 70% of those who smoke in the US would like to reduce or eliminate their habit, there are nearly 20 million Americans who could benefit from and are currently searching for a product like VLN®.
There will be ample opportunity to achieve this goal as VLN® becomes more broadly available and better known in the market.
This has been a long journey, requiring extensive effort, great expense, skillful navigation through many obstacles, and staunch resolve in the face of detractors and naysayers.
We have successfully cleared all these hurdles and are now "Go for Launch" to do our part in putting an end to the harms of cigarette smoking. At 22nd Century Group, we feel a healthier future for all of us is worth it.
Sources
Benowitz, N. L., Henningfield, J. E. Reducing the nicotine content to make cigarettes less addictive. Tobacco Control, 2013;22:i14-i17. http://dx.doi.org/10.1136/tobaccocontrol-2012-050860
Benowitz, N. L., Donny, E. C., Edwards, K. C., Hatsukami, D., & Smith, T. T. (2019). The Role of Compensation in Nicotine Reduction. Nicotine & tobacco research: official journal of the Society for Research on Nicotine and Tobacco, 21(Suppl 1), S16–S18. https://doi.org/10.1093/ntr/ntz120
White, C. M., Watson, C., Bravo Cardenas, R., Ngac, P., Valentin-Blasini, L., Blount, B. C., Koopmeiners, J. S., Denlinger-Apte, R. L., Pacek, L. R., Benowitz, N. L., Hatsukami, D. K., Donny, E. C., Carpenter, M. J., & Smith, T. T. (2022). Early Changes in Puffing Intensity When Exclusively Using Open-Label Very Low Nicotine Content Cigarettes. Nicotine & tobacco research: official journal of the Society for Research on Nicotine and Tobacco, 24(11), 1798–1802. https://doi.org/10.1093/ntr/ntac118
Robinson, J. D., Kypriotakis, G., Al'absi, M., Denlinger-Apte, R. L., Drobes, D. J., Leischow, S. J., McClernon, F. J., Pacek, L. R., Severson, H. H., Smith, T. T., Donny, E. C., Luo, X., Jensen, J. A., Strayer, L. G., Cinciripini, P. M., & Hatsukami, D. K. (2020). Very Low Nicotine Content Cigarettes Disrupt the Feedback Loop of Affective States and Smoking Behavior. Nicotine & tobacco research: official journal of the Society for Research on Nicotine and Tobacco, 22(8), 1294–1300. https://doi.org/10.1093/ntr/ntz209
Carroll, D. M., Lindgren, B. R., Dermody, S. S., Denlinger-Apte, R., Egbert, A., Cassidy, R. N., Smith, T. T., Pacek, L. R., Allen, A. M., Tidey, J. W., Parks, M. J., Koopmeiners, J. S., Donny, E. C., & Hatsukami, D. K. (2021). Impact of nicotine reduction in cigarettes on smoking behavior and exposure: Are there differences by race/ethnicity, educational attainment, or gender?. Drug and alcohol dependence, 225, 108756. https://doi.org/10.1016/j.drugalcdep.2021.108756
Klemperer, E. M., Luo, X., Jensen, J., al'Absi, M., Cinciripini, P. M., Robinson, J. D., Drobes, D. J., McClernon, J., Strasser, A. A., Strayer, L. G., Vandrey, R., Benowitz, N. L., Donny, E. C., & Hatsukami, D. K. (2022). Smoking abstinence and cessation-related outcomes one month after an immediate versus gradual reduction in nicotine content of cigarettes. Preventive medicine, 165(Pt B), 107175. https://doi.org/10.1016/j.ypmed.2022.107175
Cautionary Note Regarding Forward-Looking Statements
Except for historical information, all of the statements, expectations, and assumptions contained in this press release are forward-looking statements. Forward-looking statements typically contain terms such as "anticipate," "believe," "consider," "continue," "could," "estimate," "expect," "explore," "foresee," "goal," "guidance," "intend," "likely," "may," "plan," "potential," "predict," "preliminary," "probable," "project," "promising," "seek," "should," "will," "would," and similar expressions. Actual results might differ materially from those explicit or implicit in forward-looking statements. Important factors that could cause actual results to differ materially are set forth in "Risk Factors" in the Company's Annual Report on Form 10-K filed on March 9, 2023. All information provided in this release is as of the date hereof, and the Company assumes no obligation to and does not intend to update these forward-looking statements, except as required by law.