TrueNature (TNTY) Has Spent the Past Year Gearing Up. News of a Launch and First Incubation Effort Could be Around the Corner and Attract Widespread Investor Attention. Adding to Watch List @ $0.02 – Happy Halloween.
Incubators have been one of our favorite investment vehicles over the past two decades – which for a variety of reasons have nearly vanished from the publicly traded markets, with both venture capital and private equity markets (and dollars) taking their place.
Investing in an incubator isn't like giving your money to a venture capital firm to manage. Investing in an incubator is like investing in the venture capital firm itself. Big difference.
---
While not a VC, look no further than the difference between investing directly into Blackrock shares (BLK) when they went public in 1999, versus investing your money in Blackrock mutual funds the same year.
Investing In the Manger – Versus Investing With the Manager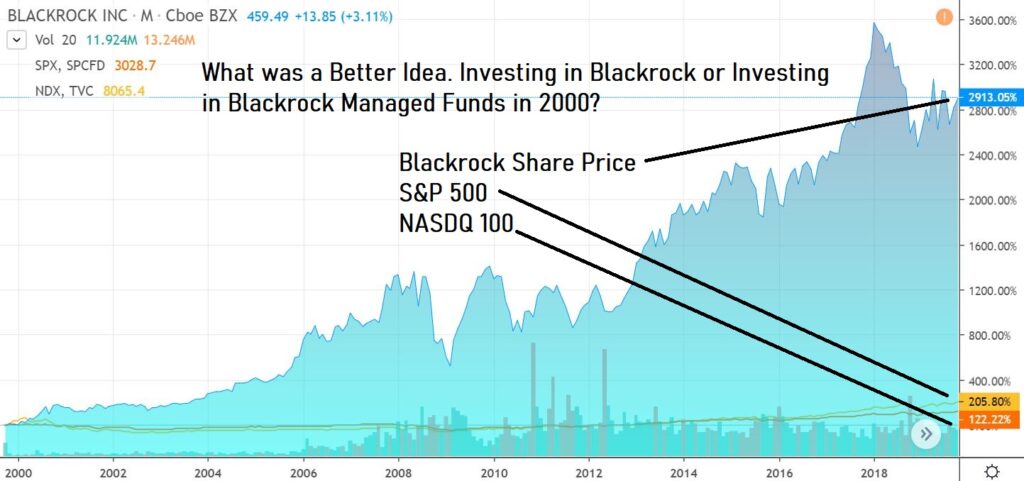 Moral of the story, why invest in a single Medtech company or Medtech mutual fund, when one can invest in a Medtech Incubator or a Medtech fund manager instead, which can benefit most from a well-constructed portfolio of holdings.

For investors looking for a Biopharma incubator – we recommend looking at Fortress Bio (FBIO) which we recently added to the Watch List at $1.70 which received a $20 price target from Wall Street Biotech Analyst Jason Kolbert.
---

This letter is a simple heads-up on True Nature (for future bragging rights) to timestamp both the price and date we advised speculative investors to take a serious look at what is currently developing at the company.
If we're right and the stock price increases ten or twenty-fold or even more like Blackrock*, we can brag because we published both the price and date. It's something which can't be taken back in the advent of the Internet. What you say or do on the Internet – is forever and instantly retrievable. If we're wrong, we'll have egg on our face. But we don't think a meeting with a carton of eggs is in cards. Far from it, when stars align.
Where all the stars have aligned in True Nature's instance (as in why buy now), is that while the founders were off busy spending the past year building both a management team and the infrastructure to launch their grandest of plans – individual investors got bored and sold. Add to that a little convertible debt (less than $400,000) from a sector of Wall Street which always sells, whether bored or not – and the end result is a $0.02 stock and what we believe is that rare opportunity that only comes along when all the stars align.
Time and Date: Halloween, October 31st, 2019. Price: $0.02. Put a reminder in your calendar, to check back on Halloween 2021.
True Nature is a don't judge the book by the cover price opportunity – for those willing to read our upcoming research report which will delve into the gameplan, the amazing team brought in from $100 million companies, their target list of investments and the categories that they'll seek to find the best of possible companies or technologies to build a robust portfolio of high-potential medical service and technology start-ups.
The report will additionally cover certain aspects of preferred stock contemplated which might be utilized to fund acquisitions in addition to funding operations, which has us very excited. It's truly cutting edge Wall Street financial engineering.
The press release of the potential offering is what gave us the impetus to call and sign them as a client. We interviewed the recently installed management extensively prior to agreeing to work with them and were very impressed.
The big picture concept at True Nature is quite simple – which essentially having a publicly-traded company with extensive Wall Street connections – using those connections to place small but fast-growing medical startups under its umbrella – in exchange for a stake. The stake can be partial, full or a licensing to or from type relationship, potentially including royalties. For sure only time will tell what they uncover and how the deals are structured.
What will bring investor attention to the company will be news of acquisitions – meaning that they are executing on their game plan. The more news, the more attention. This we know for certain.
What we also know for certain is not every portfolio addition will be successful. We know this from extensive work with incubators back in 1998-2001 as Editor of the Incubator Stock Review where we had success with long-forgotten names like CMGI which increased 5,700% in value, from a split-adjusted cost basis of $1.85, to over $108. And Rare Medium which has increased from $4.50 to a high of $94, or gain of 1,988% and a market capitalization which increased from $100 million to over $2 billion. Those were the days.
The beauty of the incubator model is not every portfolio company has to be a major success. In fact, in some instances, it only takes one. We worked with an incubator called Circle Group Holdings in 2002 which saw it's first four portfolio companies flounder and then the fifth portfolio addition take off and the share price rise from $.26 to $9.00. Our best performing client ever.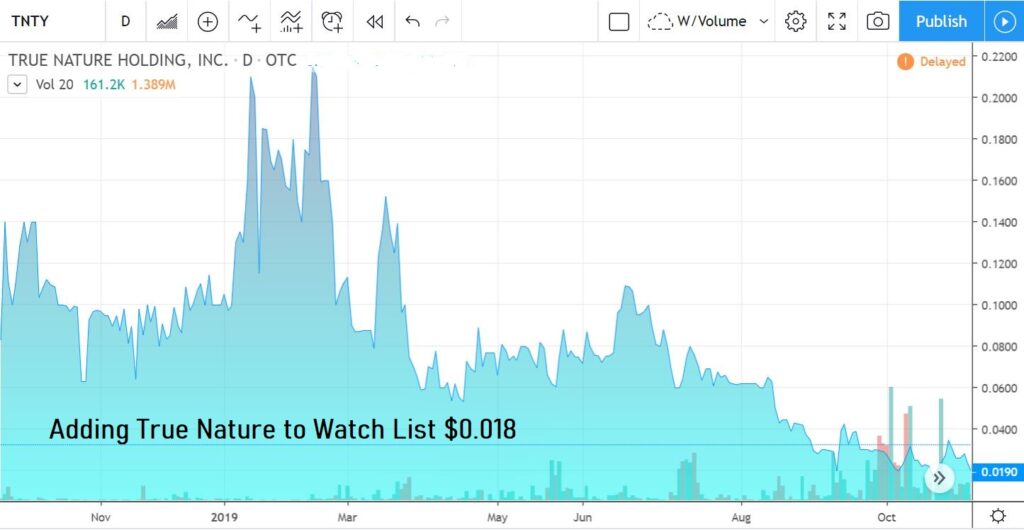 Subscribe to receive the upcoming full report on True Nature.
*For the record, while we had the opportunity to invest our client's money in Blackrock in 1999 via broker-dealers in the syndicate, sadly – we did not. One of those 'major-life-regrets.'
(Client, see research report for disclaimer and disclosure details or click here).