Listen to Today's Conference Call at 5:00 PM EST to Find Out for Yourself.
What the, look at these numbers! And they've yet to deploy (and benefit), from the millions and millions they raised a few months ago at $10. This is in our opinion the cheapest Cannabis play we follow. Even if you don't like cannabis stocks* you have to listen in on the shareholder call. Like come-on!
Interested participants and investors may access the conference call by dialing (877) 524-8416 (domestic) or (412) 902-1028 (international).
In April they estimated (to be discussed in tonight's call) that the first quarter alone – to be nearly as much as half of what they did in all of 2020. That would be up 174% from the $4.3 million they reported at the same time last year to near $12 million.
And it traded flat on the estimate news? How is this even possible?
---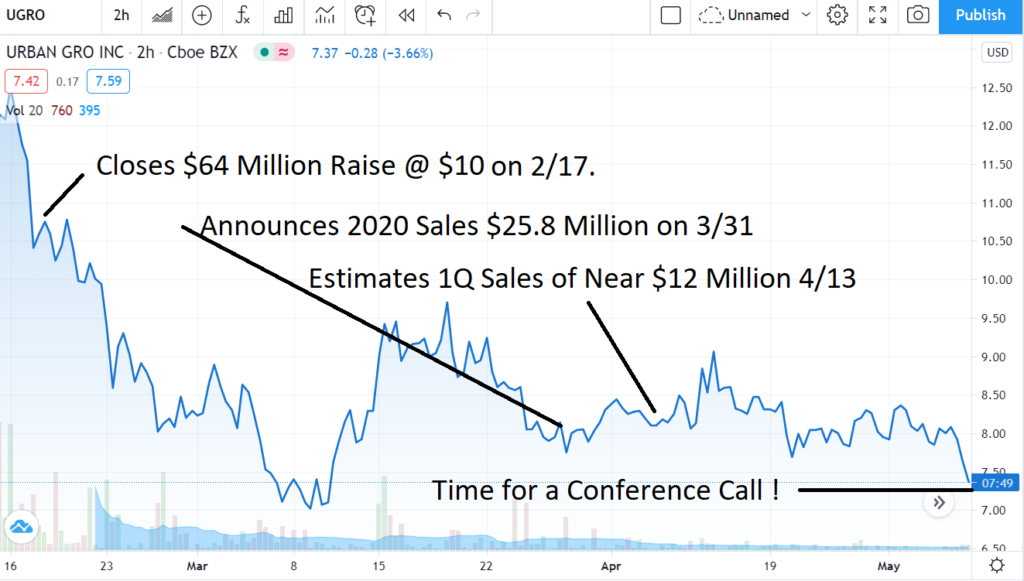 * urban-gro in reality is much more than a cannabis play in that the hydroponic facilities they help build and operate – are being built for all types of indoor growing farmers. In 2020, they signed 77 new engineering and design project contracts, including six new projects in Europe. This is one of the most impressive hydroponic plays on Wall Street, in our opinion.
---
RELATED: Wall Street has taken notice and the four leading players have quietly raised a combined $493 million in the last three months alone. While they do not garner the headlines of a Tilray or Canopy Growth, combined these four 'Ponics' have a market value now approaching $7 billion. Wall Street Pounces on Hydroponics.
RELATED: The market opportunity for vertical farming is expected to grow at a high rate over the coming years, propelled by the cannabis industry growth trajectory, so the firm enjoys considerable industry tailwinds in its favor. SeekingAlpha
---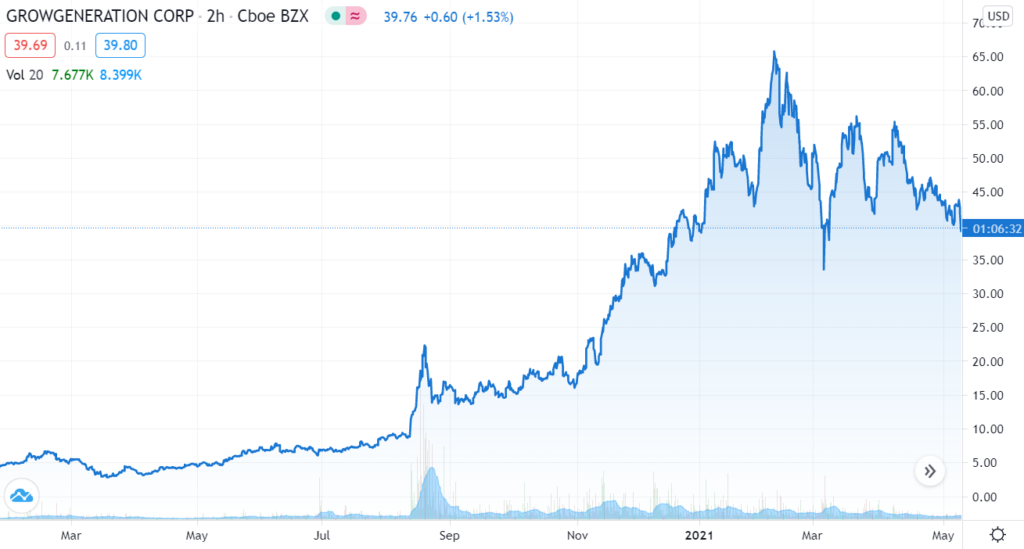 ---
urban-gro, Inc. to Report First Quarter 2021 Financial Results and Host Conference Call
Company to host conference call and audio webcast on Tuesday, May 11th at 5:00 PM ET
LAFAYETTE, Colo., May 04, 2021 (GLOBE NEWSWIRE) — urban-gro, Inc. (NASDAQ: UGRO) ("urban-gro" or the "Company"), a leading global horticulture company that engineers and designs commercial Controlled Environment Agriculture ("CEA") facilities and integrates complex environmental equipment systems, today announced it will report its first quarter 2021 financial results on Tuesday, May 11, 2021. The urban-gro management will host a conference call and live audio webcast to discuss the operational and financial results at 5:00 PM ET that same day.
The call will be led by Bradley Nattrass, Chief Executive Officer and Chairman of urban-gro, who will be joined by Dick Akright, Chief Financial Officer of urban-gro. Interested participants and investors may access the conference call by dialing (877) 524-8416 (domestic) or (412) 902-1028 (international). The live webcast will be accessible on the Events page of the Investors section of the urban-gro website, urban-gro.com , and will be archived for 90 days following the event.
About urban-gro, Inc.

urban-gro, Inc. (NASDAQ: UGRO) is a leading engineering design and services company focused on the commercial horticulture market. We engineer and design commercial Controlled Environment Agriculture ("CEA") facilities and then integrate complex environmental equipment systems into these high-performance facilities. Operating in the global market, our custom-tailored approach to design, procurement, and equipment integration provides a single point of accountability across all aspects of growing operations. Visit urban-gro.com to learn more.

urban-gro Investor Relations Contact:

Jenene Thomas
Chief Executive Officer
JTC Team, LLC
T: 833.475.8247
[email protected]
Safe Harbor Statement | Disclaimer
This press release contains forward looking statements within the meaning of Section 27A of the Securities Act of 1933, as amended, and Section 21E of the Securities Exchange Act of 1934, as amended. When used in this release, terms such as "believes," "estimates," "should," "could," "would," "plans," "expects," "intends," "anticipates," "may," "forecasts," "projects" and similar expressions and variations as they relate to the Company or its management are intended to identify forward-looking statements. Such forward-looking statements are based on current expectations, forecasts, and assumptions that involve risks and uncertainties that could cause actual outcomes and results to differ materially from those anticipated or expected, including statements related to the demand for our services and products, our ability to manage the adverse effect brought on by the COVID-19 pandemic, our ability to execute on our strategic plans, our ability to achieve positive cash flows or profitability, our ability to achieve and maintain cost savings, the sufficiency of our liquidity and capital resources, and our ability to achieve our key initiatives for 2021. A more detailed description of these and certain other factors that could affect actual results is included in the Company's filings with the Securities and Exchange Commission. Readers are cautioned not to place undue reliance on these forward-looking statements, which speak only as of the date hereof. The Company undertakes no obligation to update any forward-looking statements to reflect events or circumstances after the date hereof, except as may be required by law.
Institutional Analyst Inc. (IA) and Revelers.IO Media Group Inc., (RIO) Disclaimers: Past performance of other companies added to Institutional Analyst's various newsletters or otherwise mentioned in its research reports, newsletters or communication is no indication of future performance of any current or future companies mentioned. This publication is a Corporate Profile and may not be construed as investment advice. This profile does not provide an analysis of any Company's financial position and is not a solicitation to purchase or sell securities of the Company. Readers should consult their own financial advisors with respect to investment in this or any company covered by the Reviews. An independent financial analyst should verify all of the information contained in this profile with the profiled company. Institutional Analyst, Inc. the parent company of the Internet, Biotech and Marijuana Stock Review is an investment research and public relations firm, and associated firms are compensated or seek to compensated from all of the Companies it reports on or provides coverage for. Revelers.IO Media Group Inc. is a web design firm which manages IA's websites and digital initiatives. In preparing this profile, the Publisher has relied upon information released from the companies, which although believed to be reliable, cannot be guaranteed. This profile is not an endorsement of the shares of the company by the publisher. The publisher is not responsible for any claims made by the company. You should independently investigate and fully understand all risks before investing in this and any company profiled or covered by the publisher. The majority of startup companies have factors, which create uncertainty about their ability to continue as a going concern. These concerns are typically related to dilutive toxic financing (or lack of), competitive environments, lack of operating history and operating at loss levels which is typical of most start-ups. These statements can be found in their most recent 10Q filings and should most definitely be read. Safe Harbor Statement under the Private Securities Litigation Reform Act of 1995: The statements which are not historical facts contained in this profile are forward-looking statements that involve certain risks and uncertainties including but not limited to risks associated with the uncertainty of future financial results, additional financing requirements, development of new products or services, government approval processes, the impact of competitive products or pricing, technological changes, the effect of economic conditions and other uncertainties detailed in the Company's filings with the Securities and Exchange Commission. It should be assumed we are negotiating with all the Companies in our reports. If/when negotiations are completed to provide investor or public relations services which includes reports, reporting and/or progress coverage, full disclosure and disclaimer details are contained in each report we publish. Impartial, we are not. Email: [email protected]