Revive Therapeutics Nears FDA-EUA Approval or Non-approval, for Bucillamine its Novel Anti-inflammatory and Antioxidant. Bucillamine 'Boosts' Glutathione, a Natural Substance Found in Virtually all Human Cells.
While no compound undergoing testing with the FDA comes with the assurance of regulatory approval, as Revive steps closer to approval, we tend focus less on price action prior to approval and focus more on potential price action after approval.
Like..what can happen to the share price in the months (not days) after approval. Meaning ignoring the 'willy-nilly' wild and crazy price action the day or week of approval, created by day traders. The kind who trade stocks like they're playing a video game.
Like..what significant events can happen after approval, that can significantly affect the price action and overall valuation.
We hope you're thinking about post-approval deeply, as we feel as most investors are not. Post-approval trading is something that is very important for investors to prepare for. We can sum the investment thesis as "Okay, it's approved – now, what does the Company do next?"
Here we're limited only by our imagination with regards to potential significant events, and we have a very fertile imagination. So, we'd like to share with you our thoughts of one possibility, which is therapy drugs being used for lockdown prevention. Hmm.
---
First, note that prior to approval we have witnessed the following mishaps — numerous times. A mishap is when a regulatory decision, approval or non-approval, is counter to what an investor was anticipating.
MISHAPS:
Prior to an approval anticipation date, the share price gains steam as the decision date nears. Sometimes as much as 200 or even 300%. This is the most nerve-wracking scenario. Does the investor take the bird-in-hand?

Or hang tight and go for the two in the bush? Since this is a mishap example, the approval doesn't come (even if they have money to attempt to later correct trial deficiencies) and the 300% gain is gone in a matter of moments as investors shoot first and ask questions later. Maybe it trades 50% below the investors purchase price. As in "oh well, better luck next time."

Prior to an approval anticipation date, the share price loses steam as the decision date nears, sometimes as much as 50% from where the Phase III trial started. So, the investor sells, in fear the weakness means 'smarter' investors know something he or she doesn't.

Then an approval comes, and the 50% loss is recouped in an hour, often further doubling or more from the previous day close and the investors purchase price. As in "Why me, now what do I do?"
Those are just two of the examples of why we don't obsess about pre-approval trading. Trial results and pre-approval trading are beyond an investors control.
WHAT TO START FOCUSING ON:
Again, if Bucillamine doesn't get approved (or more data needs to be collected) there is really nothing an investor can do other than to think "better luck next time, or better luck later." It really depends on the actual FDA wording.
Some investors will sell ASAP at the open. Some will wait for a post-panic bounce and then sell. Some will sell even lower, when no post-panic bounce comes. And of course, there will buyers (mostly day-traders) with too much time on their hands and with too many strategies to list.
Our strategy as with nearly every biotech's in our portfolio, is that since approval is something beyond our control, why bother focusing on it all. Whatever happens is going to happen. Yes, we look at some features of the trial protocol, but our base assumption is an approval is coming, cross our fingers and hope for the best.
---
POST APPROVAL FOCUS:
We recommend investors to start thinking about post-approval now. While rare, trials can also be halted EARLY – so there is no time left to 'getting-around' to strategizing.
As publicly announced, management is hoping for regulatory related news about their Phase III trial to be released next month. So, if you're in the stock do it now. If you're on the sidelines watching, do it now.
Press Release: Revive Therapeutics (RVVTF) Moves a Step Closer to FDA Verdict for Its Novel Covid Treatment.
RELATED: We BTW had a great time with Immunomedics (old symbol IMMU) which got an early approval while Goldman Sachs was predicting no-approval.
Immunomedics (IMMU) up 100% Today or $2 Billion in Value.
Short story, it traded from $8 to $18 on the early approval, then drifted up to $30 took a rest, then drifted to $40. It wanted to rest again in the $40's, but an $87 buyout came from Gilead (GILD) worth $21 billion. It was valued at $285 million when we added it to the Watch List.

The investors who did not have a post-approval strategy were selling and celebrating at $18.00 – in short, giving away the winning lotto ticket. Don't' be that guy (or gal). Meaning selling 'just' because it was up.
Various Judgment 'Day' Scenarios
It is our opinion; that the majority of Revives current investors have grown impatient with the FDA approval process. As the share price was as high as $0.60 in late 2021, some are waiting to recoup a loss, and some are simply looking for a one-day pop. In our opinion, most of these investors have had their finger on the sell button, this entire year.
Don't get us wrong, there are many very sophisticated investors who have a well laid out plan for post-approval trading in Revive – but they're just not the majority.
If it trades down, most investors will be confused wondering "that's it?" And sell. When they should be buying.
If its trades sideway, moderately up or down most investors will be confused wondering "that's it?" And sell. When they should be buying.
If it wildly trades higher (200 or 300% higher) most legacy shareholders will be selling to new buyers, as the opportunity has been 'de-risked' with the approval risk eliminated. An approval typically brings a larger number of investors as well as larger sized investors who have deep understanding of what can happen in the months and even years (yes years) post approval.

Admittedly we have no day of, or week of, approval buy or sell notions. Here's why: And this is solely an imaginary extreme volatility notion, for let's call it entertainment purposes.

Let's say the shares go to $3.00. A trader who is also a long-term investor with a list of events that could happen in the weeks, months or years ahead, could sell at $3.00 in a feeding frenzy, with the intention to get back in later.

He or she then gets on their knees, clasp the hands together and prays to the stock-market gods that day-traders come out, as fast as they got in and it retreats back to $2.00. There the investor can reload with a full or partial proceeds from earlier sales, for the longer-term.
Nice dream. We don't do that, but many others do. For us, long-term means just that. Long-term. Just saying.
---
NORTH KOREA AND LOCK DOWN PREVENTION
Okay, here we go, imagining the previously unimagined..
Know in advance, preventing lockdowns is our notion of what the Company might do, or what might happen under the 'events that might happen' scenario.
We'll go into much greater details about additional possible events in another upcoming report. Many of the possibilities were covered in our original report (see page 17, 'Potential for Large Order).
REPORT: New Report: First Vaccines, then Antivirals. Will the Anti-Inflammatory Be the Next Success Story in the War Against Covid?
Looking at the current Covid landscape, the idea of PREVENTING lockdowns popped into our head this weekend as a very important potential benefit of taking the drug. And why not?
There is an enormous economic impact to a country when it decides to go on lockdown. Thus, it provides an enormous incentive for Governments to write checks to Companies like Revive and Pfizer, which has Paxlovid their 'day you test positive' treatment.
Both Revive and Pfizer's endpoints for EUA approval were to prevent hospitalization and/or death. While the reports of hospitalization and death have lessened dramatically in the recent months, lockdowns have not. In fact, they're on the rise.
So, we're thinking if Revive (on approval) and/or Pfizer can prevent hospitalization, why in the world would any country need to go on lockdown in the first place. Especially in countries where there is a lack of storage facilities where the vaccine can be stored at -94 degrees Fahrenheit. That's colder than winter in Antarctica!
Especially when globally, recessions are looming, and interest rates are going up. A lockdown during a recession with record high interest rates, what country can afford that kind of economic pounding?
Factually the cost of ordering enough Buccilamine or Paxlovid (or Veru's Sabizabulin (VERU) if approved) for the people who do get Covid, is just a tiny fraction of the cost fraction compared to hospitalization or the even higher cost of a lockdown.
We could go on and on about which countries are facing lockdown risk, but let's just look at what going on in North Korea (despite being a long shot because they're not so friendly). The country has a population of 25 million, largely unvaccinated and is at high-risk of spiraling out of control.
Again, this is just our our notion, but it sure would be nice if they ordered 10 million doses to protect their population from a lockdown. Are we wrong?
Shanghai, also making lockdown news headlines, has a population of 25 million, in case your imagination is running wild like ours. Plus, they are much more friendly! That's another potential 10 million doses. And Australia, of course loves a good lockdown, even more than NYC.
The beauty with some of these countries (for therapy providers)), is unlike the US, is that their control over the population could mean a quick and easy clinical trial (if a US approval isn't sufficient enough for them). North Korea could order 10,000 doses and have a trial started and finished in two weeks (with US State Dept approval). They just have to demand residents who tested positive to take the drug. On the spot, or else. Ditto for administering the pills to those who test positive. Unlike the US there ain't no "Ah, let me think about it." Take it or your off to a Korean prison camp – end of conversation.
Imagine the press release. "Kim Jong-un Orders 10,000 Doses of Bucillamine to Conduct its own Clinical Trial."
OMG, LOL! Odds of happening in Korea? Slim to none or preposterous, but IF it happened or if it happens in a less preposterous county*, we're off to Tahiti!
CNN reported two days ago, North Korean leader Kim Jong Un looks like he's in big trouble. His country has announced an "explosive" outbreak of Covid-19, reporting more than 2 million cases of what it refers to as "fever" in little more than a week since its first reported case. It has the potential to be a humanitarian disaster on the sort of scale that would threaten the grip on power of just about any government in the world.
North Korea is not known to have imported any coronavirus vaccines — despite being eligible for the global Covid-19 vaccine sharing program, Covax. Last year, it publicly rejected an offer of nearly three million doses of China's Sinovac Covid-19 vaccines.
North Korea is facing a Covid disaster. What does that mean for Kim Jong Un? (CNN)
Science magazine reported new cases of the illness—almost certainly COVID-19, caused by the Omicron variant of SARS-CoV-2—appear to be doubling every 2 days in the last significant population in the world, some 25 million people, that has no immunity to the disease from vaccination or infection.
"The outbreak is now nationwide," says Park, a global health specialist at Harvard Medical School. "We're looking at a major, major catastrophe."
The North Korean government has ignored past offers of COVID-19 vaccines, presumably to avoid international monitoring of vaccine distribution, humanitarian experts who have worked in North Korea say. But they believe the crisis—which North Korea's leader Kim Jong Un has acknowledged is causing a "great upheaval"—will in the coming days persuade the reclusive nation to request assistance.
Since late April, North Korean health authorities have tallied more than 1.2 million cases of symptomatic illness and 50 deaths, including six children. That's 5% of the population with symptoms.
North Korean officials have ordered a nationwide lockdown that confines people to their homes or workplaces, and students to their dorms.
If North Korea embraces outside assistance, topping Kee Park's list as a potential lifesaver is Paxlovid. The antiviral would reduce the number of patients who get seriously ill or die, easing the burden on North Korea's frail health system.
A 'malignant fever'—COVID-19—surges in North Korea. (Science magazine)
We smell opportunity in countries like this. And there you have it no more lockdowns!
For How Long Will North Korea Be Able to Sustain Its Lockdown?
China Struggles to Contain Frustration From Shanghai Covid Lockdown
---
*According to Our World in Data in low-income countries, just 5.5% of people have been fully vaccinated against the coronavirus. Burundi, the Democratic Republic of Congo and Haiti are the least vaccinated countries in the world against Covid-19, data has shown. In Yemen, where civil war has been raging since 2014, less than 2% of the population has been vaccinated against Covid. South Sudan, where disputes over power-sharing are still rife even after its civil war officially ended in 2018, also has a vaccination rate of around 2%.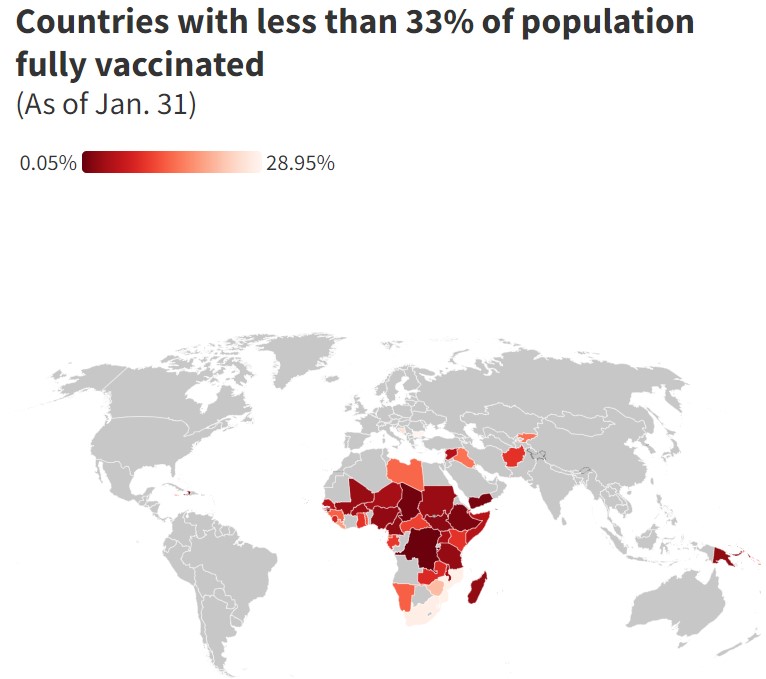 Many African nations have low vaccination rates, including Chad, Madagascar and Tanzania, whose immunization rates range from 1.5% to 4%.
South Africa, where the highly transmissible omicron strain of the virus was first identified last year, has vaccinated less than one-third of its population.
Meanwhile, fewer than one in three people in Caribbean nations Jamaica, Saint Lucia and Saint Vincent and the Grenadines have been vaccinated against Covid.
---
The Company is not making any express or implied claims that its product has the ability to eliminate or cure COVID-19 (SARS-2 Coronavirus) at this time. Nor prevent lockdowns!
IA Disclaimer, Revive Therpeutics is a client of Institutional Analyst (IA) which provides news coverage and reporting for publicly traded companies. See above referenced report, for full disclosure and disclaimer details.
Company Disclaimer.
Neither the Canadian Securities Exchange nor its Regulation Services Provider has reviewed or accepts responsibility for the adequacy or accuracy of anything posted on this website.
Cautionary Statement
This press release contains 'forward-looking information' within the meaning of applicable Canadian securities legislation. These statements relate to future events or future performance. The use of any of the words "could", "intend", "expect", "believe", "will", "projected", "estimated" and similar expressions and statements relating to matters that are not historical facts are intended to identify forward-looking information and are based on Revive's current belief or assumptions as to the outcome and timing of such future events. Forward looking information in this press release includes information with respect to the Company's cannabinoids, psychedelics and infectious diseases programs. Forward-looking information is based on reasonable assumptions that have been made by Revive at the date of the information and is subject to known and unknown risks, uncertainties, and other factors that may cause actual results or events to differ materially from those anticipated in the forward-looking information. Given these risks, uncertainties and assumptions, you should not unduly rely on these forward-looking statements. The forward-looking information contained in this press release is made as of the date hereof, and Revive is not obligated to update or revise any forward-looking information, whether as a result of new information, future events or otherwise, except as required by applicable securities laws. The foregoing statements expressly qualify any forward-looking information contained herein. Reference is made to the risk factors disclosed under the heading "Risk Factors" in the Company's annual MD&A for the fiscal year ended June 30, 2021, which has been filed on SEDAR and is available under the Company's profile at www.sedar.com .
$RVV. $RVVTF, #RVVTF