Amazing New Technologies Keep Popping up.
We love when this happens during Sector Bear Markets, which Psychedelics have clearly been in. Amazing technology can be bought (or invested in) for pennies on the dollar!
(PS. This is a technique for long-term investors, not traders.)
We thank our lucky stars, we that shortly after we launched the Psychedelic Stock Review in October of 2021, we shut it down in December of 2022 (market related technical analysis). Because if we hadn't, we would be moaning about current share prices across the sector, instead of drooling over them as opportunities, astonished at how low the their valuations actually got. Amazing for us, though not so much, for shareholders in companies like Compass Pathways (CMPS). It fell from $55 to $5.50 after raising hundreds of millions! Ouch.
As a side note, the 2024 Psychedelic Investor Guide will be issued next week. For sure, this time. Be sure to keep an eye out for it. We think the timing (this time) will be perfect this round. The Top 15 Psychedelic Stock Watch List will follow shortly after it is released. And we're looking for a location (most likely FL) for the 2024 Psychedelic Investor Conference. It will be EPIC.
2021 Psychedelic Investor Guide.
We are also going to launch a Psychedelic TV program to interview executives. Yup, we're going pelotas deep.
---
'MEAI' TREATMENT FOR ALCOHOLISM
Health and addiction problems plague the modern world and Clearmind (CMND) is looking to improve the landscape. With new, cutting-edge, psychedelic-based medicine, Clearmind is developing the perfect solution to a variety of afflictions.
With an initial focus on alcohol abuse and binge drinking, and with a world-class team of scientists heading the project, Clearmind is making waves in the pharmaceutical industry.
---
Interview with ClearMind's VP of Business Development Mark Haden.
(Note during the interview he suggests the initial focus on alcohol could be expanded to other addictions – with clinical trial funding, of course.)
---
And the stock is trading under $1.00 (like way under $1.00).
StockAnalysis.com says CMND has 14.64 million shares outstanding. No that's not a mirage and it puts the market cap under $5 million (like way under). CMND reversed and uplisted on November 17, 2022, issuing 1.1 million shares at $6.50 per share. The underwriter for the IPO was Aegis Capital Corp.
In April of 2023 they raised $3.5 million issuing 3,097,459 shares at $0.78, plus a warrant.
RELATED: Clearmind Medicine Closes US$2.25 Million Public Offering This was done in September 2023 at $0.30, plus a warrant.
(Common Shares to be issued and outstanding after this offering
14,637,096 Common Shares – assuming exercise in full of the Pre-Funded Warrants).
---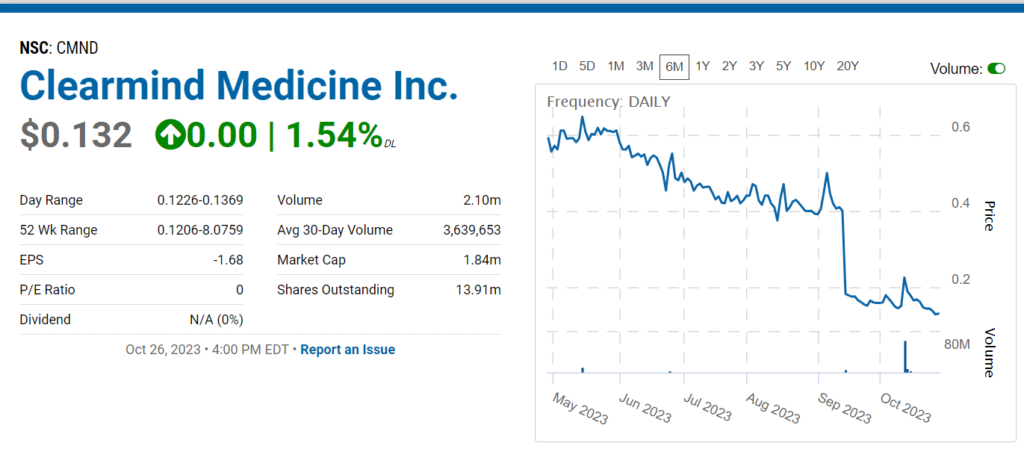 ---
LONGER TERM CHART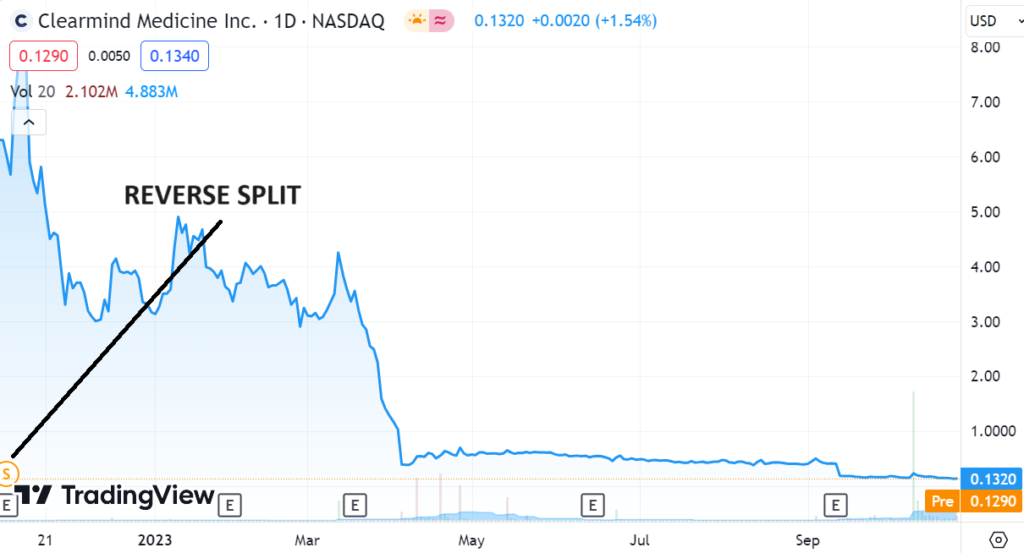 RECENT MELTDOWN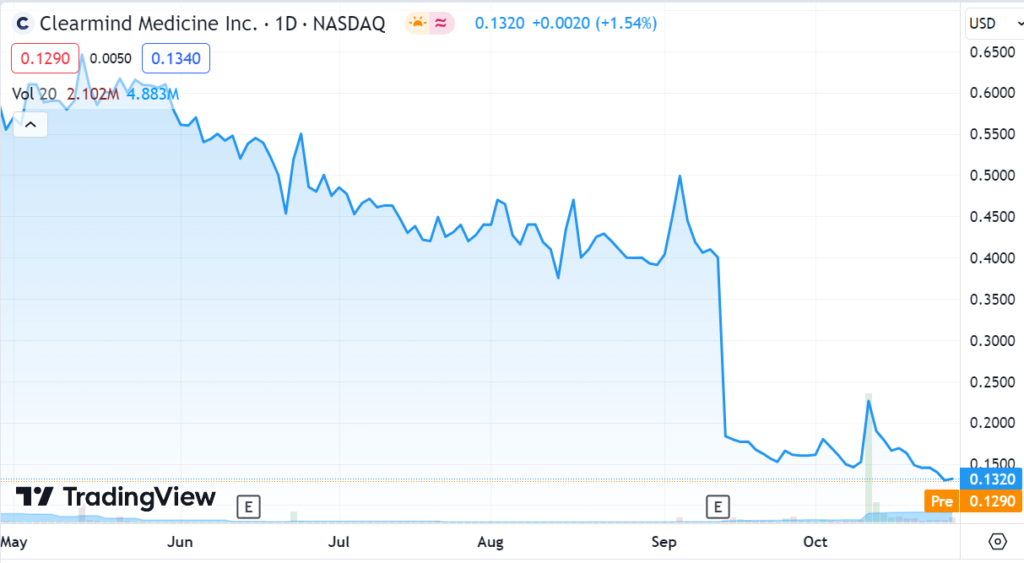 ---
DOWNLOAD INVESTOR PRESENTATION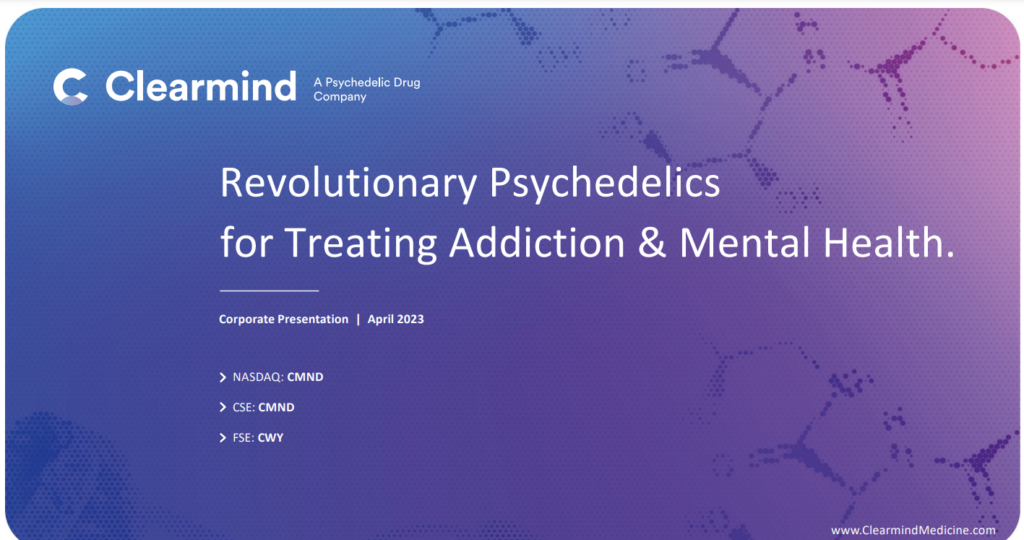 ---
LD MICRO PRESENTATION WITH VIDEO
*Require registration.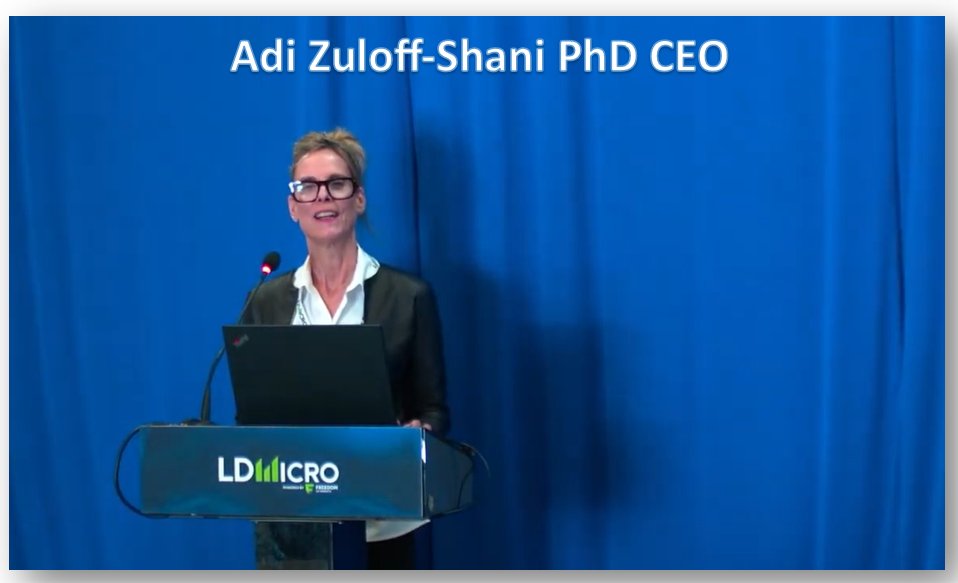 ---
It would be impossible to acquire a $1 million position here, so this is out of (under) the reach of most institutions, unless they have another offering (secondary). But it does trade enough to provide a noteworthy gain for smaller investors, if the stock heads to where we think it is eventually headed to.
Big picture, imagine a treatment that enables you to give up the habit (the bad habits), but not give up the lifestyle. Where do we sign up!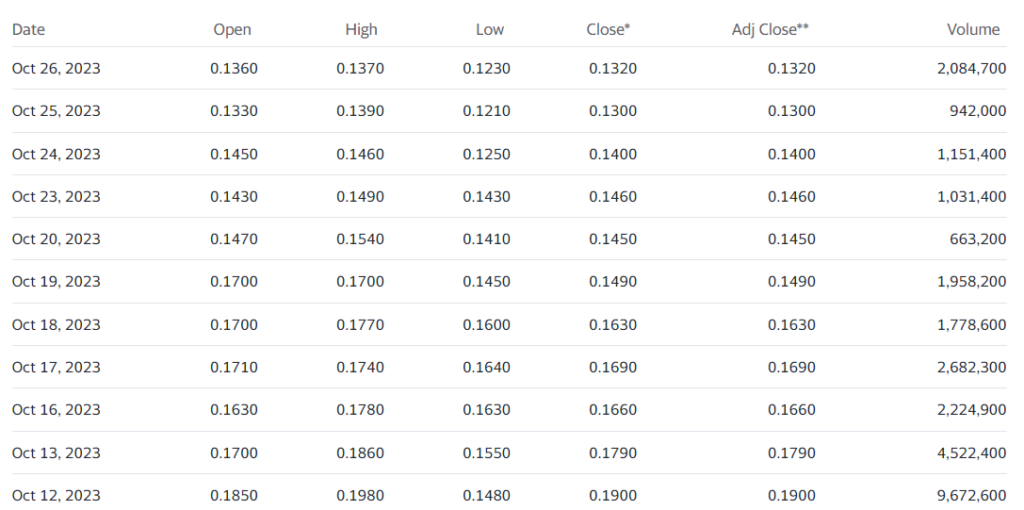 ---
Prof. Mark Haden: Psychedelics – Past, Present and Future
(2020)
CLEARMIND MEDICINE | VIDEO ARCHIVE I
CLEARMIND MEDICINE | VIDEO ARCHIVE II
---
SUBSCRIBE to receive upcoming news on Clearmind Medicine.

---
Forward-Looking Statements
This post contains "forward-looking statements" within the meaning of the Private Securities Litigation Reform Act and other securities laws. Words such as "expects," "anticipates," "intends," "plans," "believes," "seeks," "estimates" and similar expressions or variations of such words are intended to identify forward-looking statements. Forward-looking statements are not historical facts, and are based upon management's current expectations, beliefs and projections, many of which, by their nature, are inherently uncertain. Such expectations, beliefs and projections are expressed in good faith. However, there can be no assurance that management's expectations, beliefs and projections will be achieved, and actual results may differ materially from what is expressed in or indicated by the forward-looking statements. Forward-looking statements are subject to risks and uncertainties that could cause actual performance or results to differ materially from those expressed in the forward-looking statements. For a more detailed description of the risks and uncertainties affecting the Company, reference is made to the Company's reports filed from time to time with the Securities and Exchange Commission ("SEC"), including, but not limited to, the risks detailed in the Company's annual report on Form 20-F filed with the SEC on February 6, 2023. Forward-looking statements speak only as of the date the statements are made. The Company assumes no obligation to update forward-looking statements to reflect actual results, subsequent events or circumstances, changes in assumptions or changes in other factors affecting forward-looking information except to the extent required by applicable securities laws. If the Company does update one or more forward-looking statements, no inference should be drawn that the Company will make additional updates with respect thereto or with respect to other forward-looking statements. References and links to websites have been provided as a convenience, and the information contained on such websites is not incorporated by reference into this press release. Clearmind is not responsible for the contents of third-party websites. Not a client, yet.