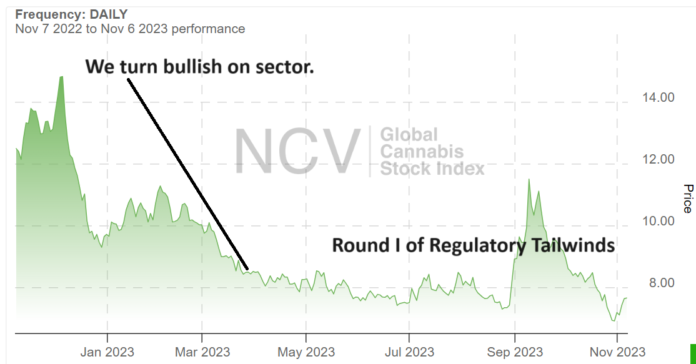 Heads Up, Favorable Regulatory Tailwinds Brewing Behind Vext Science's Sails.
We've been sector investors since 1995 when we launched the Hollywood Stock Review when we had an office in Beverly Hills, CA.
In 1999 we had the great fortune to launch Internet Stock Review, our flagship newsletter, which was inspired in the outdoor seating area at Starbucks on Beverly Drive (good memories). The next to follow was the Biotech Stock Review in 2002 while in Chicago. Then came the Beverage Stock Review from New York in 2015, the Marijuana Stock Review in 2019 and the Psychedelic Stock Review in late 2021 – both from the Palm Beach area of Florida.
To make a long story short, we come and go as the market winds blow.
Occasionally we'll come in late and aren't shy to shut down operations when the tailwinds turn into headwinds. In our view, there is no reason (or excuse) to stay in a sector facing strong headwinds. Especially since the change in winds is usually easy to spot, or let's say feel. Just follow how the large cap market leaders are performing, and it will give you all the clues you need.
Just one example, of the dozens. Tilray and the marijuana sector.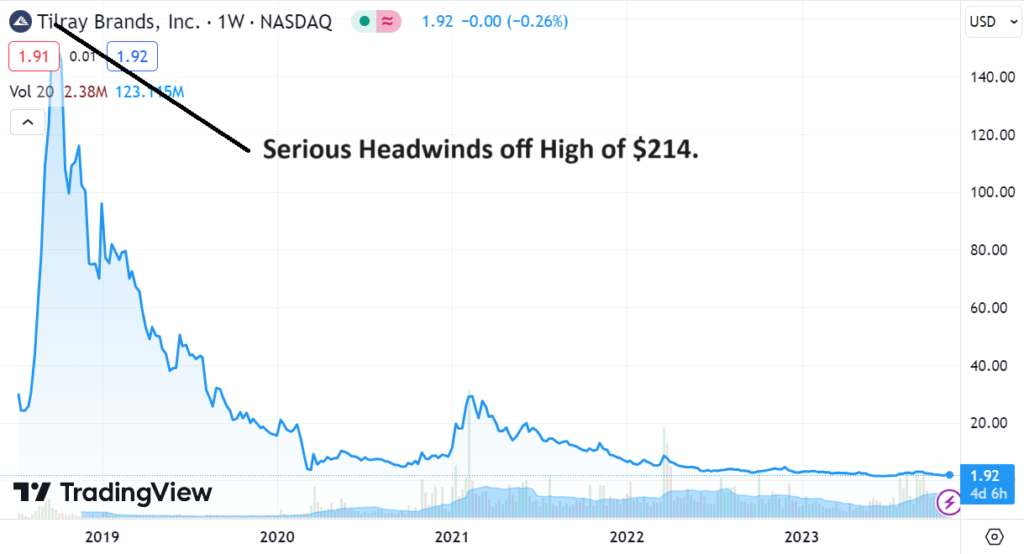 ---
On the flip side, we are also not shy to re-enter a market when we think the leaders have bottomed. Rather than looking at the former leaders such as Tilray (TLRY) or Canopy Growth (CGC) which may be having company-specific issues, we prefer to look at the sector indexes or ETF's. Here is an index chart from the New Cannabis Ventures.
While early, our technical analyst sources (and they are very good) called for the bottom in March of 2023. In hindsight a bit early, but their outlook like ours, is a long-term outlook (2-3 years) and not a short term outlook.
YEAR TO DATE CHART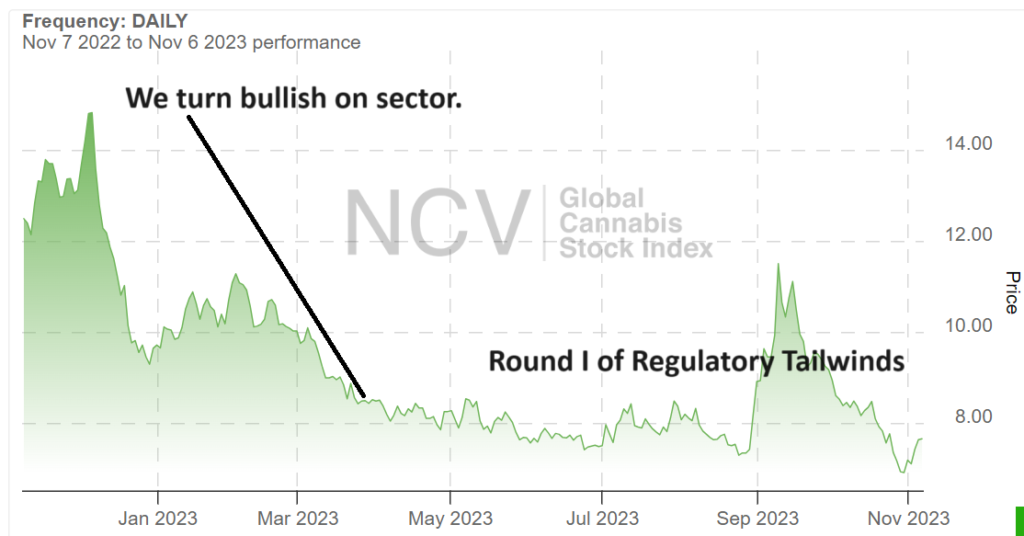 ---
All of the above is a long-winded way to announce we are in the midst of compiling the Top Marijuana Companies for 2024 Watch List and Vext Science (VEXTF) is our first addition to be announced. We are dusting off and revamping the Marijuana Stock Review website, which will include news, profiles, research reports and a model portfolio!
As we are aware most of our subscribers are technology investors and not necessarily Cannabis investors, you should note the spike in late August to early September. was related to potential regulatory changes.
Like all of our newsletters, we are long-term oriented. While positive regulatory changes will most definitely provide a tradable opportunity, we are not re-launching the Marijuana Stock Review to catch a bounce. The index rose from $7.26 to $11.50 a massive 58% gain. All we can say is that for long-term investors, expect continued volatility. Also adding that it's better to get in before, rather than after any changes.
LONG TERM CHART
You can read about potential changes here Regulatory Changes & Reforms.
---
Adding Vext Science (VEXTF) to Top Marijuana Companies for 2024 Watch List.
Heads Up!
No long dissertation here. We just wanted everyone to be made aware that Vext Science is facing two potential regulatory tailwinds. One of course is related to the Federal changes above. But in addition to that, TOMORROW the state of Ohio has a recreational vote coming up. Vext has made serious inroads into Ohio and would be a major long-term beneficiary in our opinion.
Recreational Marijuana Coming to Ohio Next Tuesday..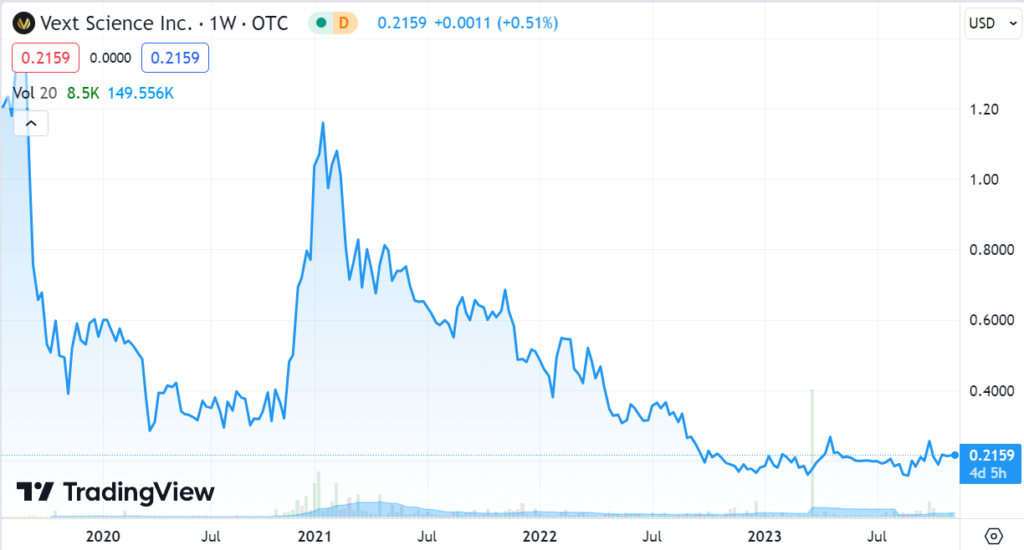 ---
If it gets approved, great for Vext. If it doesn't, it is still a great and growing little company.
We first came across Vext Science in March of 2023 after the 'sector-call' from our analyst telling us to start getting in. We liked it so much, they are actually profitable (which is a dynamic that seems to elude most players in the sector), that we quickly added it to the 'regular' Watch List. It's a pretty nice write-up if we most say so ourselves! We'd love to have them as a client when we re-launch the website.
Adding Vext Science (VEXTF) $0.17 to the Watch List.
In addition to the Ohio acquisition related news, they recently closed an $11 million financing.
Vext Science (VEXTF) Signs Agreement to Acquire Two Additional Ohio Retail Cannabis Locations
Vext (VEXTF) Announces Closing of $11.5 Million Private Placement.
Subscribe for updates on Vext and the launch of the Marijuana Stock Review. No standalone letter yet.

---
Disclaimer
Forward-Looking Statements
Statements in this news release that are forward-looking statements are subject to various risks and uncertainties concerning the specific factors disclosed here and elsewhere in Vext's periodic filings with Canadian securities regulators. When used in this news release, words such as "will, could, plan, estimate, expect, intend, may, potential, believe, should," and similar expressions, are forward-looking statements.
Forward-looking statements may include, without limitation, statements related to the Transaction, including the anticipated closing date and the use of proceeds of the Transaction, and other statements regarding future developments and the business and operations of the Vext, and the Company's business plans in Arizona and Ohio, all of which are subject to the risk factors contained in Vext's continuous disclosure filed on SEDAR+ at www.sedarplus.ca.
Although Vext has attempted to identify important factors that could cause actual results, performance or achievements to differ materially from those contained in the forward-looking statements, there can be other factors that cause results, performance or achievements not to be as anticipated, estimated or intended, including, but not limited to: dependence on obtaining regulatory approvals; being engaged in activities currently considered illegal under U.S. Federal laws; change in laws; reliance on management; requirements for additional financing; competition; hindered market growth and state adoption due to inconsistent public opinion and perception of the medical-use and adult-use marijuana industry and; regulatory or political change.
There can be no assurance that such information will prove to be accurate or that management's expectations or estimates of future developments, circumstances or results will materialize. Because of these risks and uncertainties, the results or events predicted in these forward-looking statements may differ materially from actual results or events.
Accordingly, readers should not place undue reliance on forward-looking statements. The forward-looking statements in this news release are made as of the date of this release. Vext disclaims any intention or obligation to update or revise such information, except as required by applicable law, and Vext does not assume any liability for disclosure relating to any other company mentioned herein. Not a client, yet.
The Canadian Securities Exchange has not reviewed, approved or disapproved the content of this news release.
Eric Offenberger
Chief Executive Officer
844-211-3725
For further information:
Jonathan Ross, Vext Investor Relations
[email protected]
416-244-9851