Chris Bursey, Member of Verizon's Internet of Things (IOT) Advisory Council, Charges Ahead as CEO of Direct Communication (DCSX).
Despite the enormity ($2.3 trillion) of IOT – which we'll call a sub-sector of the Internet, we have yet to come across an interesting and fast-growing small-cap player. Until now that is.
Direct Communication Solutions (DCSX) has one of the best business models we've come across, due to its scalability. The model permits the Company grow to levels far beyond what a typical small company, doing $20 million in sales, could ever achieve.
The secret is by utilizing the sales teams at major at Fortune 500 companies like Verizon (3,000 sales reps alone), AT&T, T Mobile, and US Cellular who can get these IOT sensors inside the doors of millions (literally) of businesses, who need to remotely monitor assets (such as a fleet of trucks or 1000's of commercial grocery chain refrigerators) and other 'things.'
---
CONNECTIVITY PARTNERS
A MASSIVE EXTERNAL SALES FORCE

Direct Communication's mission and motto is "We simplify IoT technologies, making them less costly, easier to deploy, and overall, more efficient." Its long-standing relationships with the above connectivity partners and the strategic/hardware partners below, who can jointly build scalable IOT solutions for customers – make both the mission and motto a reality.
If a customer can think of something (anything) which needs to be remotely tracked, monitored or controlled – Direct Commination and its Fortune 500 partners can show them how to do it.
STRATEGIC PARTNERS

---
With this business model, there are effectively no limitations to how large this company can grow. It could grow to be a behemoth in under 5 years. Okay, maybe a bit of an exaggeration, $100 million doesn't make you a behemoth, but it's still a nice target. And that wouldn't be a 'goal' perse, like $100 million and we're done. That could be $100 million a year and growing. The need for IOT as is widely reported is well beyond $100's of billions – so room to grow.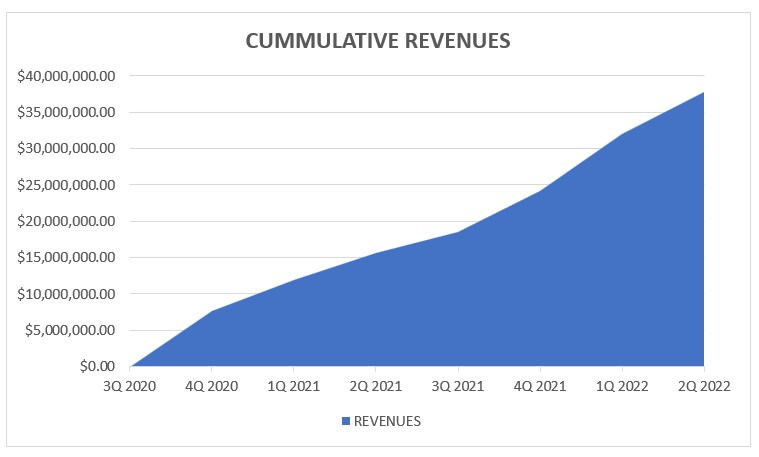 "Can they make them as fat as they can sell them?" is old school saying, that comes to mind.
The only long-term limitation we foresee is inventory and supply chain issues, which shouldn't be a significant issue until sales exceed $500 million. Any short-term issues related to staffing and software engineers can be managed by tapping Wall Street as the need arises, assuming good, continued growth. Direct had sales of $14.2 million in 2020, $16.5 million in 2021 and $13.6 million in the first six months of 2022. A record year for 2022 is baked in.
In brief, the Company combines providing hardware, their own or strategic third-party hardware (where they generate revenues) with 5G connectivity provided by the Verizon's of the world (where they share revenues), along with the monitoring of data (where they make recurring revenues).
With more than a decade of in-field experience (600 happy clients currently, some who have 100's of clients) Direct Communications has positioned itself to become one of the leading Internet of Things providers. Offering turn-key solutions is extremely valuable in a highly fragmented industry with 100's of vendors and platforms which, often don't play well together, when patchworked.
This is a brief introductory report, here is what you need to know for now, to start your own due diligence.
Hardware. Direct Communications has its own sensors under the MiSensor brand, and as mentioned earlier deploys best of breed third party sensors.
Recently launched, the Direct MiSensor MiTag sensor has significant potential as it is the only sensor, we are aware of that can monitor 8 data collection points at once. Short story instead of a business buying 8 sensors, it can buy just one.

Video tells it all.
One third-party hardware example would be Streamax an AI-powered safety and industrial management solutions hardware provider for commercial vehicles such as buses, taxis and trucks. They serve 2,400,000 vehicles worldwide, so while you may have never heard of them, we can safely call them 'best-of-breed.
If Direct Communication was called in by US Cellular to help in the successful technology upgrade of 157 school buses, for Duplin County School District in North Carolina (which they did) they could recommend the Steamax Bus hardware. And to close the loop, use Direct's own cloud-based software solution to manage their school bus data. As we said, turn-key, all parties benefit.
5G. A very significant change in the landscape which has the potential put the wind behind Directs sails, in both the short-term and long-term, is that the world is going to 4G and 5G. 2G and 3G is being phased out.
Why this is important is that is opens IOT to an even wider market and greater need for Direct's integration. As an example, most school buses can and are location monitored. But the cost to monitor live activity on video on the bus and to archive the video, was cost prohibitive. Not so with 4 and 5G. We'll go more into this in the next report.
Data Monitoring. This in our opinion is Direct's future bread and butter. Data monitoring margins are 70% and the revenues are recurring. Repeat that twice. And it's all symbiotic.
US Cellular brings business to Direct who can show the customer the benefits of remote monitoring, which is done over Verizon's network, boosting Verizon's revenues. Verizon bundles Directs fee into their bill and thne sends money to Direct. Direct could next call Steamax, to order 157 bus monitoring units. Streamax bills and pays a commission to Direct.
Finally, Steamax says thanks to Mike Lawless, head of Directs Sales and wonders, which of its other customers can use Directs IOT integration services to upgrade their hardware to take advantage of everything IOT has to offer. Meanin more revenues to Steamax. It's a win-win-win-win (with the 4th win being the customer) situation.
Again, this is just a brief intro report. We didn't even touch on Brewsee which can monitor brewery, bar and restaurant beer kegs. Brewsee can monitor revenue losses due to employee theft, temperature control, excessive foam (CO2), spillage and even stale dating of inventory. It's a $120 billion business that loses up 20% due to, let's call it poor pouring. We call it the 'beer inflation fighter' for a market desperate cut costs and save money.
Start your due diligence with these recent headlines.
DCS Nominated for IoT Project of the Year
DCS Announces Closing of Fully Subscribed Private Placement
DCS (DCSX) Reports Strong Q2 Revenues and Growth
DCS (DCSX) and US Cellular Jointly Provided 4G LTE Wireless Upgrades for the Duplin County School Buses
DCS (DCSX) Announces Strategic Partnership with Streamline Transportation Technologies to Kick-off International Expansion in SaaS
OTC Markets Group Welcomes Direct Communication Solutions (DCSX), Inc. to OTCQX
Take a peek at their most recent Corporate Presentation.
---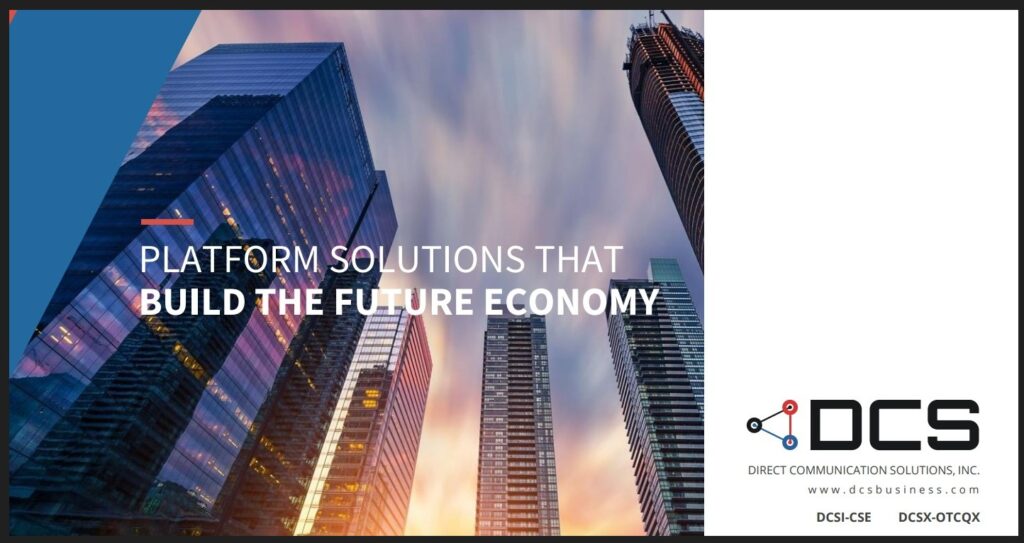 ---
DCS (DCSX) Management Discussion and Analysis
---
Forward-Looking Statements
This release contains forward-looking statements, which reflect management's current views of future events and operations. These statements are based on current expectations and assumptions that are subject to risks and uncertainties that could cause actual results to differ materially. We believe that these potential risks and uncertainties include, without limitation: the ongoing COVID-19 pandemic, the Company's dependence on third-party manufacturers, suppliers, technologies and infrastructure; risks related to intellectual property; industry risks including competition, online security, government regulation and global economic conditions; and the Company's financial position and need for additional funding, Statements in this release should be evaluated in light of these factors. These risk factors and other important factors that could affect our business and financial results are discussed in our Management's Discussion and Analysis, periodic reports and other public filings which are available on SEDAR at www.sedar.com and posted with the OTC Disclosure and News Service. DCS undertakes no duty to update or revise any forward-looking statements.
Neither the Canadian Securities Exchange nor its Regulation Services Provider (as that term is defined in the policies of the Canadian Securities Exchange) accepts responsibility for the adequacy or accuracy of this release.
Every Company mentioned in our newsletter is a client, has been a client or may become a client. Disclaimer