Last May we asked, "Is Urban-Gro the Most Undervalued Cannabis Play in the Market?" Looks like it was, having doubled less than four months later!
After some rocky post secondary offering trading, (where they raised $64 million at $10 per share), we had to make the call, when it stumbled to $7.50. For no apparent reason.
Is urban-gro (UGRO) $7.50, the Most Undervalued Cannabis Play in the Market?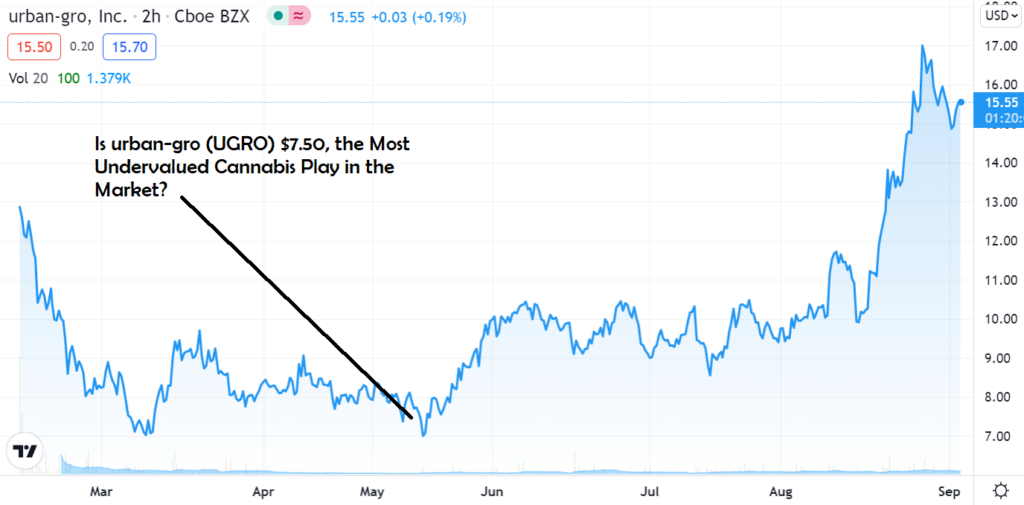 As we felt it might, urban-gro went back to its offering price, and then just kept going, up 126% at its recent high of $17.
While it may longer be "the" most undervalued play, in our opinion it is indeed undervalued.
The basis of that call isn't the due to recently reported record second quarter of $12 million – an increase of $8.8 million, or 220%.
The basis of the call is $50 million in the bank, yet to be deployed. It's a formidable war-chest to acquire complimentary companies, that haven't been able to raise money in the equity markets – as easily as they could have two years ago when the sector was hot.
The only acquisition they have announced was MJ12 Design Studio which transformed urban-gro into a "Fully Integrated Indoor Cultivation Powerhouse." It was a doozy.
As it is, urban-gro already had the reputation of being the top-rated engineering for to build indoor hydroponic facilities. This makes urban's acquisition targets much easier to identify. They are coming to urban-gro, not the other way around.
urban-gro (UGRO) $10.15 Marijuana's First Fully Integrated Indoor Cultivation Powerhouse.
The Company also recently gave 2021 full year revenue guidance of $54 to $59 million. With adjusted EBITDA guidance of $4 to $5 million!
Three years from now urban-gro could be a major player, as the overall market for hydroponics is just getting underway.
Stay tuned for more.
#UGRO, $UGRO
---
Safe Harbor Statement | Disclaimer
This press release contains forward looking statements within the meaning of Section 27A of the Securities Act of 1933, as amended, and Section 21E of the Securities Exchange Act of 1934, as amended. When used in this release, terms such as "believes," "estimates," "should," "could," "would," "plans," "expects," "intends," "anticipates," "may," "forecasts," "projects" and similar expressions and variations as they relate to the Company or its management are intended to identify forward-looking statements. Such forward-looking statements are based on current expectations, forecasts, and assumptions that involve risks and uncertainties that could cause actual outcomes and results to differ materially from those anticipated or expected, including statements related to the demand for our services and products, our ability to manage the adverse effect brought on by the COVID-19 pandemic, our ability to execute on our strategic plans, our ability to achieve positive cash flows or profitability, our ability to achieve and maintain cost savings, the sufficiency of our liquidity and capital resources, and our ability to achieve our key initiatives for 2021. A more detailed description of these and certain other factors that could affect actual results is included in the Company's filings with the Securities and Exchange Commission. Readers are cautioned not to place undue reliance on these forward-looking statements, which speak only as of the date hereof. The Company undertakes no obligation to update any forward-looking statements to reflect events or circumstances after the date hereof, except as may be required by law.
Institutional Analyst Inc. (IA) and Revelers.IO Media Group Inc., (RIO) Disclaimers: Past performance of other companies added to Institutional Analyst's various newsletters or otherwise mentioned in its research reports, newsletters or communication is no indication of future performance of any current or future companies mentioned. This publication is a Corporate Profile and may not be construed as investment advice. This profile does not provide an analysis of any Company's financial position and is not a solicitation to purchase or sell securities of the Company. Readers should consult their own financial advisors with respect to investment in this or any company covered by the Reviews. An independent financial analyst should verify all of the information contained in this profile with the profiled company. Institutional Analyst, Inc. the parent company of the Internet, Biotech and Marijuana Stock Review is an investment research and public relations firm, and associated firms are compensated or seek to compensated from all of the Companies it reports on or provides coverage for. Revelers.IO Media Group Inc. is a web design firm which manages IA's websites and digital initiatives. In preparing this profile, the Publisher has relied upon information released from the companies, which although believed to be reliable, cannot be guaranteed. This profile is not an endorsement of the shares of the company by the publisher. The publisher is not responsible for any claims made by the company. You should independently investigate and fully understand all risks before investing in this and any company profiled or covered by the publisher. The majority of startup companies have factors, which create uncertainty about their ability to continue as a going concern. These concerns are typically related to dilutive toxic financing (or lack of), competitive environments, lack of operating history and operating at loss levels which is typical of most start-ups. These statements can be found in their most recent 10Q filings and should most definitely be read. Safe Harbor Statement under the Private Securities Litigation Reform Act of 1995: The statements which are not historical facts contained in this profile are forward-looking statements that involve certain risks and uncertainties including but not limited to risks associated with the uncertainty of future financial results, additional financing requirements, development of new products or services, government approval processes, the impact of competitive products or pricing, technological changes, the effect of economic conditions and other uncertainties detailed in the Company's filings with the Securities and Exchange Commission. It should be assumed we are negotiating with all the Companies in our reports. If/when negotiations are completed to provide investor or public relations services which includes reports, reporting and/or progress coverage, full disclosure and disclaimer details are contained in each report we publish. Impartial, we are not. Revelers.IO Media has received ten-thousand dollars for website related work. Email: [email protected]