We think there is a potential Tsunami of business headed towards Pressure Bio over then next 3-5 years. And well beyond.
As the chart below depicts, the share price has struggled (off 72%) during the past calendar year. While we can't predict an exact bottom for the share price, for semi-patient investors (1-2 years out), we think the recent weak price performance, combined with current news of contracts now being signed, offers an excellent entry-point for speculative investors to load up…so to speak.
Volume is light, so it will take timing (aka patience) to acquire a meaningful stake.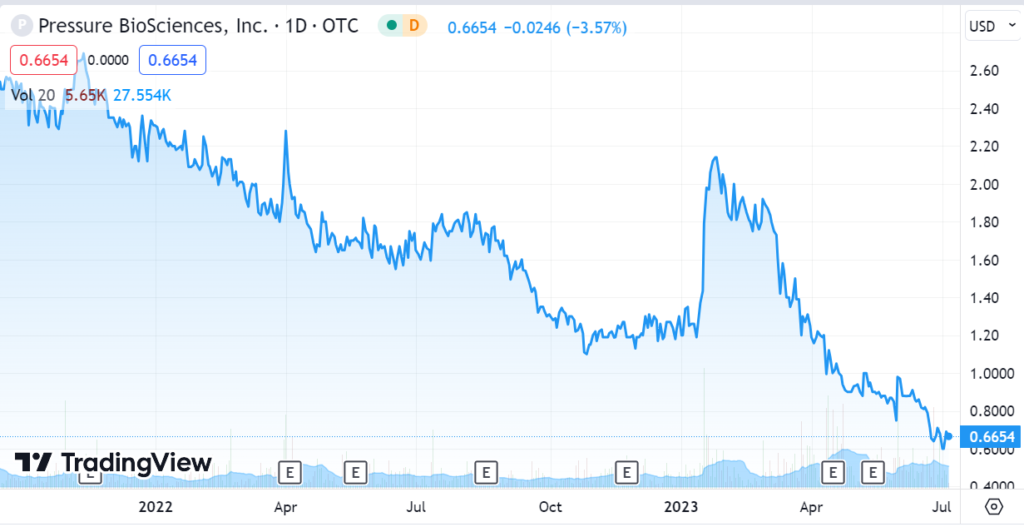 ---
While we can't predict the ultimate consumer acceptance of the products made with Pressure Bio's medical instrument called UltraShear,™ we are highly optimistic the device will serve as the standard for nano-emulsion products within five years. We expect the roll-out which began a few months ago, to gain speed in each and every ensuing quarter and year that passes.
The simple facts are, the medical device was developed by some of the brightest minds in science, and products made using UltraShear™ are just now reaching the market. It has been deemed 'proven and tested' and best performance in its class, by the Ohio State University Food Institute.
The Department of Food Science and Technology at The Ohio State University is a world class program on the cutting edge of food technology.
The market as an 'ingredient maker and enhancer reaches into the tens of billions. It provides solutions for food, beverages and vitamins of all kinds, which have oil-based ingredients.
When we say Tsunami, we envision investors having the ability, to forecast revenues in excess of $100 million annually, in a couple of years, due to the superiority of their medical instruments and the size of their target markets which include cannabis initially, and next beverages.
Protein based beverages using UltraShear™ taste better, perform better (when nano-sized) have a longer shelf life and are more cost-effective than the current proteins added to drinks today.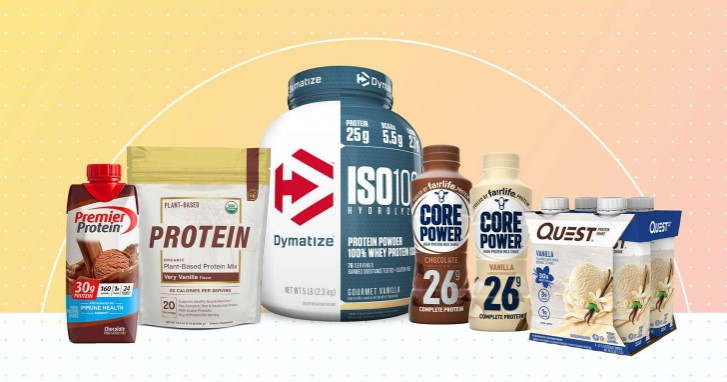 Grand View Research, estimates the global plant-based beverages market was valued at $24.4 billion in 2021
Most importantly Pressure Bio is not dependent on successfully launching an individual brand into either the cannabis or beverage markets. Their product is more like "Intel Inside." As such the services they provide is to make the products made by third parties better.
A Company saying it is launching a another beverage into the billion dollar functional beverage industry is one thing. A Company saying they have a way to make every functional beverage currently available better, is an entirely different thing.
We rank the quality of the technology created by Pressure Bio as the key to their future success. Clients for their legacy business include Pfizer, Roche, Gilead which speaks volumes about the quality of their products.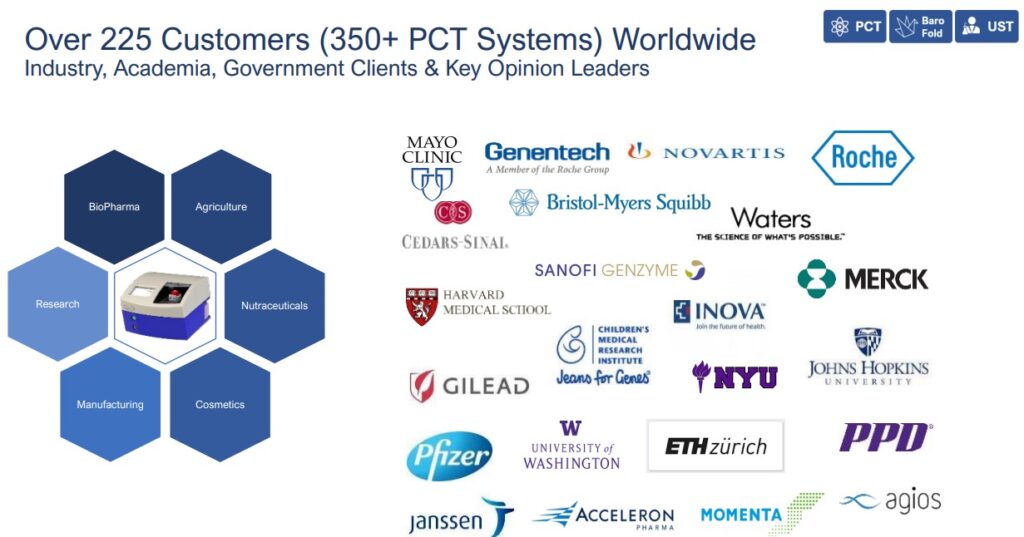 ---
EVIDENCE WE THINK WE'RE RIGHT
Proof Their Technology is the Best.
The company has undergone rigorous testing at the University of Ohio. The results of their latest study just released today. OSU runs the most prestigious food technology college in the country, called the Food Innovation Center (FIC). Since 2010, the FIC has attracted more than 380 faculty members, staff and graduate students who share a common interest in food, health and sustainability.
The study wasn't conducted for consumers, but rather Food & Beverage Companies with a goal of getting UltraShear™ into those institutions in a partnership via OSU.
Ohio State University Validates Pressure BioSciences UltraShear Platform
If you're the scientific type that likes illustrations like these:

You can read the entire OSU study here: Impact of Ultra-Shear Technology on Quality Attributes.
---
Proof the Technology is Garnering Traction in the Cannabis Ingredient Market
PBIO and Crème de Canna
Mr. Jonathan Kolodinski, Founder and CEO of Crème de Canna commented, "We plan to actively distribute this new, UltraShear-processed, super-fast acting, high potency, and highly bioavailable Nano-CBD Topical Spray worldwide wherever CBD commerce is legally allowed."
Mr. Richard T. Schumacher, President and CEO of PBIO, added: "This agreement between our companies for the supply and distribution of PBI's stable, highly absorbable UltraShear Nano-CBD Topical Spray is for a minimum of two years and is expected to generate over $1.0 million in revenue for PBIO in the first year alone.
Pressure BioSciences Announces Distribution Agreement with Premier CA Cannabis Partner Crème de Canna
---
PBIO and Veterans Service Team
The PBIO-VST partnership offers VST membership exclusive access to custom-designed, hemp-derived, UltraShear-processed nanoemulsions of CBD oil in water ("Nano-CBD"), providing unparalleled speed of action and reliable dosage delivery.
Mr. Richard T. Schumacher, President and CEO of PBIO, concluded: "With VST's membership expected to exceed 2 million of the nearly 18 million active-duty personnel and veterans within five years, PBIO and VST are estimating PBIO's incremental revenue from this relationship will grow significantly year-over-year, from initial annual revenue of about $1.5M to revenue topping $15M in the fifth year of the agreement.
Pressure BioSciences Partners with Veterans Service Team
---
PBIO and CBD Supply MD
PBIO will supply CBD Supply MD with the Company's UltraShear™ optimized nanoemulsions of CBD in a best-in-class, long-term stable, and highly bioavailable CBD Topical Spray, formulated for ideal effectiveness and optimal potency, addressing consumer's diverse CBD objectives. The Agreement is expected to generate over $1.5 Million in revenue for PBIO during 2023, including nearly $250,000 in the second quarter.
Pressure BioSciences Receives $1.5M Contract for UltraShear Nanoemulsified CBD
---
PBIO and One World
Isiah Thomas, Chairman and CEO of OWPC, highlighted: "This revolutionary new line of sports performance/recovery drinks will contain OWPC's premium quality CBD that has been processed into a highly stable and extremely bioavailable nanoemulsion by PBIO's patented UltraShear technology platform. This next generation CBD-nanoemulsion beverage is being designed for fast reduction of inflammation and pain, improved recovery time, and enhanced overall performance – all to be achieved quicker than any competing drink on the market today.
Pressure BioSciences and One World Products Announce Partnership
---
PBIO and Safer Medical of Montana
Pressure BioSciences Announces First Commercial Production of Revolutionary UltraShear Nanoemulsion Product Shipped, Booked, and Paid
---
Forward Looking Statements | Disclaimer
This press release contains forward-looking statements. These statements relate to future events or our future financial performance and involve known and unknown risks, uncertainties and other factors that may cause our or our industry's actual results, levels of activity, performance, or achievements to be materially different from any future results, levels of activity, performance or achievements expressed, implied, or inferred by these forward-looking statements. In some cases, you can identify forward-looking statements by terminology such as "may," "will," "should," "could," "would," "expects," "plans," "intends," "anticipates," "believes," estimates," "predicts," "projects," "potential" or "continue" or the negative of such terms and other comparable terminology. These statements are only predictions based on our current expectations and projections about future events. You should not place undue reliance on these statements. In evaluating these statements, you should specifically consider various factors. Actual events or results may differ materially. These and other factors may cause our actual results to differ materially from any forward-looking statement. These risks, uncertainties, and other factors include, but are not limited to, the risks and uncertainties discussed under the heading "Risk Factors" in the Company's Annual Report on Form 10-K for the year ended December 31, 2022, and other reports filed by the Company from time to time with the SEC. The Company undertakes no obligation to update any of the information included in this release, except as otherwise required by law. Institutional Analyst Inc., has been compensated by the Company with restricted stock valued at six thousand five hundred dollars per month to provide ongoing news coverage and reporting.
#PBIO, $PBIO