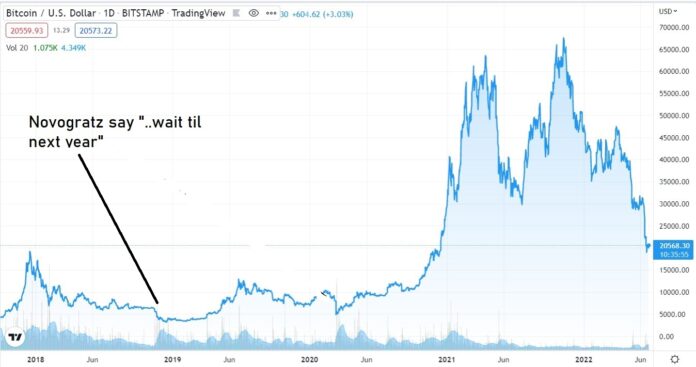 Great call. This was actually from Late 2018.
(Bloomberg) — Billionaire investor Michael Novogratz is resolute when it comes to cryptocurrencies, even after his firm lost millions this year as the embryonic market continued to tumble in value.
"It's been a horrible bear market in tokens," Novogratz, founder and chief executive officer of Galaxy Digital Holdings Ltd., said on a conference call Friday. "There's plenty of reason to be depressed."
Novogratz's crypto trading desk lost $136 million on digital assets for the first nine months of the year. Galaxy Digital lost around $41 million in the third quarter alone, according to company filings. The latest slump was caused, in part, by losing bets in Bitcoin, Ether and XRP, the company said, as well as regulatory developments.
Novogratz was among the most high-profile Wall Streeters to jump into the crypto craze, which saw the price of Bitcoin — the largest cryptocurrency — spike to a high of $19,511 in mid-December, only to drop to around $4,000 more recently.
Galaxy Digital (BRPHF) Novogratz Remains Steadfast on Crypto, Says Wait Until Next Year (Bloomberg)