Principal Solar (PSWW) Highlights one of it's Portfolio Holdings, eTruck Transportation.

Alternative Energy Stock Review
The exciting thing about Principal Solar (PSWW), a tiny energy and alternative energy Incubator, is that their one of their portfolio companies is eTruck.
They're not manufacturing electric vehicles, they're getting ready to RETROFIT, older diesel trucks! So, it's more of a EV 'service company' than a high CAPEX manufacturer.
Retrofitting hmm, right? Exactly what we thought..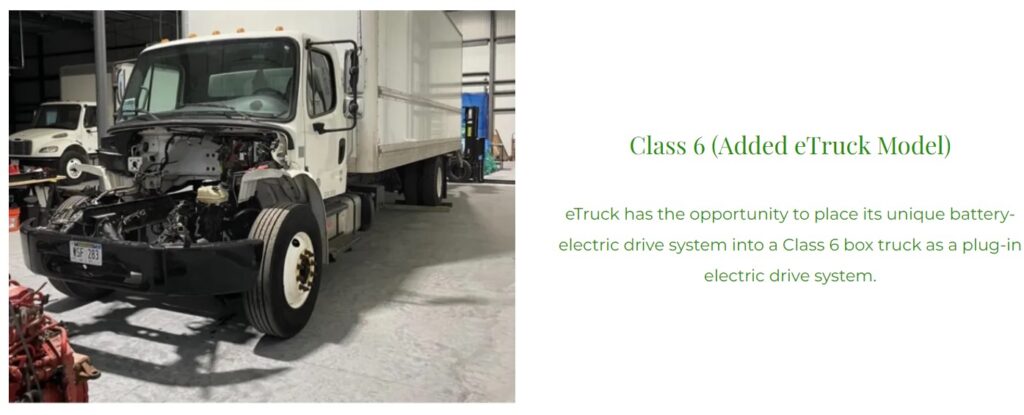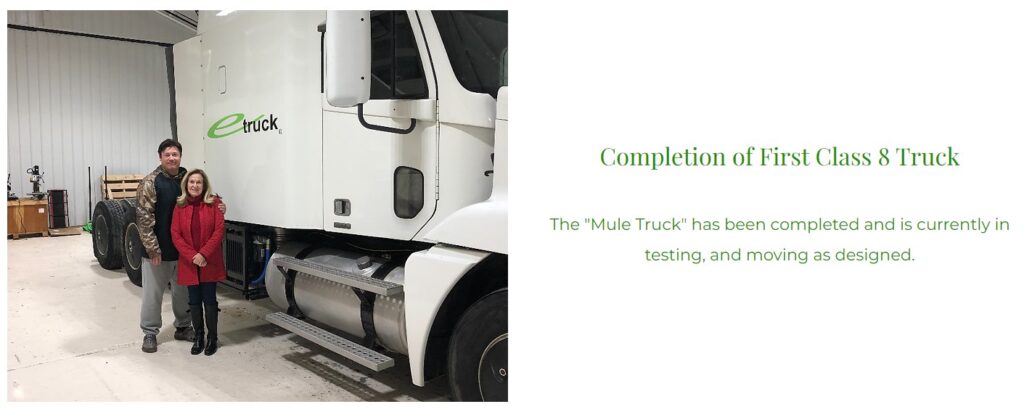 ---
After over 100 years of gas-powered cars, the future of transportation (including boats and trucks) is finally here. Potential beneficiaries of this massive shift are not just automakers themselves, but also software and sensor firms, battery producers, charging infrastructure developers and soon retrofitters like eTruck Transportation.
We initially added Principal Solar to the Watch List on February 20th at $0.005. The first time we've ever issued coverage on something under a penny. So we're up 20%, yeah we know..big deal. But we believe there is more action to come. A lot more.
---
"Don't get rid of your old truck, replace the engine with eTrucks electric HYBRID motor!"
Starting in April of 2021, Principal Solar (PSSW) has invested over $1.2 million in eTruck Transportation. They are understandably excited about this portfolio holdings potential, as are we.
Based out of Omaha, NE, eTruck is a female-owned, privately held, totally green company. eTruck is pursuing a new electric drive system for trucks that will reduce their massive fuel consumption by up to 65%, with a like emission reduction.
More eTrucks Rolling Soon?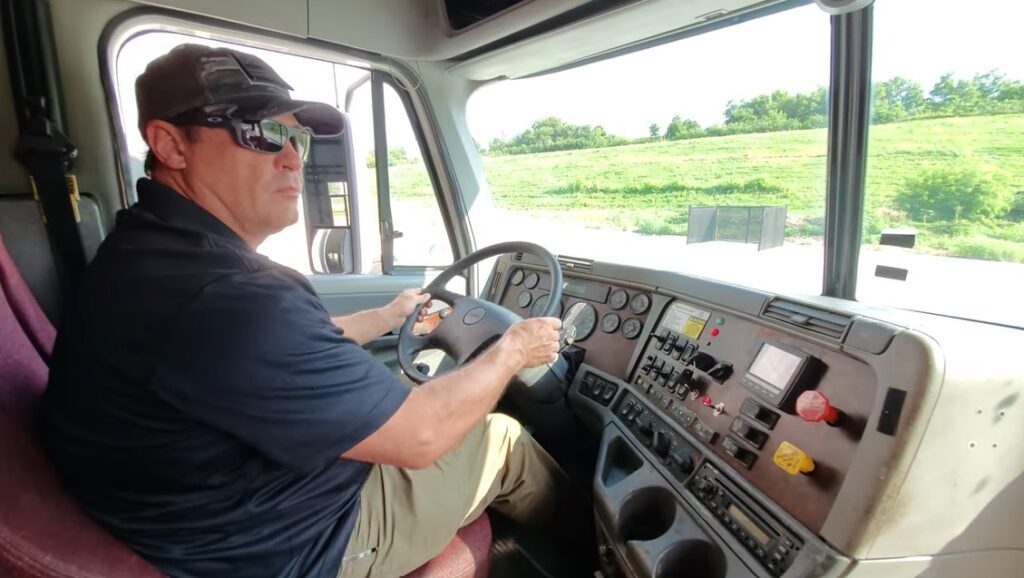 eTruck Video Plant Walkthrough
---
eTruck is focused on reducing fuel consumption, carbon footprint, and operating costs for trucks, recognized an opportunity in the market as there are over 4 million Class 8 and 1.4 million Class 6 trucks on the road. They worked with engineers with a proven track record for inventors of 25 patent applications to develop their eTruck Drive System (ETDS).
And, well – as retrofitting implies, they don't need to build a multibillion dollar manufacturing facility. Neither do they need to build a multi-billion dollar battery manufacturing plant. These things – including drive trains and even lithium (hello, it comes with the batteries), can be acquired from a rapidly growing EV infrastructure supporting the world-wide transition from fossil fuels to electric.
Sure this is a start-up and there are plenty of unknowns and risks involved, but how can we not be involved?
Retrofitting is one of those "..how come we didn't think of that" ideas. We think in the coming year there will be plenty of news for investors to get excited about. We were quick to sign them up as a client.
With 640 million shares outstanding (3-7-2023), the market cap is only $3.9 million dollars.
Can you spell 'fun?' A $4 million market cap? Can you envision the possibility of a feeding frenzy, on news being announced about their first fleet conversion?
At this price and market cap, we can see both happening.
And it doesn't have to be news of a fleet of 50 trucks being converted. Just a fleet of five, should get tongues wagging and investors clicking the buy button on their mouse.
In fact, if they got just one 'test order' from a company like PepsiCo (PEP) it would be off to the races. At a recent Advanced Clean Expo (ACT), Adam Buttgenbach, director of fleet engineering and sustainability at PepsiCo stated, "Those jumping into electric trucking need to begin now, because of the time it takes… eighteen months is a very real number to get something done."
Pepsico by the way has 4,658 trucks. It ranks No. 1 on the TT Top 100 list of the largest private carriers in North America. In fact if eTrucks were to get a contract from any of the top 100, it would be off to the races.
It's the type of news investors want to buy ahead of. We'll guess the share price could move so fast, it might be impossible to get in, for anyone but the most fleet footed trader.
Here is the list of the Top 100. Transport Topics Top 100. Any one of them would be fine.
And who could forget the feedy frenzy Plug Power (PLUG) had after it got a test order from Walmart (WMT) for its hydrogen powered forklifts. It was EPIC, fast and furious.
(2013) Plug Power receives milestone order from Walmart.
PLUG POWER FEEDING FRENZY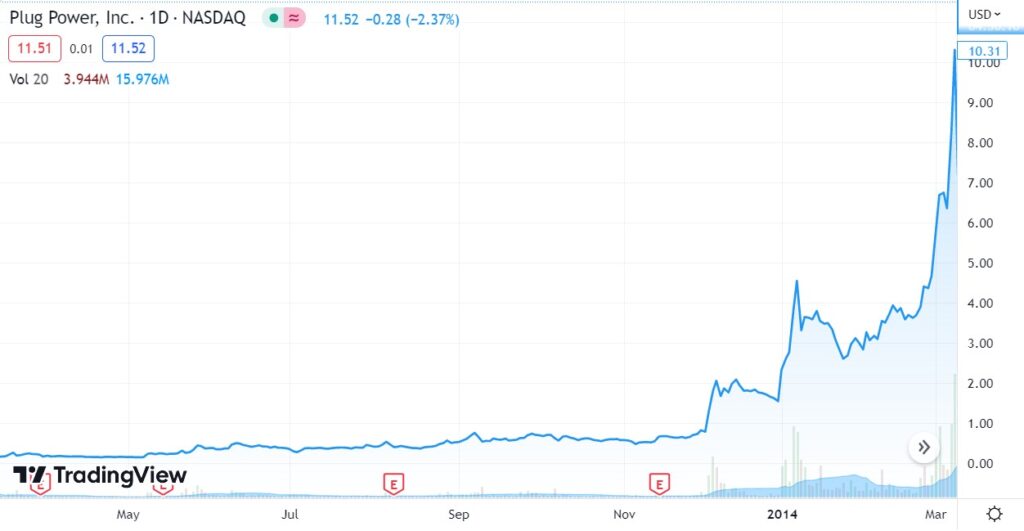 ---
The lesson to be learned was the most fortunate investors were the ones who bought in ahead of the news, when there was a remote possibility. The test order eventually turned into an order for 9,500 forklifts, but the stock came back to earth and was recently trading at $11 down from a high of $72.
(2013) Will Plug Power Be the First Profitable Fuel Cell Company?
(2022) Liquid Green Hydrogen to Fuel up to 9,500 Lift Trucks Across Walmart Distribution and Fulfillment Centers
Investors in Principal Solar can and in likelihood will, extrapolate to an addressable market of 5.5 million Class 8 and Class 6 trucks on the road. No new trucks need to be built. We're retrofitting baby!
Once we learn how much they make on each conversion, the rest of the math will be easy. But let's say it cost just $5,000. Oh ya..do the math, with an addressable market of five million trucks.
Because eTruck's conversions utilize a hybrid system, the converted trucks are not restricted to routes with charging stations.
eTruck removes the diesel engine and replaces it with a specially-designed electric motor linked directly to the original transmission. This conversion process reduces the fuel consumption and carbon output of each truck.
All the components used in the eTruck system are currently produced by well-known international companies. The method in which these components are utilized distinguishes eTruck's proprietary conversion process in the EV marketplace.
eTruck is fulfilling the need NOW by converting heavy-duty trucks from running on diesel only, to a hybrid diesel-electric system. Retrofitting existing vehicles is also more cost effective than purchasing a brand-new fleet of EV trucks.
Importantly this is only one of Principal Solar's strategic investments. We'll detail their other investments (in a follow up report), but it's important to note they are in the business of investing in small start-ups. We expect more investments to be announced in the coming months and years ahead.
First let's look at some other EV Factoids.
Electric vehicles (EVs) are seeing accelerated adoption on the back of decreasing costs. Continued advances in battery technology could soon make EVs cost-competitive versus internal combustion engine (ICE) counterparts.
Autonomous driving functions are becoming commonplace in new car models and real-world trials are bringing us closer to fully autonomous vehicles (AVs).
We believe investors can benefit from the growth of EVs and AVs by investing in segments that capture the EV/AV value chain, including EV and AV manufacturers, EV battery producers, EV battery material suppliers, and EV and AV technology enablers.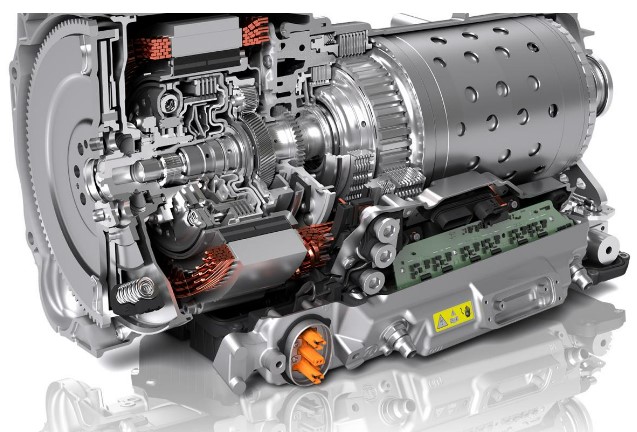 Last year, all EVs commanded 8.3% of the global car market, almost doubling their 2020 share and more than tripling their share from 2019. EVs might soon overtake their long-entrenched gas-powered counterparts as consumer demand, innovation, and support from automakers and governments accelerate adoption.
Global EV Sales for 2022
Global EV sales continued strong. A total of 10.5 million new BEVs (battery) and PHEVs (plug-in hybrid) were delivered during 2022, an increase of +55% compared to 2021. By 2025, global sales of EVs will be 7.7% of the total vehicle market, while HEVs (hybrid) and PHEVs will boast a 23% market share, J.P. Morgan analysts indicate.
The EV Industry has Outperformed in Terms of Actual Sales Relative to Forecasts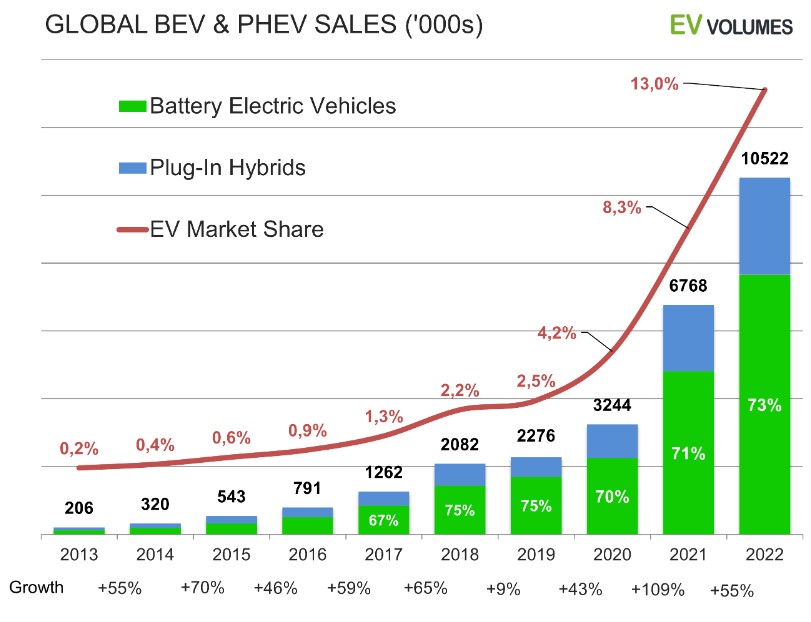 ---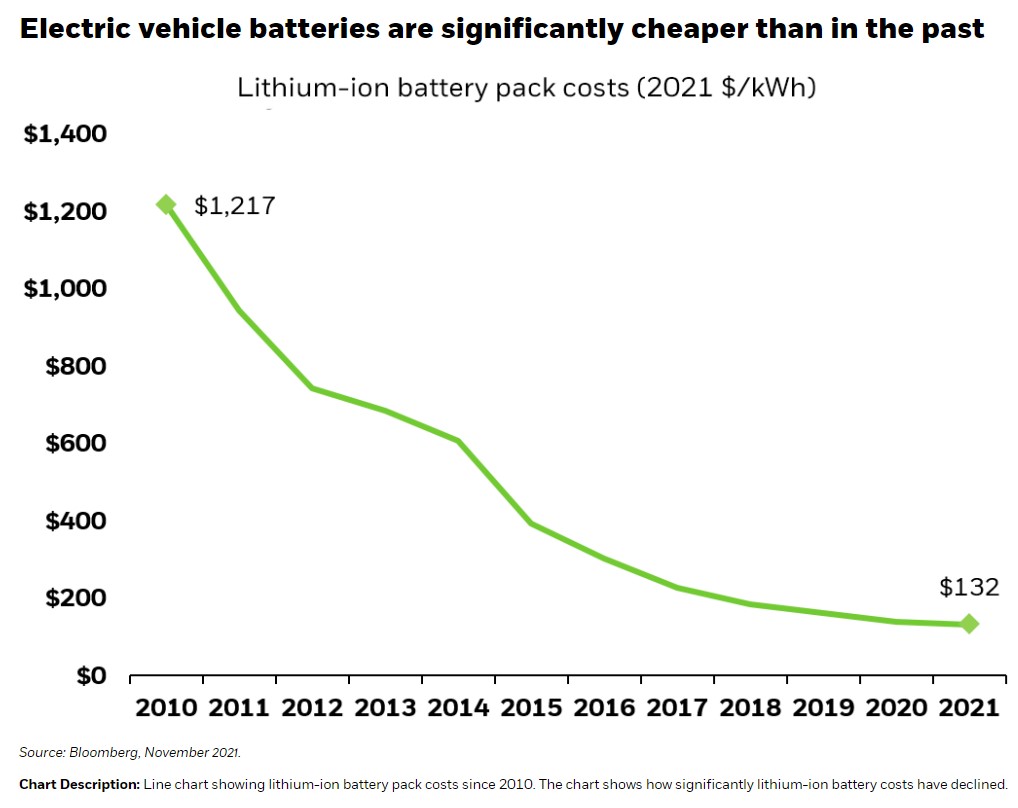 ---
And Lithium Prices Have Plunged in the Past Year
Over the past few years, the lithium markets exploded as the electrification drive went into overdrive. EV makers like Tesla Inc. have been scrambling to secure supplies amid rapid EV growth and tight lithium supplies, sending lithium carbonate prices up more than six-fold.
After hitting an all-time high of $86,170 per tonne in November 2022, lithium carbonate prices in China have sunk to a 13-month low of $52,500 per tonne in March 2023, good for a nearly 40% correction as a confluence of negative catalysts conspired to end lithium's biggest rally ever.
Goldman Sachs has forecast that lithium carbonate supply will grow at a brisk 33% annual clip, outpacing demand which will only grow at 25%. The mismatch between the two market forces will depress lithium carbonate prices even further with prices expected to sink to $34,000 in the next 12 months, from around $53,000 per tonne currently, good for another 36% decline.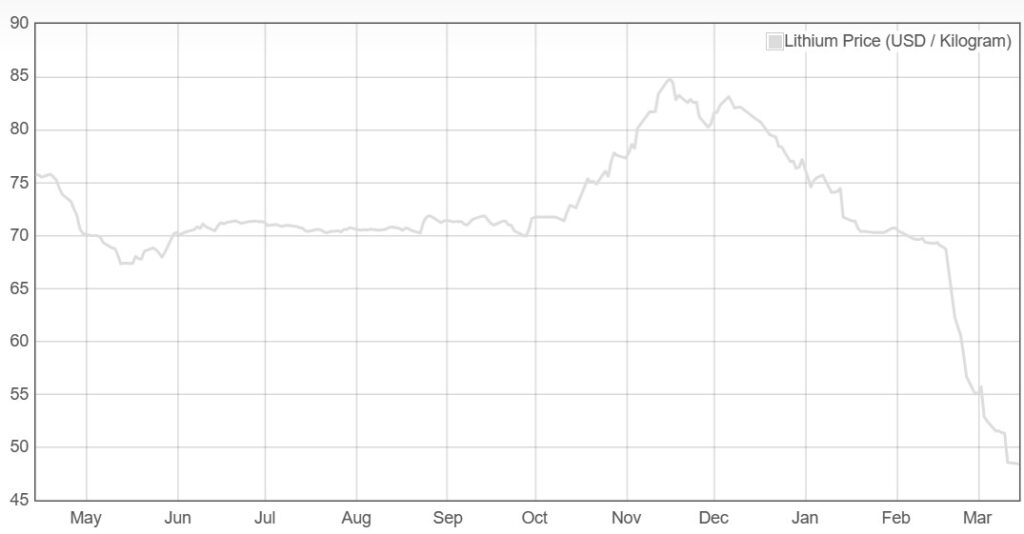 ---
EV STOCKS
Electric vehicle companies Rivian and Lucid Motors went public in 2021 and had a value at a combined $150 billion, despite almost no revenue. Several other EV makers that are also pre-revenue hit the public market through SPACs in the past year-plus.
$1 Billion and Over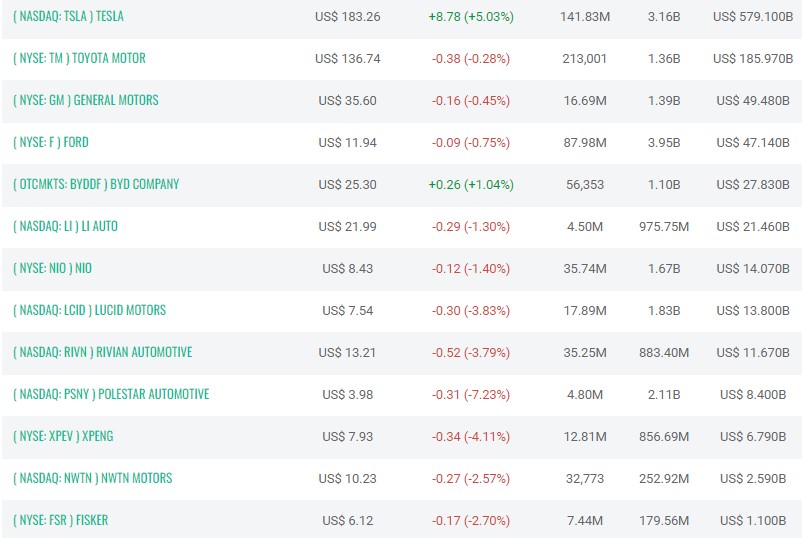 ---
$100 Million to $1 Billion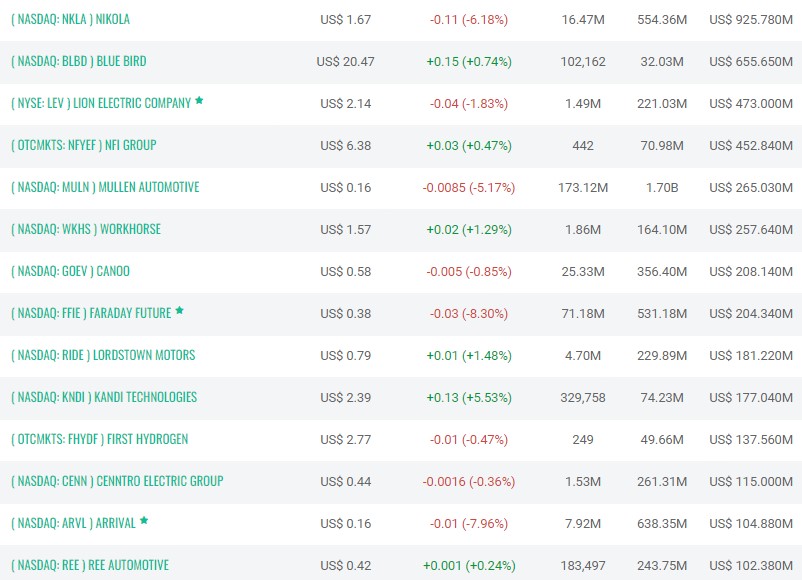 $25 to $100 Million

Under $25 Million

PRINCIPAL SOLAR (PSSW*)

---
As the above table shows, enthusiasm by investors within the sector, can quickly run rampant. Nikola (NKLA) despite its well publicized scandals (the Founder is facing 25 years in jail) and struggle to survive, is still valued at $925 million!
Another example is NWTN Motors (NWTN), which has a market cap of $2.5 billion. So Tesla isn't the only company with a crazy valuation. NWTN's sales for 2020, zero. Sales for 2021 and 2022, zero. They should have some sales this year, as they just announced a sale of 20 cars to Adu Dhabi. Is that worth $2.5 billion..
It's a Chinese company (another red flag), with a assembly facility in the UAE, the shares have been extremely volatile, as can be expected with all these stocks. The shares traded from $2 to nearly $14 in the past four months, on decent but not massive volume. It apparently doesn't take much (up or down) to move stocks in the electric vehicle space.
NWTN Delivers First Batch of Electric Vehicles to Client in the UAE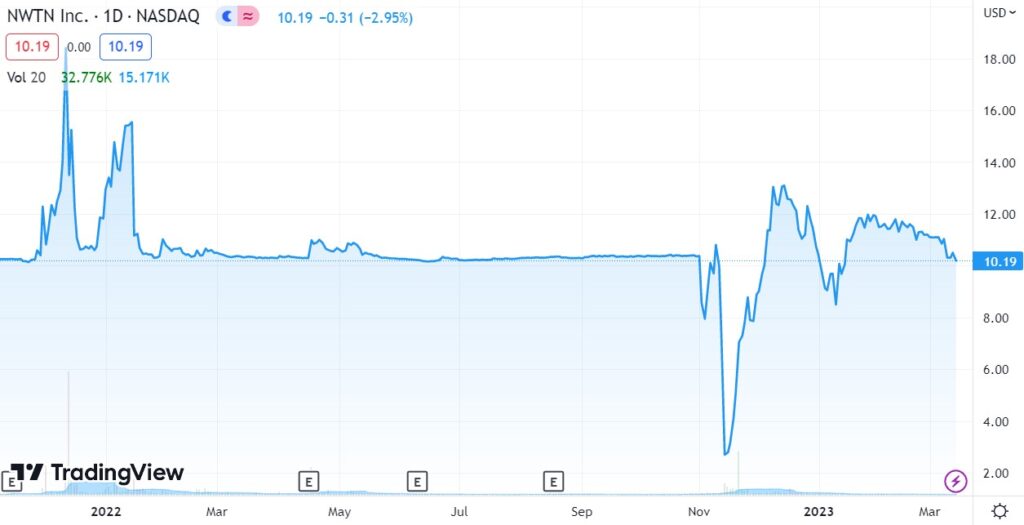 VOLUME

---
Here is what excites of Principal Solar's (PSWW) upside potential. These stocks don't typically trade on fundamentals, they trade on news.
And our belief is with any good 'contract' news coming from eTruck, even a small order – with Principal Solar's $4 million market cap, and trading near a mere penny – there is simply NO TELLING what can happen to this stock.
Our very simple thesis then to acquire a stake, ahead of any potential news from the eTruck division (investment) or any of their other portfolio holdings. If it works its way to the next rung on the capitalization tables above, $25 to $50 million it would result in a gain of 500%.
$25 million = $0.039 +500%
$50 million = $0.078 +1,100%
$75 million = $0.11 + 1,592%
Yes crazy things have happened in EV market, as we said before, because investor enthusiasm can and often does run rampant. There are 13 companies valued over $1 billion, and 14 companies valued between $100 million and $1 billion. If you toss out the big four (GM, Ford, Tesla and Toyota) and add the combined revenues of the other 22 companies you'll get HUH — goose eggs across the board! Yep.
Of course investing (or trading) in any of the 'pre-revenue' EV's isn't for orphans and widows. But for fleet footed speculators, many of these companies have provided fun, entertainment and in many instances, incredible gains.
---
RECENT NEWS
eTruck Transportation Video Walkthrough Now Available
Video Showcases New Production Facilities; Shows Fully Electric Class 6 and Class 8 Vehicles Nearing Completion
DALLAS, TEXAS –News Direct– Principal Solar, Inc.
McapMediaWire — Principal Solar, Inc. (OTC: PSWW) ("Principal" or "the Company"), a strategic investor in organizations and technologies that support next-generation opportunities in traditional, renewable, and clean energy sectors as well as an investor in and operator of undervalued petroleum-producing properties, today announced the availability of a video walkthrough of eTruck Transportation's ("eTruck's") Omaha production facilities. Featuring eTruck's Andrew Knudsen, the video also provides an up-close view of its nearly completed, fully electric Class 6 and Class 8 prototype vehicles. Full Release
---
ETruck Transportation to Convert Used Freightliner Class 6 Trucks to Electric
Article dated 2020 when they were first starting, before delays now resolved with financial assistance from Principal Solar..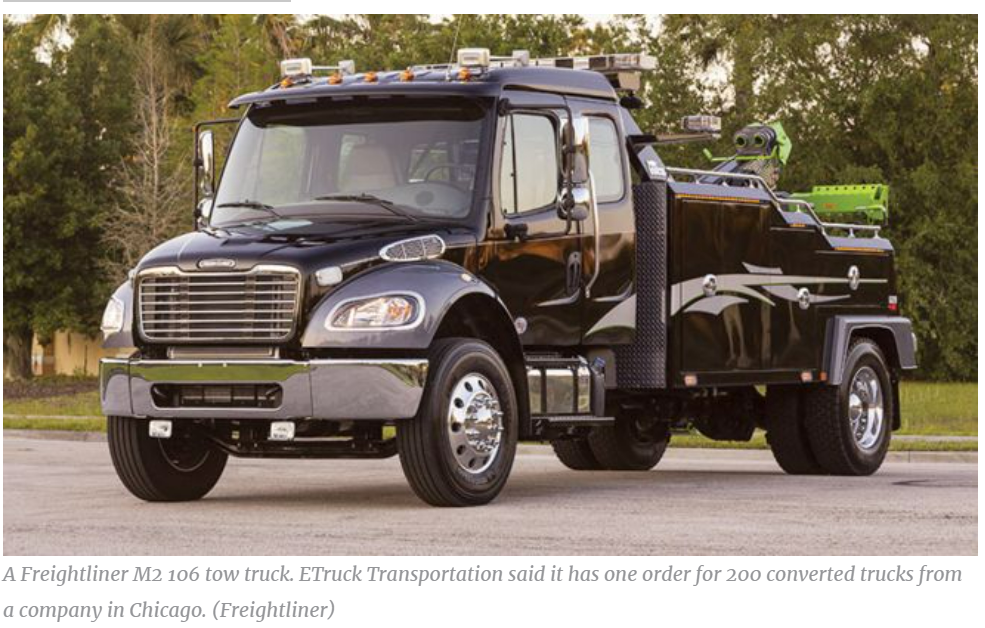 ETruck Transportation announced a plan to take used, diesel-powered Class 6 models, only from Freightliner, and convert them to battery-electric power for customers with those specific trucks.
The Omaha, Neb.-based family-run company reported it already has one order for 200 of the converted trucks from a private company in Chicago it declined to identify, citing a nondisclosure agreement. Deliveries to that customer are scheduled to begin in early 2021.
"We are a niche. We are filling the need [now] for what everyone wants to get to, which could take [new truck manufacturers] five years," eTruck Transportation President Russell Knudsen told Transport Topics. "All of our M2 Class 6 trucks will be box trucks for the e-commerce business. The 200 sold are box trucks, also."
The company chose to focus solely on Freightliner, a brand of Daimler Trucks North America, because it has the highest volume of trucks in use, he said. "The customer is already there. They are not hard to find to acquaint them with [our product]."
Besides that outreach, Knudsen said eTruck is considering a presence at a national truck show once those restart.
Knudsen said eTruck also has nondisclosure agreements with large U.S.-based major component suppliers, and they will be announcing their roles when the converted trucks begin to roll out into the market.
"We take out the diesel engine and leave the transmission. Everything from the transmission on through the whole truck, nothing else changes. Then we put in place of the diesel engine a very unique electric motor. It is mounted directly to the transmission and takes the place of the diesel engine. Pretty simple," Knudsen added. "We don't make anything. We buy everything already tested for millions of miles or thousands of hours in all kinds of climates."
Battery packs will be located on the frame rails "on both sides, and those will vary depending on how many miles [fleets] want to go in a day," he said.
The time it will take to convert each truck is estimated to be in the 40-hour range, he said. The initial intent is to train companies to make the conversion themselves.
Knudsen said his family has lengthy experience in customizing, creating and marketing exotic passenger cars, vans and limousines, among other interests.
---
Feb 20, 2021. Principal Solar Announces Successful Completion of $8.65 Million Regulation A Plus Equity Offering
Feb 9th, 2021. Principal Solar Issues Shareholder Update; Receives SEC Qualification to Commence Regulation A plus Offering
---
RECENT CHART
The share price ran up on 113% in December on news of a joint venture with an existing trucking company, whose fleet it intends to expand and retrofit, called Executive Logistics & Transportation.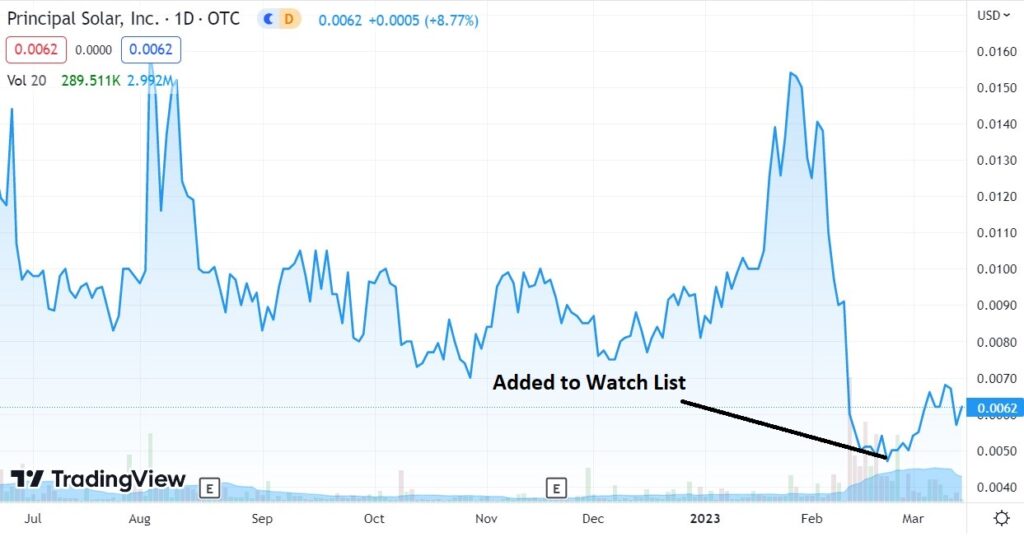 MANAGEMENT
Principal Solar (PSWW) is run by K. Bryce "Rick" Toussaint who is both CPA and MBA.
As his biography details, "Mr. Toussaint is a highly accomplished, results-driven Entrepreneur with more than 25 years of business and public accounting experience in a Big 4 environment. A consummate professional, Mr. Toussaint is highly adept in merger and acquisition consulting whereby he has proven effective in numerous aspects including: successfully raising capital (Equity and Debt); spearheading project and corporate finance initiatives; coordinating private equity due diligence efforts; and providing strategic advice on accounting systems integration projects. With a skill-set that is applicable and transferable across industries, Mr. Toussaint has in-depth expertise in Energy (Renewable, E&P, and Midstream), Manufacturing, Nutraceutical and Technology Industries."
"As a highly experienced M&A Consultant, Mr. Toussaint has advised more than 20 companies, both domestic and international, to become, and remain, publicly listed on the NASDAQ, NYSE and OTC from 2006 to present.
From a corporate executive perspective, Mr. Toussaint formally served as Chief Executive Officer and Board Member of the NASDAQ listed Corporation MYOS-Rens from December 2015 until 2016. Most recently, Mr. Toussaint was nominated to the Board of Directors of a second NASDAQ listed Company – "China Xiangtai Food Co Ltd" (later named Bit Origin: BTOG).
---
To keep the story simple, we'll come out with another report Friday, detailing the other exciting investments Principle Solar has made. Client, see 17B details below.

Safe Harbor Statement under the Private Securities Litigation Reform Act of 1995

The statements contained in this news release which are not historical facts may be "forward-looking statements" that involve risks and uncertainties which could cause actual results to differ materially from those currently anticipated. For example, statements that describe PSWW' hopes, plans, objectives, goals, intentions, or expectations are forward-looking statements. The forward-looking statements made herein are only made as of the date of this news release. Numerous factors, many of which are beyond PSWWs' control, will affect actual results. PSWW undertakes no obligation to publicly update such forward-looking statements to reflect subsequent events or circumstances. This news release should be read in conjunction with PSWWs' most recent financial reports and other filings posted with the OTC Markets and/or the U. S. Securities and Exchange Commission by PSWW. 17B Institutional Analyst Inc has been retained to provide reporting and news coverage to Principal Solar for a monthly retainer of five-thousand dollars.
Principal Solar Contact
K. Bryce "Rick" Toussaint, CPA, MBA
Chairman and Chief Executive Officer
kt@pswwenergy.com
214.885.0032
Investor Relations Contact
Michael Briola
invest@pswwenergy.com
$PSWW, $PSWW