The 2021 Biotech Six Pack: Stocks We Expect to Double!
These are ideas #3 and #4 for the 'Biotech Six Pack' list. The first addition was Citius Pharma (CTXR), which was also on the 2020 Biotech Six Pack List. Originally discovered at $0.55 in late 2019, we 're-upped' at $1.27 this January it has since traded as high as $2.91. Not bad..as they say.
Adding Citius Pharma (CTXR) $1.29 to the 2021 Biotech Portfolio.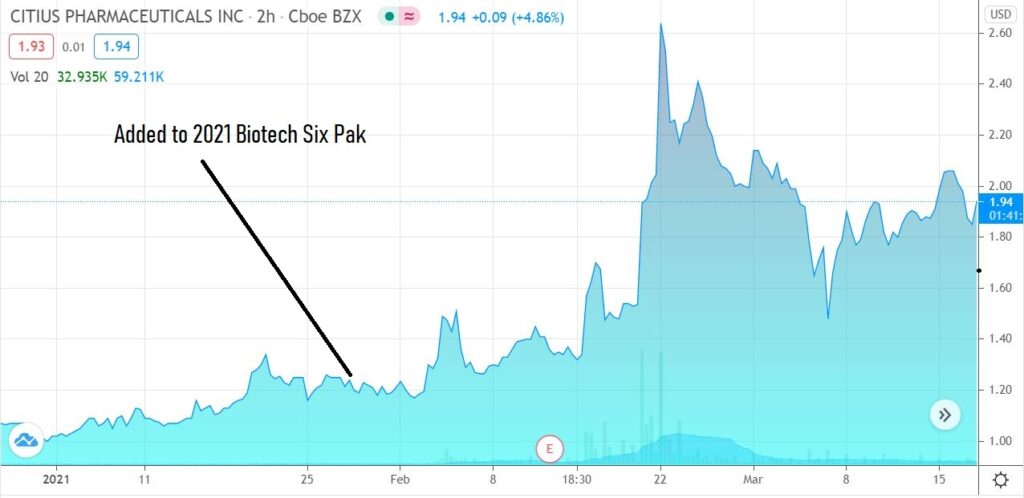 The second addition was Hepion Pharma (HEPA) at $2.22, the day after it announced it raised $88 million, February 17th.
---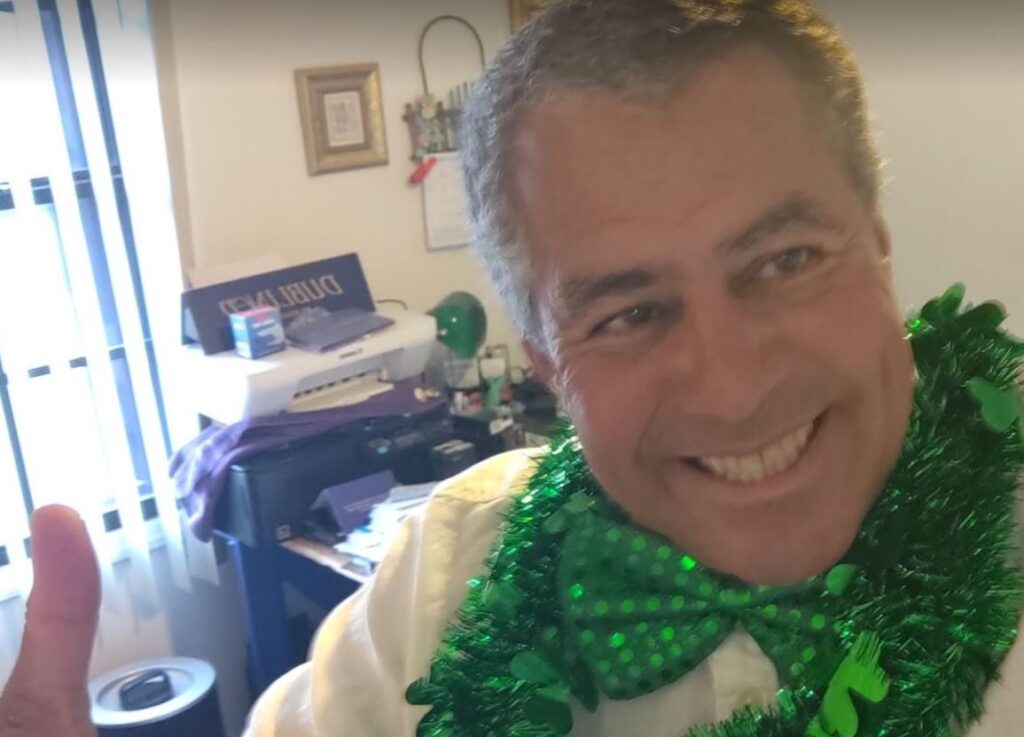 Pre-disclaimer, disclaimer..these are stocks we expect to at least (not predict) double — eventually (as in a couple of years). These are not WallStreetBets trading ideas. Oh, and past performance has nothing to do with future performance. Just saying!
Finally, in honor of St Patrick, (and originally being from Chicago) we will have to be brief. First a quick look at the 2020 Biotech Six-Pack — just to show that yes on occasion, we do know what we're talking about (or at least our 'people' do.)
List price, Subsequent high.
American BriVision (ABVC) $3.30 to $6.00, up 81%
Citius Pharma (CTXR) $1.02 to $2.91, up 185%
Dicerna (DRNA) $21 to $29.90, up 42%
Dyadic (DYAI) $5.91 to $10.98, up 85%
Fortress Biotech (FBIO) $2.70 to $5.08, up 88%
Immunomedics (IMMU) $18.78 to $87.00, up 363% (acquired).
---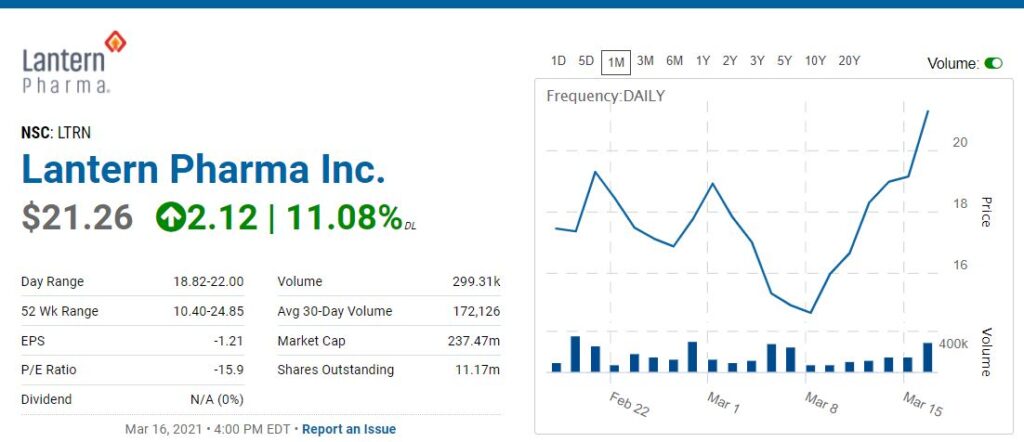 This is a Biotech / Artificial Intelligence idea. It is focused on leveraging artificial intelligence machine learning and genomic data to streamline the drug development process and to identify the patients that will benefit from targeted oncology therapies. The firm's pipeline of development programs involves three small molecule drug candidates namely LP-100, LP-184, and LP-300.
We first heard about this from one of their investment bankers (at $15) shortly after their IPO – and we dilly-dallied. Dilly-dally no more. It's flirting near their all-time high and there is a risk it runs from here, with nothing but blue skies ahead.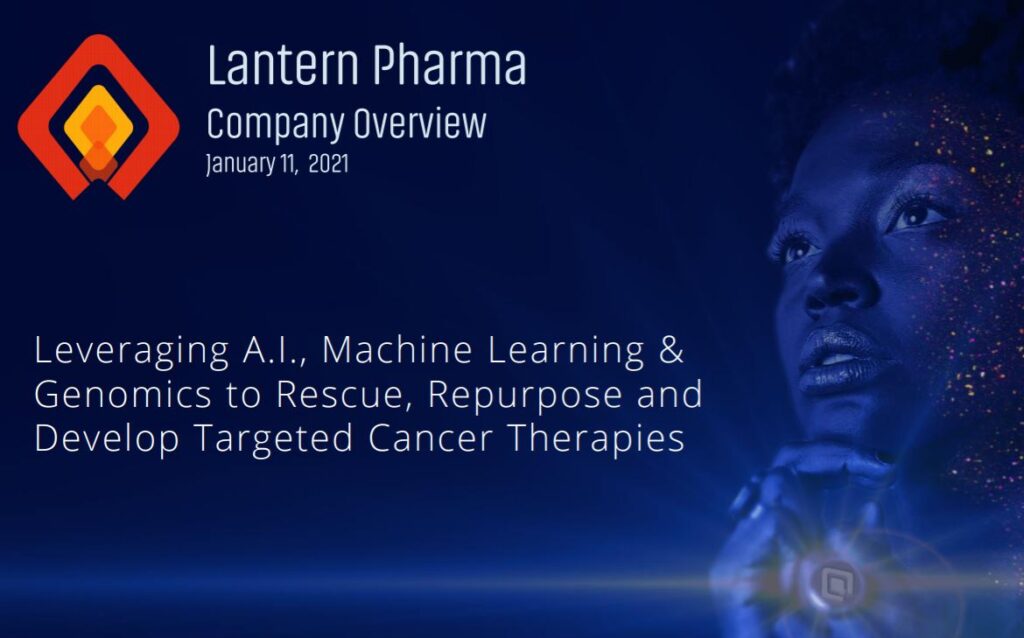 ---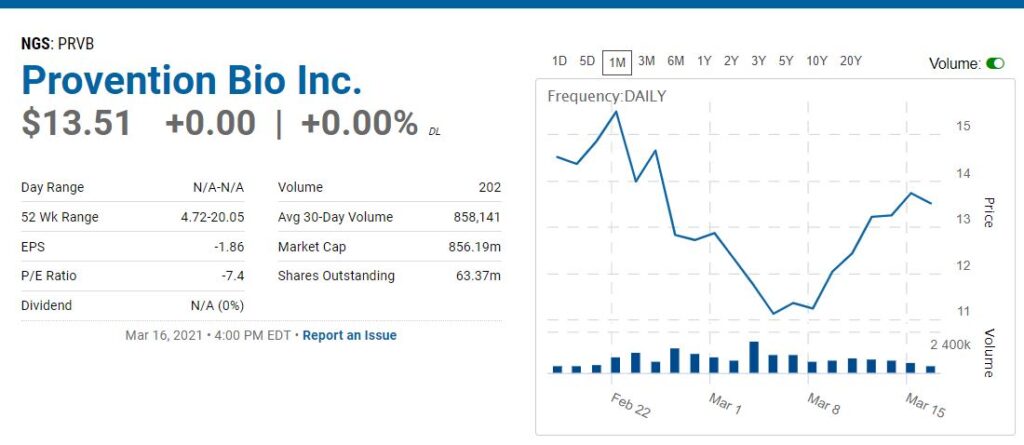 To make a long story short, this idea comes from the same fellow – Robert DePhillipis -who told us about Immunomedics (IMMU) when it was trading at $3.00 back in 2016. We shared a desk at a trading firm in Long Island back then, and that's all he talked about (don't sell at $6, don't sell at $12, don't sell at $25…) every day, day in, day out – for 3 plus years. $3.00 to $87, those don't come around very often!
He called us while we were on the beach on this Saturday – and we've never heard him more enthusiastic. So we set aside the White Claw and paid careful attention. Paying more attention to his enthusiasm than his pitch. Best we can remember was something about diabetes and something about FDA-related data by May.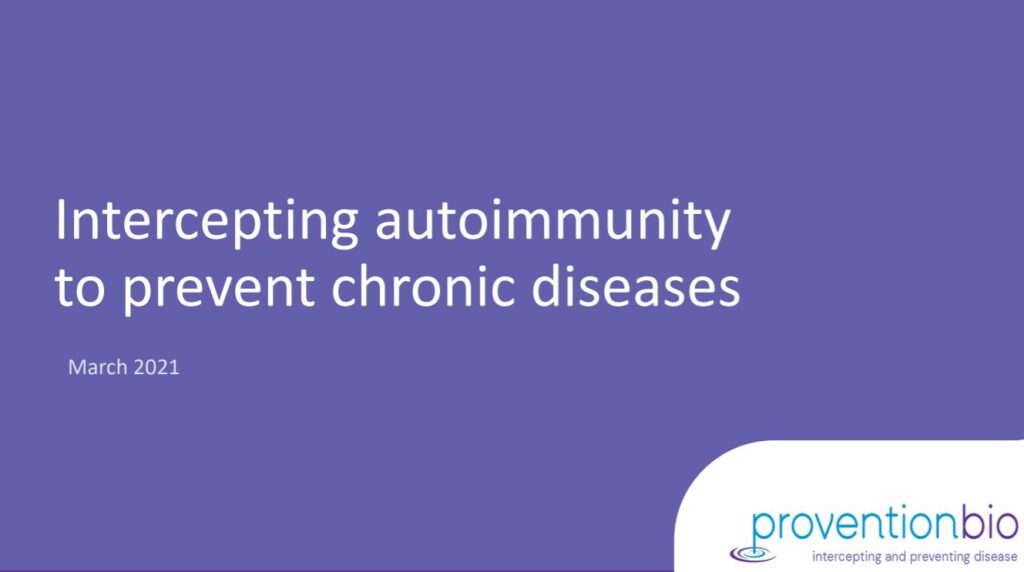 We'll have a long report out soon.
---
HAPPY ST PATRICKS DAY
Disclaimer: See respective reports for client disclosure and disclaimer details on ABVC, CTXR, DYAI, DRNA, HEPA.