We Think it is!
Webinar to discuss effectiveness.

The Company does not make CBD Oil, it makes any CBD Oil better.
Press release out today about their most recent THC study.
Pressure BioScience (PBIO) is one of the top makers of medical related instruments (in terms of quality) in the country. A newly released instrument nano-emulsifies (physically, not chemically thus more pure) any oil based ingredients – be it in an oil, beverage, food or cosmetic.
Their clients include..we'll just put up some logos.
---

---
So we know – they know – what their doing. But past business has only amounted to roughly $3 million a year, small by any definition.
But Wait, There's More!
They have come up with a new instrument called UltraShear™ which like it sounds, can physically (non-chemically) shear just about anything and any oil into nano pieces so small, that it becomes (and stays) soluble in water. If it's truly water soluble, you can't see it, it's clear.
Things like salt, sugar, lemon juice and coffee are all examples of things which are water soluble. If the are soluble, they also have what's called increased bioavailability. Meaning better absorbed in the body, which explains caffeine jitters quickly after drinking it.
Oil however, like the saying, does not mix with water. Which is why you may want to 'shake' a beverage with is enhanced by an oil based additive or enhancement.
Oil also resists absorption(poor bioavailability) into the bloodstream—with 96% of it being flushed from the body without ever having an active or beneficial effect. This includes most vitamins you buy.
The First UltraSheer™ Target: CBD and THC OIL.
While their markets include multi-billion dollar sectors like food & beverage, nutraceuticals, and a lot more — they are first going after the CBD and THC oil markets. What they call low-hanging fruit.
This is a B2B (business to business) market. They are not (yet) focusing on selling their own branded CBD Oil, but rather private labeling for others in the B2C (business to consumer) market – of which there are thousands and thousands.
What we like about the CBD market, is that it's yuge. Much larger than their legacy business target, where they sell to 20 or 30 instruments a year, to Fortune 100 type companies!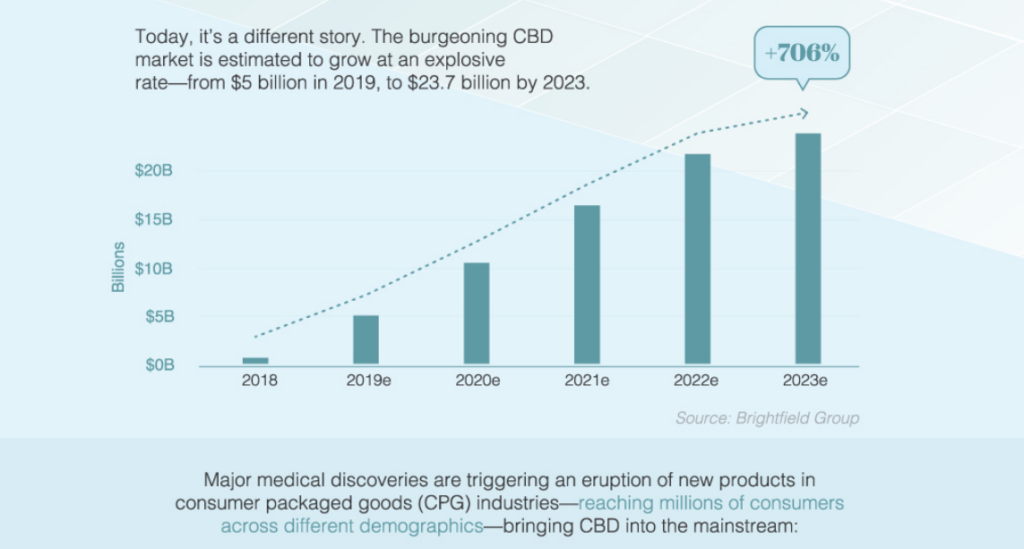 ---
What we like about the THC market are that the effects are undeniably recognized. Unlike Vitamin D as example, and more like aspirin or tylenol – i.e "did the headache go away?" If someone takes their THC nano-emulsified oil (say in an edible or spray), they will know right away – creating a powerful selling advantage as word of mouth spreads.
Today they announced the results their third Observational Patient study.
June 27, 2023 / Pressure BioSciences, Inc. (PBIO) today announced results from a third round of consumer focus group testing of a THC Nanoemulsion Oral Spray designed for rapid, direct absorption through the cheeks and under the tongue.
The study endpoint was essentially "How long did it take you to relax or for pain to be releived?"
And the results:
Speedy onset of first effects (average well under ten minutes, with many reports in the first few minutes) versus typical THC edibles requiring 30-60 minutes for initial onset.
Much faster progression to maximum effects (average well under 30 minutes, with many reports in 20 minutes or less) versus typical THC edibles requiring 60-120 minutes.
Efficiency improvements in dose payload delivery, with many reporting equal or better/greater THC experience from dosing at a fraction of user's normal dosing levels (aka stronger).
Multiple consumers applied a single spray to painful body areas and reported fast to instant transdermal pain relief.
Multiple consumers with difficulty in falling asleep detailed how they quickly fell asleep and remained asleep through the night
So there you have it.
WEBINAR
The Company's President and CEO, Mr. Richard T. Schumacher, is the featured speaker at an online webinar scheduled for Tuesday, June 27, 2023, at 4:30 PM EST.
The webinar is entitled: "From Concepts to Success: Pressure BioSciences UltraShear™ Platform Revolutionizing Cannabis, Nutraceuticals, Cosmeceuticals, and Multiple Other Industries."
During this webinar, participants can expect to gain a quick overview of Pressure BioSciences Inc. and its core technologies and products, as well as learn about the Company's powerful UltraShear Technology platform and its transformative impact on various industries. A Q&A session will follow the formal presentation. Register here to secure your spot: PBIO Webinar Registration 6.27.23
The stock, BTW has been in a free-fall and has open and welcome arms to bottom fishing bargain-hunters!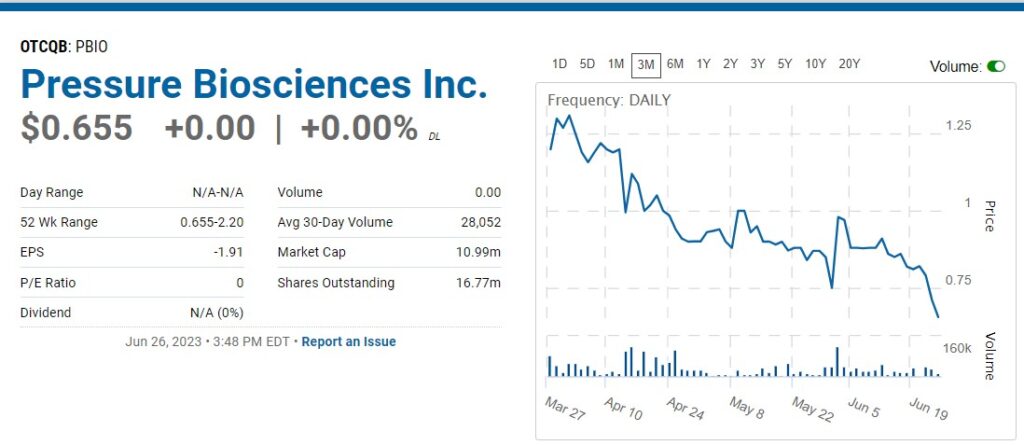 ---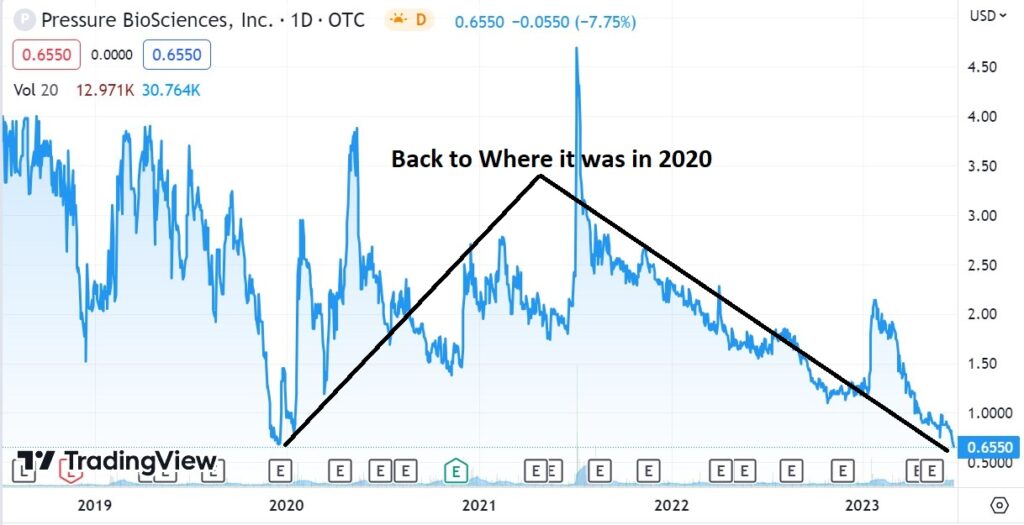 Forward Looking Statements | Disclaimer
This press release contains forward-looking statements. These statements relate to future events or our future financial performance and involve known and unknown risks, uncertainties and other factors that may cause our or our industry's actual results, levels of activity, performance, or achievements to be materially different from any future results, levels of activity, performance or achievements expressed, implied, or inferred by these forward-looking statements. In some cases, you can identify forward-looking statements by terminology such as "may," "will," "should," "could," "would," "expects," "plans," "intends," "anticipates," "believes," estimates," "predicts," "projects," "potential" or "continue" or the negative of such terms and other comparable terminology. These statements are only predictions based on our current expectations and projections about future events. You should not place undue reliance on these statements. In evaluating these statements, you should specifically consider various factors. Actual events or results may differ materially. These and other factors may cause our actual results to differ materially from any forward-looking statement. These risks, uncertainties, and other factors include, but are not limited to, the risks and uncertainties discussed under the heading "Risk Factors" in the Company's Annual Report on Form 10-K for the year ended December 31, 2022, and other reports filed by the Company from time to time with the SEC. The Company undertakes no obligation to update any of the information included in this release, except as otherwise required by law. Institutional Analyst Inc., has been compensated by the Company with restricted stock valued at six thousand five hundred dollars per month to provide ongoing news coverage and reporting.
#PBIO, $PBIO