Excellent interview. We were at the Noble Investor Conference to see it live. And we were at the manufacturing plant this Friday. We've worked with consumer product companies before but never one with manufacturing capabilities.
Quite amazing, an A-Z operation that acquire ingredients, formulates and blends the product, packs and labels, then ships the product to customers and to Amazon! In an age were nearly everything is outsourced; it was quite exciting to see in action.
Report out soon.
Click to read more.
---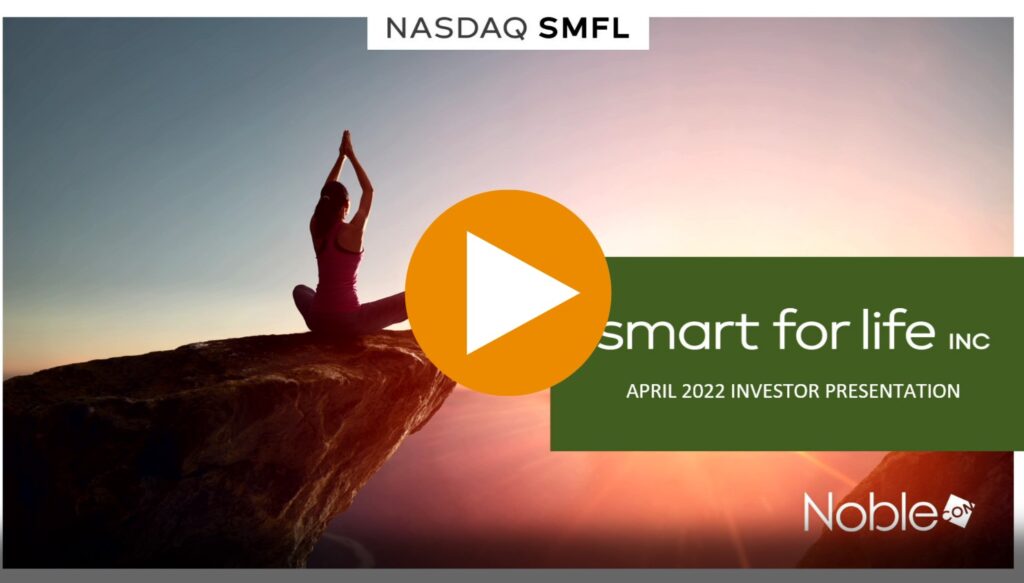 ---
---
Smart For Life to Present at The Noble Capital Markets Eighteenth Annual Investor Conference
MIAMI, April 14, 2022 (GLOBE NEWSWIRE) — Smart for Life, Inc. (Nasdaq: SMFL) ("Smart for Life" or the "Company"), a global leading developer, marketer, and manufacturer of nutritional and related products, today announced that A.J. Cervantes, Jr., Smart for Life's Executive Chairman will present at the Noble Capital Markets Eighteenth Annual Investor Conference being held on April 20-21, 2022 at the Hard Rock Hotel & Casino in Hollywood, Florida.
Mr. Cervantes will present on Thursday, April 21st at 12:30 pm Eastern Time, in Seminole Ballroom B. Investors interested in meeting with management can meet at the breakout sessions on Wednesday, April 20th at 1:00 pm Eastern Time at Table 6, as well as on Thursday, April 21st at 11:30 am Eastern Time at Table 8.
A high-definition, video webcast of the presentation will be available the following day on the Company's website www.smartforlifecorp.com, and as part of a complete catalog of presentations available at Noble Capital Markets' Conference website: www.nobleconference.com and on Channelchek www.channelchek.com the investor portal created by Noble. The webcast will be archived on the company's website, the NobleCon website and on Channelchek.com for 90 days following the event.
DISCLAIMER
The information provided in this press release is intended for general knowledge only and is not a substitute for professional medical advice or treatment for specific medical conditions. Always seek the advice of your physician or other qualified health care provider with any questions you may have regarding a medical condition. This information is not intended to diagnose, treat, cure or prevent any disease. Client, Institutional Analyst Inc., has been retained by SMFL to provide ongoing news coverage and reporting for six-thousand dollars per month for a period of six months. See report for full disclosure and disclaimer details.