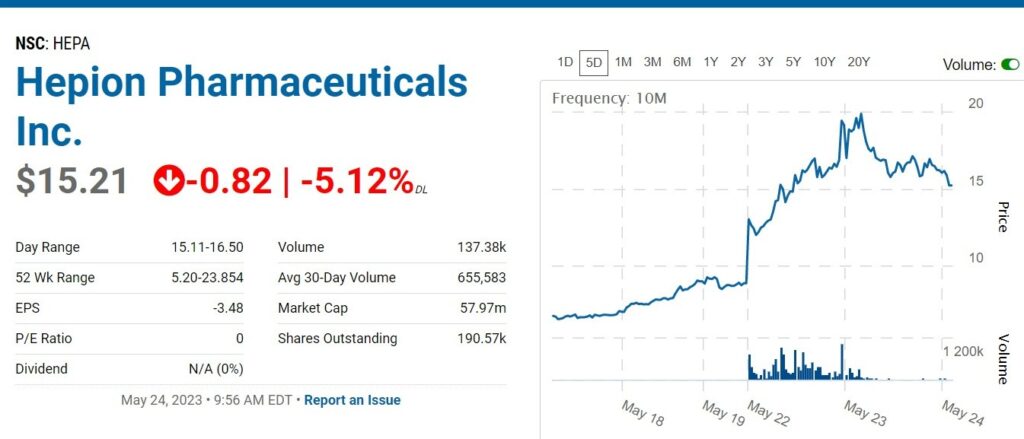 Hepion (HEPA) Phase 2 'ALTITUDE-NASH' Trial Achieves Primary and Secondary Endpoints, Including Improvement in Liver Function and Multiple NASH Biomarkers.
Definitely NOT for traders or flippers. Long-term investors should think twice about selling here, despite the recent double, as the start of a true multi-year run may be just around the corner!
NASH is a type of liver disease in which fat (fatty liver) builds up in the liver of people who drink little or no alcohol. This causes inflammation of the liver and damage to the cells in the liver, which may lead to cirrhosis (scarring of the liver) and liver failure. People with NASH are at increased risk of developing liver cancer.
Market for NASH is extremely large (estimated as ~20 million adults in U.S.
alone) and there are no currently approved drugs for the treatment of NASH, hmm.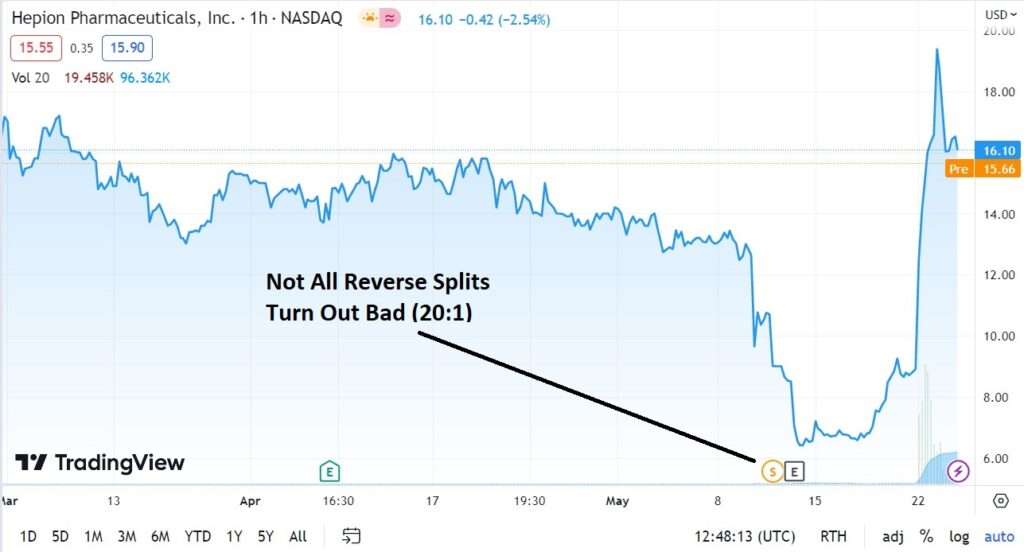 RELATED: Adding Hepion Pharma ($1.73) to Watch List. Oh My. What Did We Find Here?
Biotech Stock Review News Archive
---
– Improvements in physiologic liver function and key NASH biomarkers including ALT, ProC3, PIIINP and ELF –
– Results reinforce rencofilstat's direct antifibrotic mode of action; increases confidence for reductions in fibrosis in ongoing Phase 2b 'ASCEND-NASH' paired biopsy trial –
EDISON, N.J., May 22, 2023 (GLOBE NEWSWIRE) — Hepion Pharmaceuticals, Inc. (NASDAQ:HEPA), a clinical stage biopharmaceutical company focused on artificial Intelligence ("AI")-assisted therapeutic drug development for the treatment of non-alcoholic steatohepatitis ("NASH"), fibrotic diseases, hepatocellular carcinoma ("HCC"), and other chronic diseases, today announced positive topline results from its recently completed Phase 2 ALTITUDE-NASH clinical trial.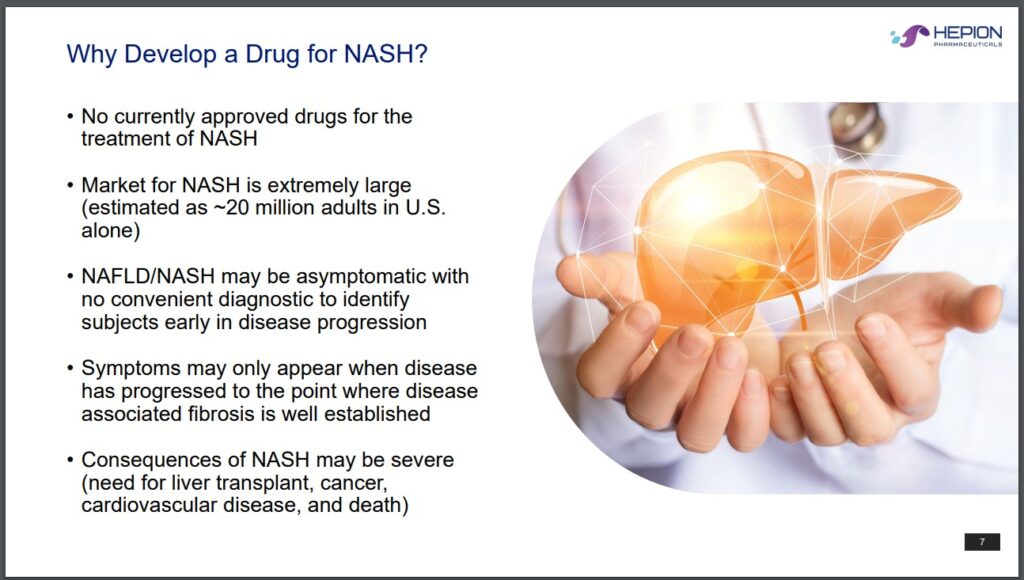 ALTITUDE-NASH met its primary endpoint by demonstrating improved physiologic liver function and was well tolerated after four months of treatment in subjects with stage 3 or greater fibrosis based on the AGILE 3+ criteria. All additional secondary endpoints were also met, including reductions in the liver injury biomarkers, alanine and aspartate transaminases ("ALT" and "AST"); and multiple fibrosis-associated biomarkers, including ProC3 (procollagen 3 C-terminal peptide), PIIINP (procollagen 3 N-terminal peptide), TIMP1 (tissue inhibitor of metalloproteinase-1), hyaluronic acid, and enhanced liver fibrosis ("ELF") scores (composite of PIIINP, TIMP1, and hyaluronic acid). These observations build on similar findings from a shorter Phase 2a trial and reinforce rencofilstat's direct antifibrotic mode of action and increase the confidence for reductions in fibrosis in Hepion's ongoing Phase 2b ASCEND-NASH paired biopsy trial.
"We are thrilled that the ALTITUDE-NASH trial met both its primary efficacy and safety endpoints, in particular with the 225 mg rencofilstat dose showing the greatest benefit to liver function and multiple NASH-associated biomarkers," said Todd Hobbs, MD, Hepion's Chief Medical Officer. "This trial was designed to inform us on how well rencofilstat improves hepatic function in those with significant impairment and risk for complications from their advanced NASH. Further, it provided an opportunity to evaluate data generated from different doses of rencofilstat. I am very pleased with the research team and the ALTITUDE-NASH sites that quickly recruited this study. Our improved understanding of which subjects best respond to rencofilstat can be immediately applied to increase the likelihood of success of our larger and longer ASCEND-NASH paired biopsy trial."
LONGER TERM CHART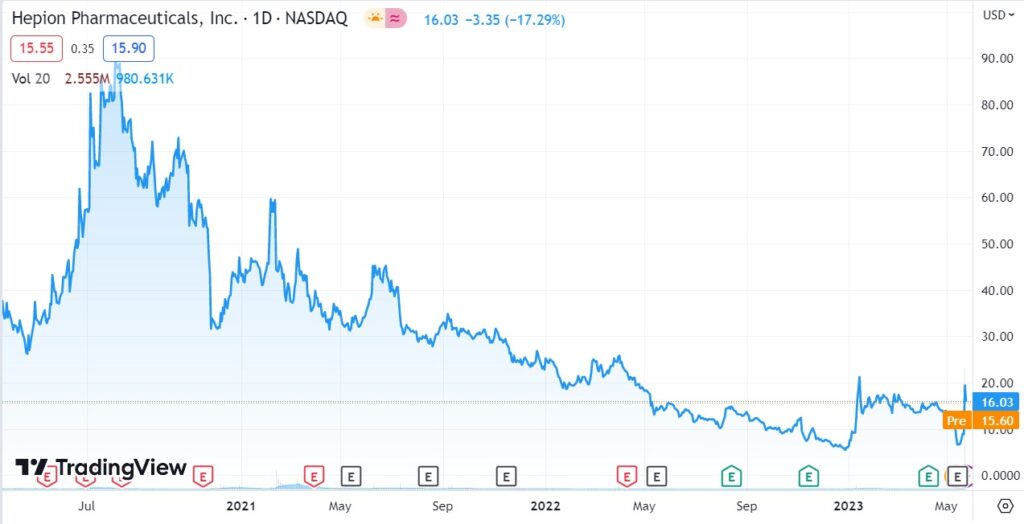 FULL PRESS RELEASE with data charts.
Certain statements in this press release are forward-looking within the meaning of the Private Securities Litigation Reform Act of 1995. These statements may be identified by the use of forward-looking words such as "anticipate," "believe," "forecast," "estimated," and "intend," among others. These forward-looking statements are based on Hepion Pharmaceuticals' current expectations and actual results could differ materially. There are a number of factors that could cause actual events to differ materially from those indicated by such forward-looking statements. These factors include, but are not limited to, substantial competition; our ability to continue as a going concern; our need for additional financing; uncertainties of patent protection and litigation; risks associated with delays, increased costs and funding shortages caused by the COVID-19 pandemic; uncertainties with respect to lengthy and expensive clinical trials, that results of earlier studies and trials may not be predictive of future trial results; uncertainties of government or third party payer reimbursement; limited sales and marketing efforts and dependence upon third parties; and risks related to failure to obtain FDA clearances or approvals and noncompliance with FDA regulations. As with any drug candidates under development, there are significant risks in the development, regulatory approval, and commercialization of new products. There are no guarantees that future clinical trials discussed in this press release will be completed or successful, or that any product will receive regulatory approval for any indication or prove to be commercially successful. Hepion Pharmaceuticals does not undertake an obligation to update or revise any forward-looking statement. Investors should read the risk factors set forth in Hepion Pharmaceuticals' Form 10-K for the year ended December 31, 2022, and other periodic reports filed with the Securities and Exchange Commission. News coverage client, see report for full disclosure and disclaimer details.
$HEPA $HEPA