Cybin Announces Size and Pricing of Previously Announced Overnight Marketed Public Offering of Common Shares.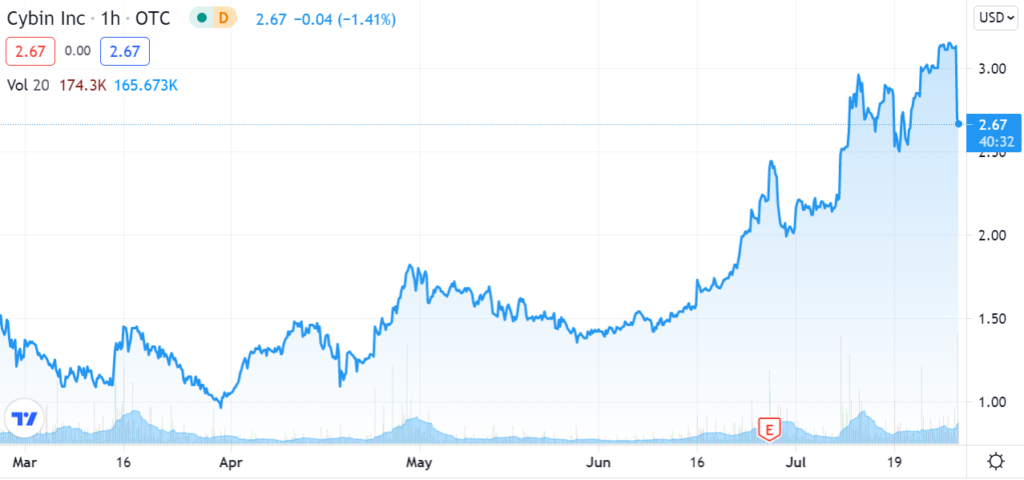 TORONTO, July 28, 2021–(BUSINESS WIRE)–Cybin Inc. (NEO: CYBN) (OTCQB: CLXPF) ("Cybin" or the "Company"), a biotechnology company focused on progressing psychedelic therapeutics, announced today the pricing of its previously announced overnight marketed offering (the "Offering") of an aggregate of 8,824,000 common shares in the capital of the Company (the "Shares") at a price of $3.40 per Share for total gross proceeds of $30,001,600.
Cantor Fitzgerald Canada Corporation and Canaccord Genuity Corp., as joint bookrunners, co-led the syndicate of underwriters for the Offering, which included H.C. Wainwright & Co., LLC, Roth Canada, ULC, and Stifel Nicolaus Canada Inc. (collectively, the "Underwriters").
The Offering is expected to close on or about August 3, 2021, or such other date as the Underwriters and the Company may agree, and completion of the Offering will be subject to market and other customary conditions, including approval of the Neo Exchange Inc. (the "NEO Exchange").
The Company has granted the Underwriters a 30-day option to purchase up to an additional 1,323,600 Shares, representing 15% of the Shares issued pursuant to the proposed Offering on the same terms and conditions for market stabilization purposes and to cover over-allotments (the "Over-Allotment Option"). The Over-Allotment Option may be exercised in whole or in part as determined by the Underwriters.
The Company intends to use the net proceeds from the Offering for general corporate and working capital purposes.
The Shares will be offered in each of the provinces of Canada, excluding Quebec, pursuant to a prospectus supplement to the Company's short form base shelf prospectus dated July 5, 2021 (the "Base Shelf Prospectus"). The Shares will not be offered or sold in the United States or to U.S. persons except pursuant to Rule 144A or in such other manner as to not require registration under the United States Securities Act of 1933, as amended (the "U.S. Securities Act"). Prior to forming an investment decision, prospective investors should read the Base Shelf Prospectus and the documents incorporated by reference therein, including any marketing materials, which are available on the Company's SEDAR profile available at www.sedar.com.
This news release shall not constitute an offer to sell or the solicitation of an offer to buy securities in the United States, nor shall there be any sale of the securities in any jurisdiction in which such offer, solicitation or sale would be unlawful. The securities to be offered have not been, and will not be registered under the U.S. Securities Act or under any U.S. state securities laws, and may not be offered or sold in the United States or to, or for the account or benefit of, U.S. persons, absent registration or an applicable exemption from the registration requirements of the U.S. Securities Act and applicable state securities laws.
About Cybin
Cybin is a leading biotechnology company focused on progressing psychedelic therapeutics by utilizing proprietary drug discovery platforms, innovative drug delivery systems, novel formulation approaches and treatment regimens for psychiatric disorders.
Cautionary Notes and Forward-Looking Statements
Certain statements in this news release related to the Company are forward-looking statements and are prospective in nature. Forward-looking statements are not based on historical facts, but rather on current expectations and projections about future events and are therefore subject to risks and uncertainties which could cause actual results to differ materially from the future results expressed or implied by the forward-looking statements. These statements generally can be identified by the use of forward-looking words such as "may", "should", "could", "intend", "estimate", "plan", "anticipate", "expect", "believe" or "continue", or the negative thereof or similar variations. Forward-looking statements in this news release include statements regarding the anticipated closing of the Offering, the exercise of the Over-Allotment Option, the use of Offering proceeds, and the receipt off applicable regulatory approvals, including the approval of the NEO Exchange. There are numerous risks and uncertainties that could cause actual results and Cybin's plans and objectives to differ materially from those expressed in the forward-looking information. Actual results and future events could differ materially from those anticipated in such information. These and all subsequent written and oral forward-looking information are based on estimates and opinions of management on the dates they are made and are expressly qualified in their entirety by this notice. Except as required by law, the Company does not intend to update these forward-looking statements.
Cybin makes no medical, treatment or health benefit claims about Cybin's proposed products. The U.S. Food and Drug Administration, Health Canada or other similar regulatory authorities have not evaluated claims regarding psilocybin, psychedelic tryptamine, tryptamine derivatives or other psychedelic compounds or nutraceutical products. The efficacy of such products has not been confirmed by approved research. There is no assurance that the use of psilocybin, psychedelic tryptamine, tryptamine derivatives or other psychedelic compounds or nutraceuticals can diagnose, treat, cure or prevent any disease or condition. Vigorous scientific research and clinical trials are needed. Cybin has not conducted clinical trials for the use of its proposed products. Any references to quality, consistency, efficacy and safety of potential products do not imply that Cybin verified such in clinical trials or that Cybin will complete such trials. If Cybin cannot obtain the approvals or research necessary to commercialize its business, it may have a material adverse effect on Cybin's performance and operations.
The NEO Exchange. has neither approved nor disapproved the contents of this news release and is not responsible for the adequacy and accuracy of the contents herein.
Contacts
Investors:
Tim Regan/Scott Eckstein
KCSA Strategic Communications [email protected]
Lisa M. Wilson
In-Site Communications, Inc. [email protected]
Media:
John Kanakis Cybin Inc.
[email protected]