Citius Update Stem Cell Study
Citius Pharmaceuticals, Inc announced that it will present a poster at the International Society for Cell and Gene Therapy (ISCT) Annual Meeting, to be held virtually May 26-28, 2021 .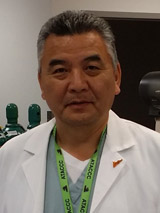 Dr. Perenlei Enkhbaatar, Professor and Director of the Translational Intensive Care Unit at The University of Texas Medical Branch, will present a poster describing interim results of a proof-of-concept study evaluating the efficacy and safety of novel induced pluripotent stem cell-derived mesenchymal stem cells (i-MSCs) acute lung injury.
As a world authority on the biological mechanisms of pulmonary damage in cytokine-storm induced acute lung injury, Dr. Enkhbaatar is ideally positioned to appreciate the underlying pathophysiology of COVID-19 disease.
ARDS is an inflammatory process leading to build-up of fluid in the lungs and respiratory failure. It can occur due to infection, trauma and inhalation of noxious substances. ARDS accounts for approximately 10% of all ICU admissions and almost 25% of patients requiring mechanical ventilation. Survivors of ARDS are often left with severe long-term illness and disability. ARDS is a frequent complication of patients with COVID-19.
Citius Pharmaceuticals to Feature Updated Positive Interim Results of i-MSC Study During Poster Presentation at International Society for Cell and Gene Therapy
---
Citius Announces Appointment of Ilanit Allen as Vice President
Ms. Ilanit Allen joins Citius with more than 20 years of experience in corporate communications, investor relations, strategy and investment banking. Since 2014, Ms. Allen has provided investor relations counsel to more than two dozen private and public life science companies. Previously, she advised executives across a broad spectrum of industries and growth stages, including technology startups and Fortune 500 financial institutions. Ilanit began her career as an investment banking analyst at SG Cowen with a focus on mergers and acquisitions.
Citius Pharmaceuticals, Inc. Announces Appointment of Ilanit Allen as Vice President, Corporate Communications and Investor Relations
---
Shareholder Update:
"I am also pleased to report that we successfully raised $96.5 million during the quarter, strengthening our balance sheet and providing us with significant runway into 2023. This will allow us to support our multiple development programs and invest in the long-term growth of our business.
Citius Pharmaceuticals, Inc. Reports Second Fiscal Quarter 2021 Financial Results and Provides General Business Update