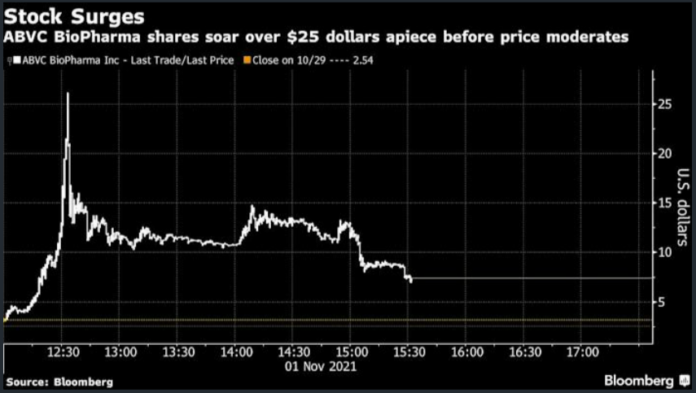 Tiny U.S. Biotech Jumps 930% as It Picks Up Retail Attention (Bloomberg)
Guess we were bound to stumble across a meemster sooner or later! This is our 13th client idea to gain ten-fold, even if it was intraday and only for a few moments.
Adding American BriVision (ABVC) $2.00 to Watch List. Sometimes it pays to be early, the average daily volume back in April 2020 was 1,139 shares (not a misprint) and it's traded 100 million shares today. What the?
Full Report: American BriVision (ABVC) $3.00 | Initiating Coverage
This was also on our Six Stocks We Expect Double List. $7.00 Price Potential at $3.30. With ABVC finally joining the party, all six companies doubled (peak value).
ABVC (ABVC) $3.30 to $29
Citius Pharma (CTXR) $1.02 to $4.56
Dicerna (DRNA) $20 to $40.14
Dyadic (DYAI) $5.91 to $10.35 (okay close)
Fortress Bio (FBIO) $2.70 to $6.10
Immunomedics (IMMU) $18.78 to $88 (acquired)
Bloomberg story:
Abhishek Vishnoi and Farah Elbahrawy, Mon, November 1, 2021, 10:21 AM
(Bloomberg) — A little known biotech company, ABVC BioPharma Inc., soared in U.S. premarket trading amid increasing chatter on trading social network StockTwits.
The Fremont, California-based firm's shares jumped as much as 930% in premarket trading and the stock was up 254% at 10:17 a.m. in New York. More than 50 million shares had been traded in the stock by that time, compared to its 12-month daily average of around 660,000.
At the end of trading on Friday, the stock had a market capitalization of $68.1 million. That now stands at around $242 million.
The company has filed for $50 million mixed securities shelf on Friday. It announced restructuring of a joint venture last month and filed for patent applications for some medicines treating depression and attention-deficit hyperactivity disorder in September.
(Updates share move, adds trading volumes in second paragraph.)
Most Read from Bloomberg Businessweek
Client, see reports for full disclosure and disclaimer details.

#ABVC, #CTXR, #DYAI, #DRNA, #FBIO, #IMMU