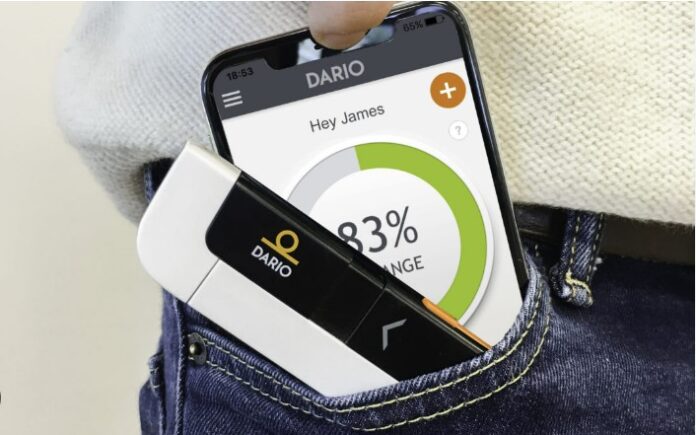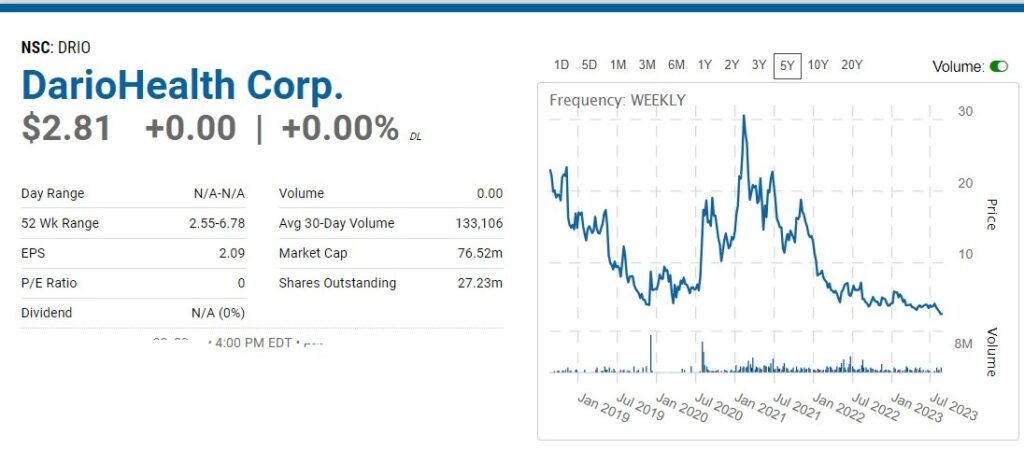 ---
Adding DarioHealth to Top Stocks of 2023 Watch List.
A position in Dario Health (DRIO) offers investors a brilliant back door, into the growing popularity of blockbuster GLP-1 drugs, such as Eli Lilly's (LLY) Mounjaro, and Novo Nordisk's (NVO) Ozempic, Wegovy and Rybelsus.
These drugs have been described as having the potential to become the biggest success stories in pharmaceutical history and of Mounjaro in particular, as the biggest drug ever. This is due to their effectiveness and the huge number of individuals suffering from diabetes (37 million) and obesity (134 million).
Wall Street is enamored (to put it mildly) over the long-term potential of both the new class of drugs and the drug makers stocks.
At the recent JPMorgan Healthcare Conference, revenue estimates for the group of drugs tallied up to $90 billion. That would be yearly. That would be in the US alone and the last time we checked, the U.S. hasn't cornered the market for obesity.
The charts, which don't lie, show just how much investor interest and money is flowing into the group. The $100 dollar share price gain in Eli Lilly's from $450 to $550 in early August, works out to a market value increase of $94 billion making for a lot of extremely happy shareholders.
Let's rephase that, to be clear. The shareholders of ELI Lilly just made $94 billion in the month of August alone.
ELY LILLY | MARKET CAP $525 BILLION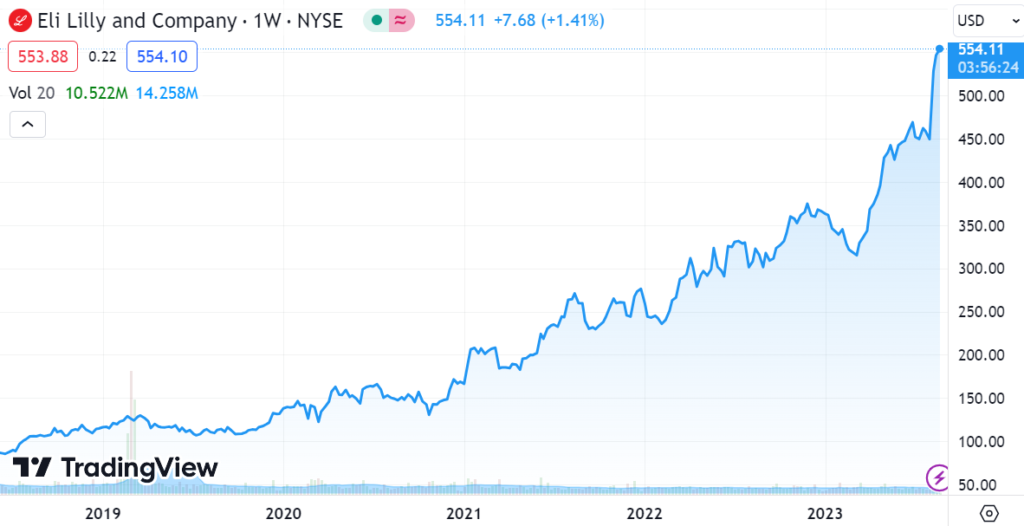 NOVO NORDISK | MARKET CAP $426 BILLION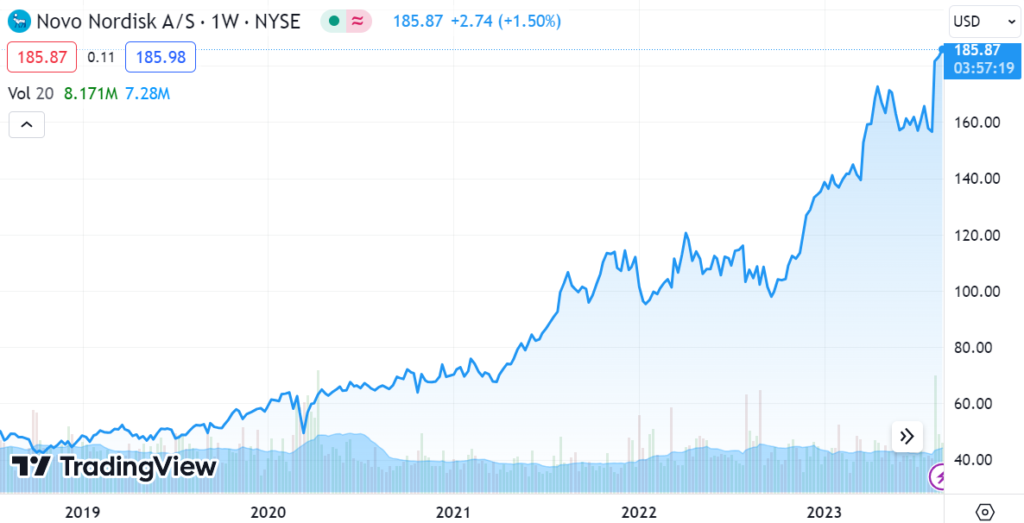 AND..DARIO HEALTH | $78 MILLION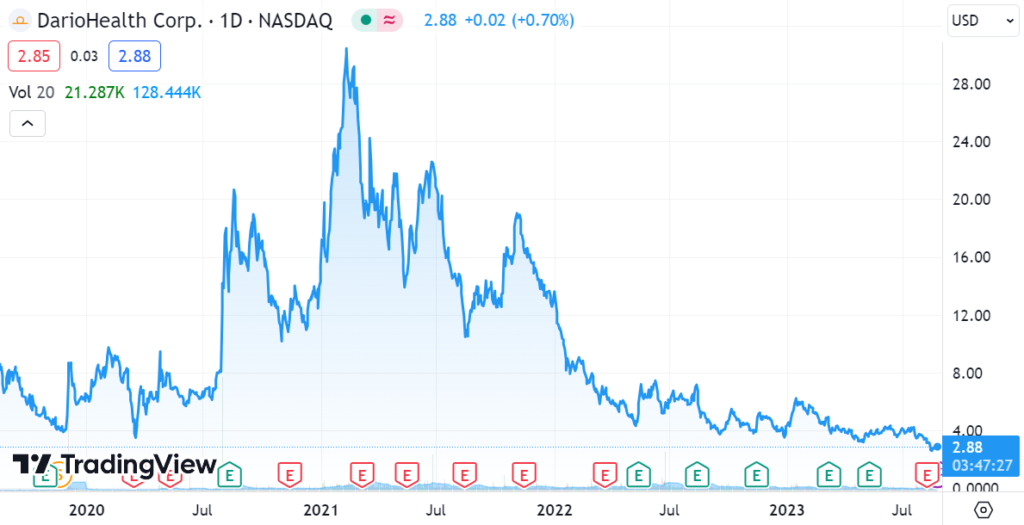 ---
What DarioHealth can and does do, is provide a real-time platform to monitor the progress of patients on drugs such as Ozempic or Mounjaro. Patients on the Dario platform monitored in study conducted by billion-dollar pharma giant Sanofi (SNY), have reported significantly better results, than those not being monitored.
Importantly Dario Health is technology agnostic about which of the above drugs a patient chooses, so it can benefit from the popularity of all four drugs combined – super charging Dario's potential.
This also would include new drugs such as Danuglipron which is right now in Pfizer's (PFE) testing labs. In fact if any company comes out with a new drug to fight diabetes and obesity, Dario can literally measure and improve that new drugs success. And again this has been proven in multiple studies.
What's not to like?
In addition to benefitting from the sales of any and all of these drugs – an investment in Dario is also de-risked in the sense it doesn't matter which drug gains or drops in popularity.
This, for example, is a risk faced by Novo Nordisk shareholders if Lilly's Mounjaro later proves to be significantly more effective than Novo's trio of drugs. The Doctor's will presumably switch to what works best.
Equally important in our opinion is the need for these GLP-1 treatments are not a 'fad' or subject to short-term events, such as Covid. That sector, which was once fueled by Wall Street enthusiasm, saw share prices surge and then come back down to earth, as fast as they rose.
We expect this new class of drugs to generate long-term enthusiasm on Wall Street as we all visually see more and more people losing weight, looking great and they (or you) hear, "Hey you look great, did you start a new diet?"
And the reply is, "..no I started taking Mounjaro."
In case you haven't been following the news, one recent study of 2,000 overweight or obese adults without diabetes, taking Ozempic lost an average of 34 pounds in less than 16 weeks. Republican Congressman George Santos Shed 92 pounds on Ozempic.
And just wait until they come out with an oral version of the drug, as a lot of people don't like giving themselves an injection.
Back to Covid for a moment, don't get us wrong, we fully enjoyed the Covid run even though it was short lived. It was our most impressive short-term sector-based performance since we launched in 1995 (bigger than the internet boom in 1999). We've participated in many manias, but nothing like the Covid craze. Vaccines, test kits, anti-virals. If it was related to Covid, it ran.
Six Months Later: Average Gain list one 478%, Average Gain list two 361%.
---
With the Centers for Disease Control (CDC) stating that obesity grew from 30.5% to 41.9% of the U.S. population in the past two decades, and with more and more our youth playing with TikTok, instead of playing outside, we think it's safe to say that diabetes and obesity is a problem which isn't going away anytime soon.
In fact odds are, it will get worse. Unlike Covid we think this group of drugs will power outsized investor returns to at least 2030. At which time everyone will discover the gym and eating healthy, and there will be no need for these drugs. Yeah, right.
So what's not to like about the category. Look at the per company revenue estimates from Visible Research which conducts consensus research for us, which we regularly rely upon.
Visable's consensus revenue estimates for 2030 show Mounjaro leading the pack with $20.6 billion, Ozempic at $18.1 billion, Wegovy at $12.0 billion, and Rybelsus at $7.4 billion. We consider these estimates to be conservative. And again, these are annual estimates.
So back to what we said, we think higher enthusiasm and higher stocks prices could be in the cards for years to come. It's up to each investor though to choose to sit on the sidelines, eat donuts and watch, or to participate.
Of the GLP-1 agonists, Wegovy and Saxenda are the only two approved specifically for obesity/weight loss which is considerably larger market than diabetes alone.
---
SO WHERE DOES DARIO HEALTH FIT IN TO THE GRAND SCHEME OF THINGS.
Aside from fitting in 'nicely,' the services Dario Health and its Fortune 500 partners provide (Aetna, Dexcom, Sanofi) could be described as 'essential*' for both diabetics and the obese. Particularly when combined with a drug like Mounjaro (which we happen to take) or Ozempic. Dario and these drugs go hand-in-hand.
Dario's Gameplan
Dario has meters and sensors to monitors a patients progress. Including if they stop taking their treatment.
Dario has smartphone apps for the patient to easily monitor their progress (no more pen, paper and notebooks) which are all top-ranked on the Apple and Google download stores (4.9 star rating with a 80% year-over-year retention rate).
Dario has 'coaches' (both AI and individual) to ensure patients stick to the game-plan.
Packaged with Mounjaro or Ozempic into the mix, and you have results we believe will soon be widely known and described as 'miraculous.'
There are numerous 'real-world' results reported from 3rd parties such as Sanofi (SNY) to back up the miraculous description. Sanofi has a market cap of $130 billion and annual revenues of $50 billion. A nice group to partner with, we think you'll agree.
They (Sanofi) conducted a study showing that over a six month period, patients on Dario's plan and platform with an A1c greater than 9 points had a 2.3 point reduction. This is huge, ask any Doctor, and he or she will say "miraculous and keep doing what you're doing."
Preventing someone's A1c going from a 6 to a 9, in 'hurricane' terms, is like the difference between a category 3 and a category 5 hurricane. Over 9, uncontrolled blood sugar creates the potential for catastrophic damage (blindness, nerve damage, and kidney failure).
This is why we think it is a good idea to invest in Dario Health. It's not because of the next quarter, or even next years revenues. It's not because of some analyst set a price target using valuations based on discounted cash flows (DCF). The reason to invest in Dario, is that it can improve (and save) the lives of millions and millions of diabetics and the overweight.
As we've said before, with results that have been proven by a highly-credible Sanofi, what's not to like?
SANOFI RESEARCH STUDIES
DRAMATICALLY REDUCES BLOOD SUGAR NUMBERS
SAVES INSURERS $5,057 IN MEDICAL COSTS
With Help of Sanofi, Dario Health Builds Scientific Case for Its Diabetes Program
Dario believes that the research generated through the partnership with Sanofi will make it easier to convince decision-makers at insurance companies, health systems, and large employers that they should offer Dario's products to their members and/or employees.
(*Essential. Despite patient success Reuters reported that only 32% of the patients taking a GLP-1 were still taking it a year later. How someone can lose 34 pounds and then stop taking the treatment is beyond comprehension. This shows clearly the need for Dario's support service. It's called patient compliance, something which they are experts at. We call it hand-holding).
Monthly subscription based fees for Dario's support services range from $24 to $110 a month. Using the lowest dollar amount, looking only at diabetics and totally ignoring the obesity market, reveals a rather impressive total addressable market.
$24 a month, multiplied by 37 million diabetics, equates to over $800 million a month. And the obesity market is three times as large.
No it won't happen overnight, and no it will never be total. But with 134 million overweight people in the US alone, it will be interesting to see them nibble away. 5,000 here, 10,000 there, or as recently announced 160,000 from a major health plan.
Signs 160,000 Plan Members Living with Hypertension
This is not a full profile, just a heads up to share what we found. Ideally we would like to work with them in the future for news reporting, to more closely follow and report on their progress. As well as reporting on the system rollout, they announced with Aetna.
We think what Wall Street is overlooking (good for us, for now) is that Dario has pivoted from a direct-to-consumer market (a tough game) to B2B or business to business. Meaning they are now working directly with insurance companies and large companies which self-insure.
So instead of announcing they signed up 300 members last month, they can announce numbers of 10,000 plus instead.
We personally started taking Lilly's GLP Mounjaro in January and our weight dropped from 193 to 175, while our blood sugar readings were cut nearly in half. To say we're a fan of this treatment, would be the understatement of the year. It's adding years to our life.
While our results to date were fantastic, we think they could be improved dramatically, using Dario's digital monitoring platform along with their one-on-one coaching services, for more accurate tracking.
This is a very simple story to understand and follow. First a little history.
Dario Health care went public in 2013 as LabStyle Innovations. It has since pivoted fully into digital health, along with award winning smartphone apps, and coaches treating patients with diabetes, hypertension and behavioral (anxiety, depression) issues.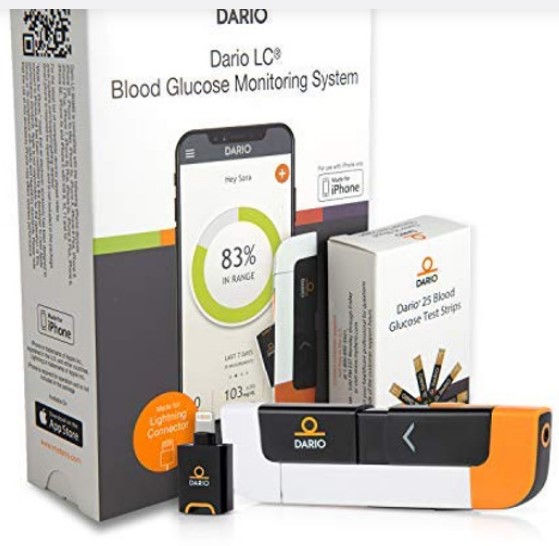 When they went public, it was essentially a one trick pony offering a very advanced blood glucose monitor along with a real-time smartphone app. They changed their name in July of 2016 to Dario Health.
In 2023, they announced an agreement with Dexcom (DXCM). Dexcom provides a continuous monitoring sensor which eliminates the need for needle sticks and the data can be integrated directly into Dario's smartphone app. Its makes a good platform even better and easier to use.
This makes it easy for people using the wearable device to benefit from Dario's highly personalized support. We would describe the relationship as a 'two-way' street where Dario's patients can use the Dexcom sensor to collect blood sugar data and where Dexcom's 1.7 million patients can sign up for Dario's monitoring support. We don't like the term win-win, but that's kind of what it sounds like!
Dexcom has a market cap of $38 billion and expects sales of its sensor to reach $3.5 billion, with Medicare finally providing coverage.
If you're an information junkie, you can read Dario's initial S-1 filing here: LabStyle Innovations Prospectus
It may take years for Dario to reach it's full potential. The good thing about that, is we have years and years of future growth ahead and we're not that old (65) so we have time to wait. They are consistently announcing new health plans coming under their umbrella, which we expect to continue quarter after quarter, year after year.
As we used to say back in our days at Drexel Burnham (mid-80's) "..this is a stock you buy and put away." While we wouldn't get too caught up in the numbers, they did report $13 million in revenues for the first six months of the year. While that's a long way from profitability in these early innings of the 'roll-out' game, it does show they're getting traction and that the momentum is building.
REVENUE | YEAR OVER YEAR REVENUE GROWTH

---
Despite good growth, the number we prefer to look at are member numbers. Where members are, revenues will follow.
Cash and cash equivalents balance as of the end of the second quarter of 2023 of $52.6 million, which they believe provides estimated runway through 2025
While there is some Wall Street coverage, with a $78 million market cap, it is way to small for most institutions, though we know some long-term oriented hedge funds who will love the story. So for now this idea is all ours. No institutions to get in the way.
If anything, this is the type of idea to get in before the institutions can. We wouldn't expect their presence until sales exceed $100 million and the market cap is in excess of $250 million, which would be three times higher than where it currently trades.
It's nice to see these 12 month price targets 40-80% higher, but we feel the share price can blow way past these numbers in a couple or three years. Patience for maximum capital gains is required.

---
Again, we're more interested in member growth than revenue growth this early in the B2B launch, but if they come anywhere near $300 million in 2027, we'll all be in for quite a ride.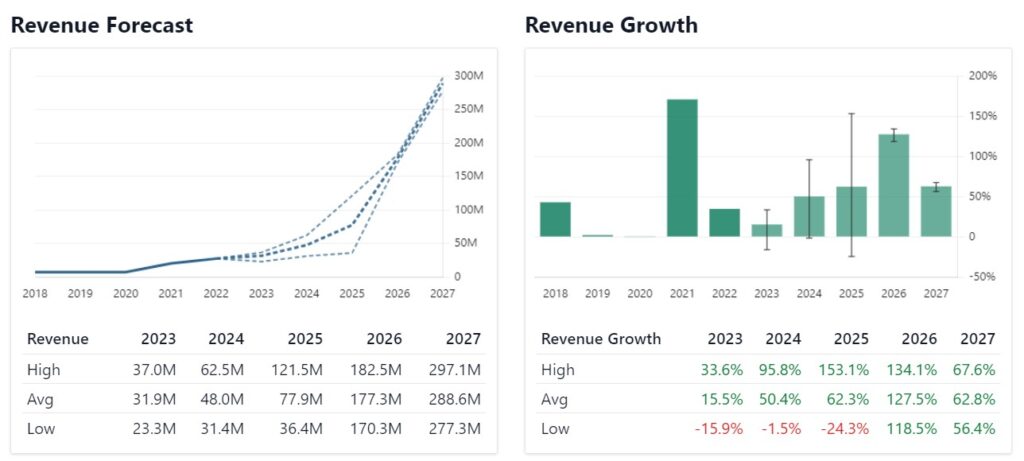 ---
Part of the reason we believe the stock is so modestly priced, was a series of reverse splits prior to their decision to pivot from business to consumer and concentrate on business to business.
Reverse Splits: Date | Ratio

Nov. 18, 2019 | 1:20
Mar. 04, 2016 I 1:18
Oct. 06, 2014 | 1:5
We believe the single decision to pivot to B2B, opened the floodgates to Dario's future potential.
Another reason for our 'fortune of bargain,' is they (temporarily) benefitted from the telehealth craze. Like when Teladoc (TDOC) was near $300, on its way to $20. At the time anything 'digital-health' got swept up (and later down) when the mania ended.
We are of the opinion all of those speculators are now gone (washed out), leaving us with a gift from the stock market Gods. One man's trash is another man's treasure.
TELADOC (TDOC) VS DARIO (DRIO)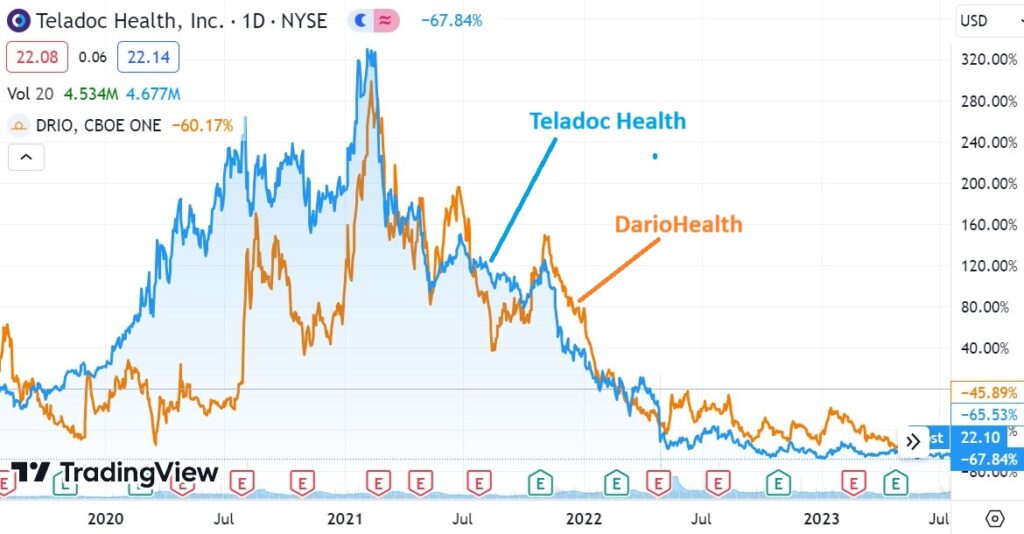 ---
Final Thought
Could Dario Health become an acquisition target? Could it be of interest to someone like Novo, or Medtronic, or Dexcom for that matter?
Personally, we think it will be sad if they got taken out too early. But read this article and you then you decide.
Lilly Makes Big Push Into Devices to Protect Diabetes Sales.
Eli Lilly has unveiled its device-driven strategy for weathering the competitive and pricing pressures faced by its diabetes unit. The Big Pharma is working on insulin delivery devices that move it onto Medtronic's turf and has teamed up with Dexcom to add continuous glucose monitoring systems to its arsenal.
The Big Pharma set up the unit after intuiting that the future of the diabetes market will belong to companies that monitor patients and deliver drugs rather than the businesses that make insulin itself.
"Do we want to be just an insulin provider that just goes into a system, or do we want to be the integrator of the system?" Enrique Conterno, head of Lilly's diabetes business, told the WSJ. "To me, it's clear where the business is going."
BTW that brilliant move came in 2017. Guess the handwriting was on the wall for Dexcom shareholders. Within six years the stock rose more than 10-fold from $14 to over $140.
Sadly we didn't see that handwriting, but we do see it in Dario and maybe, just maybe, we have another chance to score big. No telling where it could be in six years!
But as the head of Lilly's diabetes business says, "It's clear where the business is going…"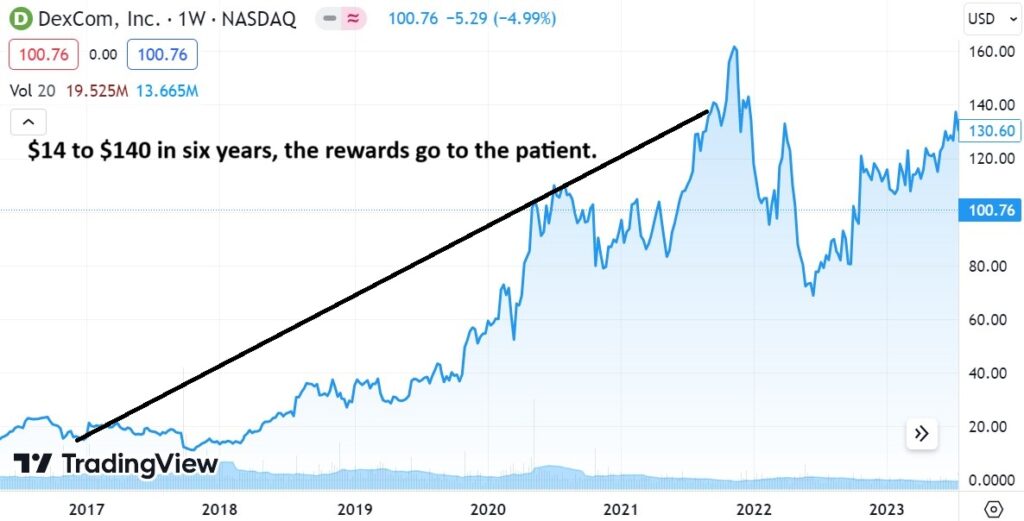 ---
BACKGROUNDER ON GIP AND GLP-1 DRUGS
---
Subscribe for future updates on Dario Health and more..

---
RECENT NEWS
Dario today announced the pricing of a $14.3 million private placement of convertible preferred stock, priced at the market under Nasdaq rules, with significant participation by select members of leadership, the Board and existing investors.
DarioHealth Announces $14.3 Million Private Placement.
---
'Official' description:
DarioHealth Corp., is a leading global digital therapeutics company revolutionizing how people with chronic conditions manage their health. DarioHealth offers one of the most comprehensive digital therapeutics solutions on the market – covering multiple chronic conditions including diabetes, hypertension, weight management, musculoskeletal and behavioral health within one integrated technology platform.
Our Dario Smart Diabetes Management Solution is a mobile, real-time, cloud-based, diabetes management solution based on an innovative, multi-feature software application to track and monitor all facets of diabetes, combined with a stylish, 'all-in-one', pocket-sized, blood glucose monitoring device, which we call the Dario Blood Glucose Monitoring System, that essentially turns a smartphone into a glucometer.
In addition, we also offer an all-in-one smart glucose meter, a Bluetooth connected blood pressure cuff and a digital scale. Our product offerings focus on our DarioEngage software platform, where we digitally engage with Dario users, assist them in monitoring their chronic illnesses and provide them with coaching, support, digital communications and real time alerts, trends and pattern analysis.
In addition, customized, dynamic user journeys are delivered by our AI-driven journey engine, the "Dario Loop" (formerly called Dario Intelligence), which personalizes user experience across a range of factors including timing, tone, channel, content, frequency, and intervention.
We believe that our dynamic personalized approach ensures superior engagement and retention, reduced costs, and ultimately, improved user health.
We have obtained regulatory clearance or approval for the Dario Blood Glucose Monitoring System in the U.S., Canada, the E.U., Israel and Australia, among others. We believe that our targeted health platform is a highly personalized preventative and proactive approach to health improvement based on individual behavior and treatment, tailored to each person's unique profile.
---
SEC FILINGS..a must read
---
Cautionary Note Regarding Forward-Looking Statements
This news release and the statements of representatives and partners of DarioHealth Corp. related thereto contain or may contain forward-looking statements within the meaning of the Private Securities Litigation Reform Act of 1995. Statements that are not statements of historical fact may be deemed to be forward-looking statements. For example, the Company is using forward-looking statements in this press release when it discusses its expected cash runway and the expected cash savings as a result of the refinancing of its existing credit facility, as well as the expected closing of the private placement. Without limiting the generality of the foregoing, words such as "plan," "project," "potential," "seek," "may," "will," "expect," "believe," "anticipate," "intend," "could," "estimate" or "continue" are intended to identify forward-looking statements. Readers are cautioned that certain important factors may affect the Company's actual results and could cause such results to differ materially from any forward-looking statements that may be made in this news release. Factors that may affect the Company's results include, but are not limited to, regulatory approvals, product demand, market acceptance, impact of competitive products and prices, product development, commercialization or technological difficulties, the success or failure of negotiations and trade, legal, social and economic risks, and the risks associated with the adequacy of existing cash resources. Additional factors that could cause or contribute to differences between the Company's actual results and forward-looking statements include, but are not limited to, those risks discussed in the Company's filings with the U.S. Securities and Exchange Commission. Readers are cautioned that actual results (including, without limitation, the timing for and results of the Company's commercial and regulatory plans for Dario™ as described herein) may differ significantly from those set forth in the forward-looking statements. The Company undertakes no obligation to publicly update any forward-looking statements, whether as a result of new information, future events or otherwise, except as required by applicable law. Not a client.
DarioHealth Corporate Contact
Mary Mooney
VP Marketing
[email protected]
+1-312-593-4280
Media Contact:
Scott Stachowiak
[email protected]
+1-646-942-5630
Investor Relations Contact:
Chuck Padala
[email protected]
+1-646-627-8390 View original content: https://www.prnewswire.com/news-releases/dariohealth-announces-14-3-million-private-placement-301813107.html
SOURCE DarioHealth Corp.
$DRIO, #DRIO