First Crossing $100 Billion in Value in January, Crossing $527 Today Puts the Valuation at $500 Billion. Why Own Anything Else?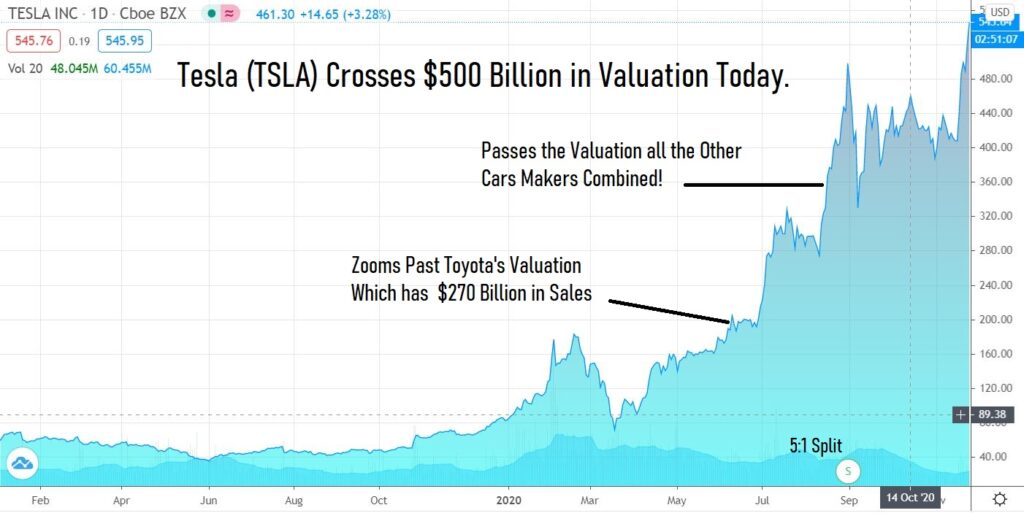 For those that like tracking these things, that is more than Toyota, General Motors, Ford, Nissan, and Honda combined! In the first quarter of 2020, Toyota said it produced about 2.4 million vehicles, while Tesla produced 139,000 during that same period.
---
1. Tesla (TLSA) $540 Gets $1,000 Price Target.
2. We're Up 27% in Galaxy Digital (GLXY) $6.50 our Back Door Bitcoin Play.
3. We're Up 46% in Biosig (BSGI) $4.40 Conference Call. Our Catch a Falling Knife Play.
4. OmniQ (OMQS) $5.00 Adds More Handwriting to the Wall.
5. Disclaimer.

Subscribe to free newsletter here.
---
1. Tesla. Wouldn't Buy it. Wouldn't Short it.
Wedbush Securities' Daniel Ives, who lifted his one-year price target to $560 and says his new bull case is $1,000. He'll probably hit his one-year price target in a few minutes and bull case by St Patty's Day..
In a research note to clients, Ives said Tesla was likely to achieve its goal of 1 million deliveries by 2023 or possibly sooner. In the 1Q Toyota delivered 2.4 million cars versus Tesla delivering 139,000. How this is worth more than Toyota, General Motors, Ford, Nissan, and Honda combined – is indeed quite amazing.
Morgan Stanley analyst Adam Jones lifts Tesla to overweight for the first time in more than three years and notches up his one-year price target to $540 a share. Wonder if he'll downgrade to neutral weight now!
TALE OF THE TAPE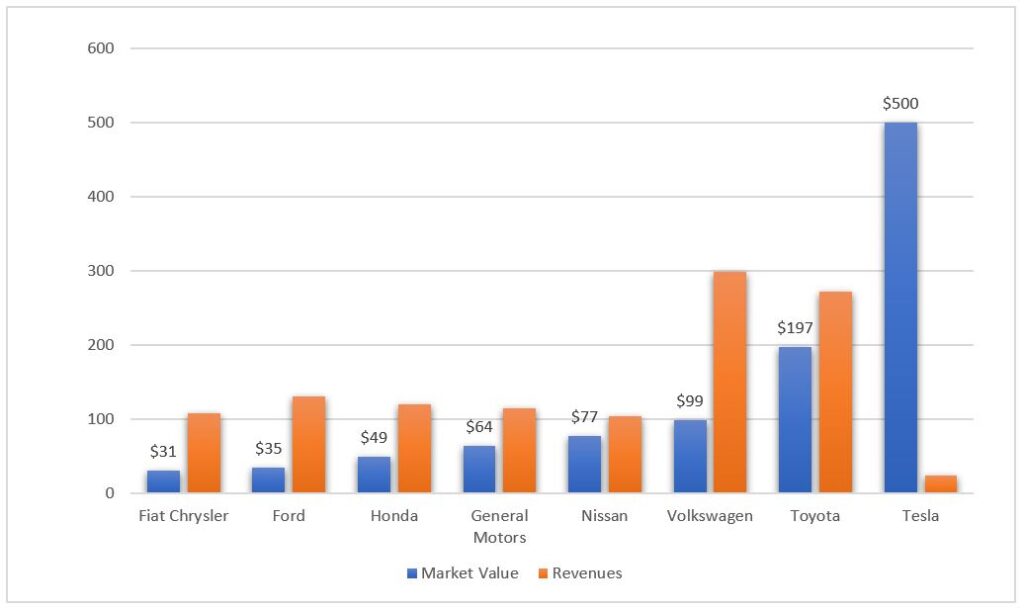 The blue line is valuation in the billions. The orange line, in revenues. Well alrighty then.
When dealing in these high-priced stocks, skepticism is natural. But it's the same as a $5.40 going to $10. So no big deal, right?
---
2. We're Up 27% in Galaxy Digital (GLXY) $6.50 our Back Door Bitcoin Play.
Not bad for a few weeks' work! But the play is to 2025, so in essence – meaningless.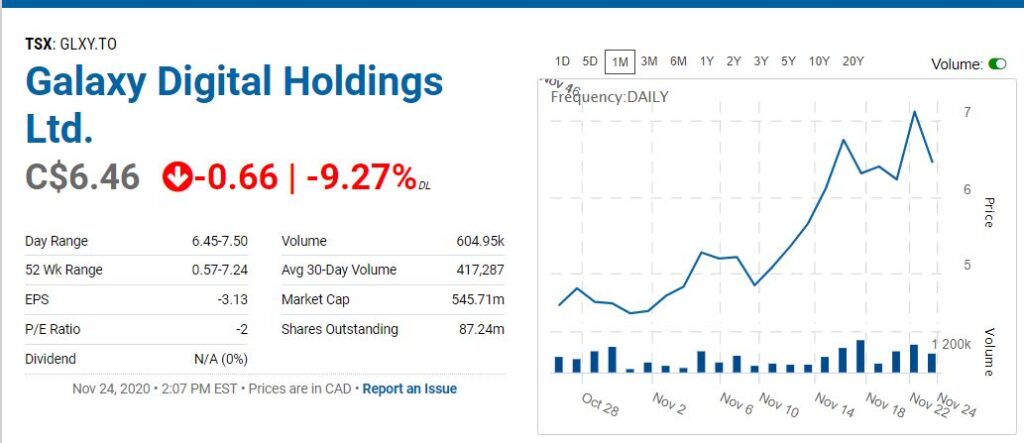 Adding Galaxy Digital (GLXY) $5.19 to Watch List.
---
3. We're Up 46% in BioSig (BSGM) $4.40. Conference Call Transcript.
Our Catch a Falling Knife Play.
Well, this is playing out exactly as we had expected, which of course rarely happens. Not bad for one month's work. Not that anyone would call what we do 'work.'
Plenty of news on the corporate progress for both the balance of the year and into 2021. Stay tuned, be long or be wrong.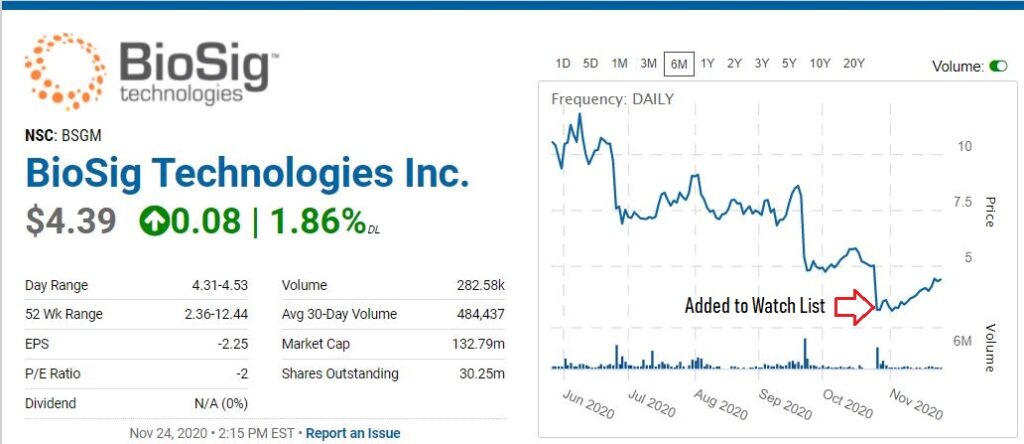 Conference Call
"And what we're seeing as we install systems and do cases is that the signals are translating not only its clinical benefit, but into helping the patients get a better procedure. And we and our marketing team have captured these winning cases and we're using them to highlight and demonstrate that under certain conditions using our technology, the physician can get a better procedural outcome. And those cases now are being used in sales and marketing materials. They're being used to train our clinical account managers as we go in and install new systems."
We'll create a news archive of what we think is important news on our website. In the meantime: Adding BioSig (BSMG) $2.95 to Watch List.
---
4. OmniQ (OMQS) $5.00 Adds More Handwriting to the Wall.
Good Lord the more we read about this the more we like it. Been working on a report for a couple of weeks, but we keep unearthing new and interesting things, like the surprise $15 million quarter just announced – so a couple more days and we'll be finished. Maybe as a Thanksgiving day reading assignment.
Did we mention OmniQ has a market valuation of under $25 million? Of course, we did. That means they are selling for 40% of annual sales, versus Tesla selling for near 20 times OVER sales. A somewhat meaningless comparison, but just saying.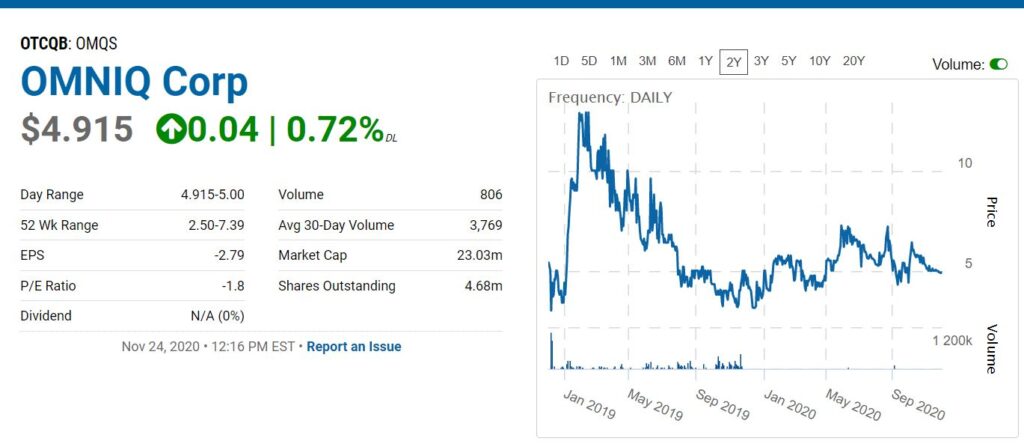 Today, they announced some important news that would take a degree in mechanical engineering to understand, but let's take a stab at it!
A company called SKIDATA based in Austria has systems that monitors cars (and people) coming in and out of major airports, cities, ski resorts, shopping centers, sports stadiums, amusement parks, trade fairs, and events, allowing fast and secure access for people and vehicles. Their product is called PlateTech Logic.
Think among other things 'monitoring' meaning, a 'contactless' way to pay for your parking, as well as other amazing features. But it's the tens of millions in parking fees, if not $100's of millions spent on parking globally, which generates the revenues for all parties involved.
More importantly, SKIDATA has over 10,000 systems installed – making them the big cheese globally and making OminQ the bell of the party. Since SKIDATA chose OmniQ to take to the dance and introduce to its friends and customers.
OmniQ has a 'secret sauce' algorithm software that can be incorporated into SKIDATA's latest of the Plate.Tech Logic.
This is where it gets a little confusing, but please bear with.
Step #1 is knowing OMNIQ's software can imitate the human brain in pattern recognition and decision-making, for machine data detection analytics. It can transform vehicle and license plate data into valuable real-time information for quick and effective decision-making, alerts, and activity reporting, which can now be further integrated into the latest versions of SKIDATA's PARCS solution.
Step #2. Now that OmniQ's software has been certified for use in current and future users of the PlateTech Logic used by SKIDATA clients – a door has been opened into an installed base of 10,000. This can lead to OminQ selling additional hardware and software solutions into SKIDATA's parking product.
Hope we explained that well!
OmniQ has been tested and used by SKIDATA in Dallas Fort Worth, Sacramento, Dallas Love Field, New Orleans, and Detroit airports, among others. So what this tells us is that OmniQ has both the quality and reliability, which can gain new orders and repeat orders.
Adding OmniQ (OMQS) $5.00 to the Watch List.
_______________________________________________________________________
Disclaimers.
OMQS: "Safe Harbor" Statement under the Private Securities Litigation Reform Act of 1995. Statements in this press release relating to plans, strategies, economic performance and trends, projections of results of specific activities or investments, and other statements that are not descriptions of historical facts may be forward-looking statements within the meaning of the Private Securities Litigation Reform Act of 1995, Section 27A of the Securities Act of 1933 and Section 21E of the Securities Exchange Act of 1934.
This release contains "forward-looking statements" that include information relating to future events and future financial and operating performance. The words "anticipate", "may," "would," "will," "expect," "estimate," "can," "believe," "potential" and similar expressions and variations thereof are intended to identify forward-looking statements. Forward-looking statements should not be read as a guarantee of future performance or results, and will not necessarily be accurate indications of the times at, or by, which that performance or those results will be achieved. Forward-looking statements are based on information available at the time they are made and/or management's good faith belief as of that time with respect to future events, and are subject to risks and uncertainties that could cause actual performance or results to differ materially from those expressed in or suggested by the forward-looking statements. Important factors that could cause these differences include, but are not limited to: fluctuations in demand for the Company's products particularly during the current health crisis , the introduction of new products, the Company's ability to maintain customer and strategic business relationships, the impact of competitive products and pricing, growth in targeted markets, the adequacy of the Company's liquidity and financial strength to support its growth, the Company's ability to manage credit and debt structures from vendors, debt holders and secured lenders, the Company's ability to successfully integrate its acquisitions, and other information that may be detailed from time-to-time in OMNIQ Corp.'s filings with the United States Securities and Exchange Commission. Examples of such forward looking statements in this release include, among others, statements regarding revenue growth, driving sales, operational and financial initiatives, cost reduction and profitability, and simplification of operations. For a more detailed description of the risk factors and uncertainties affecting OMNIQ Corp., please refer to the Company's recent Securities and Exchange Commission filings, which are available at https://www.sec.gov. OMNIQ Corp. undertakes no obligation to publicly update or revise any forward-looking statements, whether as a result of new information, future events or otherwise, unless otherwise required by law.
Investor Contact:
888-309-9994
IR@omniq.com
ISR: OminQ is a client, we are being retained by the company for progress reporting and additionally received ten thousand dollars for initiating coverage. See report for disclosure and disclaimer details.