---
Our #1 Internet Company Trading Under $5.00, Society Pass Holds Appeal for Both Traders and Long-Term Investors.
"While the Internet Stock Review is geared for long-term investors, on occasion were presented with opportunities that can appeal to both investors looking for shorter-term 100% gains (or a double), and to longer-term investors seeking gains ten-times that. We believe SOPA serves both camps well at this share price level."
Society Pass (SOPA) is building a portfolio of eCommerce start-ups and has all the ingredients we look for in a major winner.
LIVE QUOTE

• Underfollowed.
• Easy to Understand Business Model
• Scalable Sector, Offering 100X Growth Potential
• Offers US Investors Back Door Entry Into Fast Growing SE Asia.
• Market Capitalization Under $500 Million.
• Financially Sound.
• Management Team With Both Financial and eCommerce Expertise.
• Summary and How to Trade and Invest in SOPA.
• Wall Street Coverge
With four Wall Street firms price targets averaging $6.60 (500% higher) and their revenue projections ranging from $40 to $60 million in 2023, Society Pass (SOPA) can only be defined as compelling.
With near $20 million in the bank, versus a $28 million current market capitalization – Society Pass (SOPA) can be also defined as really, really compelling.
---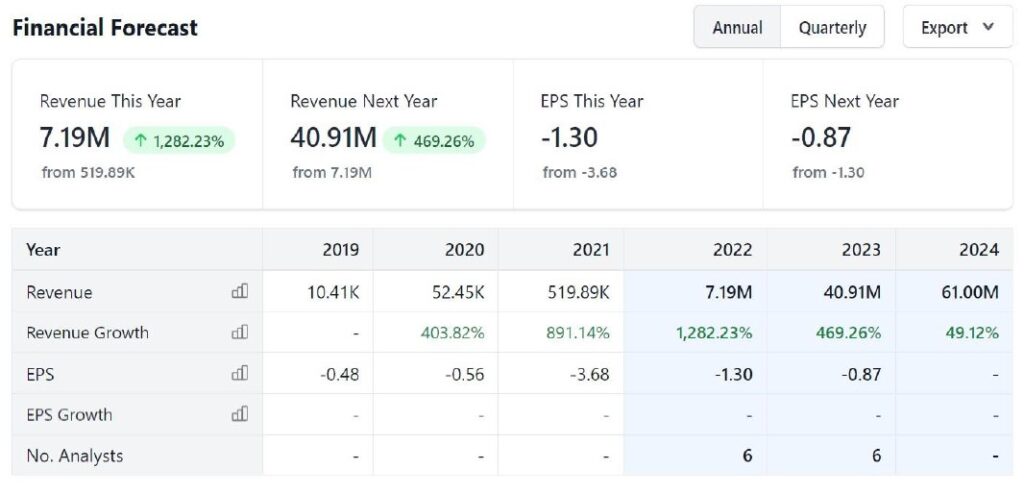 Society Pass was formed in 2018 along with a team of venture capitalists and Asian eCommerce experts to identify, acquire and incubate (or accelerate) fast-growing technology start-ups based in Southeast Asia's Silicon Valley.

In November 2020, they raised US$28 million in a US NASDAQ IPO. In February of 2021, they completed a US$10 million follow-on offering. The use of proceeds from those two offerings was geared to create a fintech and eCommerce ecosystem, to develop and scale the start-ups they acquire, into high-growth businesses. Each capable or having the potential, of being valued at $100 million.

While still early (bottom of the first inning), the Society Pass business model is off to an excellent start, with six acquisitions last year alone. We view incubators and accelerators as having the most 'durable' model of any in the technology sector, in that they are on a constant search for early-stage companies that are creating the latest and most innovative technologies or services.

The incubator model is so durable, that we can envision decades of success for Society Pass – so long as the CEO and his team are on the constant hunt. The biggest risk is that the Asian 'start-up world' stops coming up with new and innovative ideas, that need help getting to market. And how likely is that?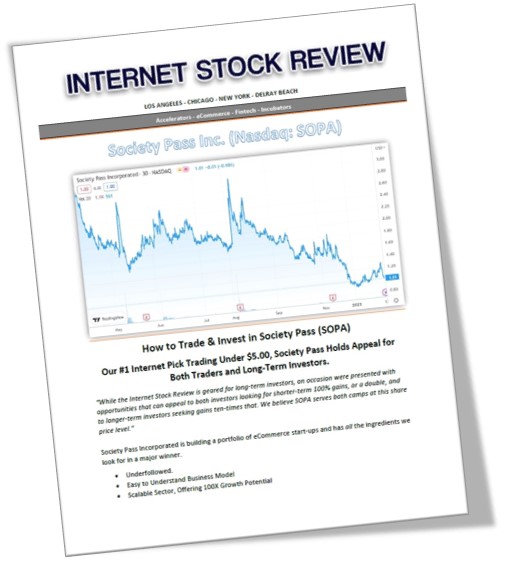 Link to 5 Research Reports on Society Pass.
Please read the 5 reports linked to in this report, for full disclosure and disclaimer details from each analyst or firm.
Cautionary Note Concerning Forward-Looking Statements
These reports may include "forward-looking statements," within the meaning of Section 27A of the Securities Act of 1933, as amended, and Section 21E of the Securities Exchange Act of 1934, as amended. All statements other than statements of historical fact included in this press release are forward-looking statements. When used in this press release, words such as "anticipate", "believe", "estimate", "expect", "intend" and similar expressions, as they relate to us or our management team, identify forward-looking statements. Such forward-looking statements are based on the beliefs of management, as well as assumptions made by, and information currently available to, the Company's management. Actual results could differ materially from those contemplated by the forward-looking statements as a result of certain factors detailed in the Company's filings with the SEC. All subsequent written or oral forward-looking statements attributable to the Company or persons acting on our behalf are qualified in their entirety by this paragraph. Forward-looking statements are subject to numerous conditions, many of which are beyond the control of the Company, including those set forth in the Risk Factors section of the Company's registration statement and prospectus relating to the Company's initial public offering filed with the SEC. The Company undertakes no obligation to update these statements for revisions or changes after the date of this release, except as required by law.
Media Contacts:
PRecious Communications
[email protected]
$SOPA #SOPA