New Report Coming, Sign up to our Newsletter for Priority Notification.
Absolutely banging numbers, we view Smart for Life (SMFL) as a company which doesn't have competition, as we instead view competition as their potential partners.
The only thing not banging has been the share price, which we expect to catch up to the reported numbers– given a little time.
If you fancy yourself a bargain-hunter, give us a little of your attention here. Yes, we know there are a lot of bargains out there- but we think this one is special.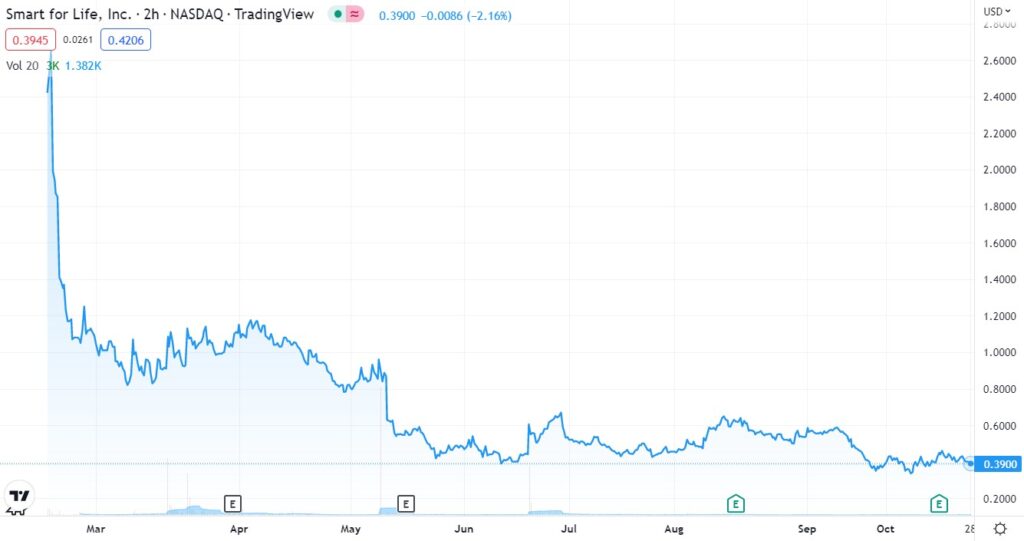 Not Having Competition, Having Potential Partners Instead.
Meaning they are just as apt to acquire a competitor, as they are to just straight out compete with them. In markets like these, with a dramatically reduced IPO calendar, and dramatically reduced bank lending activity, Smart for Life finds itself in the cat bird's seat. Call it serendipity, call it whatever — Smart for Life has made five acquisitions and things are ramping up and accelerating quite nicely.
With a growth by acquisition strategy, Smart for Life is now seeing deals in the fragmented health and wellness industry category, that prior to 'this market' that would not have seen. That's a fact.
As example, this October, they announced a LOI to acquire a premier eCommerce nutraceuticals company (name yet to be revealed) that would add $15 million to annual their revenues. Two years ago, nearly any company in eCommerce nutraceuticals (doing $15 million), would probably have had three investment bankers knocking on their door and 1000's of investors knocking the investment banker's doors, to get a piece of the deal.
Not so today.
Bottom line, Smart for Life is seeing better deals, bigger deals and more deals. Their stated goal is to do $100 million next year and $300 million in three years, and dare we say it — is starting to look baked in. There's never been a better time to be an acquiror.
Look at the numbers just reported.
Revenue increased 59.1% year-over-year to $5.4 Million for the third quarter of 2022.
This is an annualized run rate just above $20 million. If Smart for Life is successful in acquiring their way to $100 million, we feel rather confident the stock will move in parallel, suggesting a potential five-fold increase in share price from, let's say $0.40, to over $2.00. But it doesn't stop there. $100 million is their onc year goal.
If they can match their three-year goal of $300 million, this would suggest a 15-fold increase in sales and if the stock moves, again in parallel with the same revenue increase, we could be looking at a $6.00 stock. In a very yucky and uncertain market we might add.
But don't take our word (or guess) for it. Look at the recent report from Dawson James, their initial underwriter. They have a price target of $8.00. Hola. We'd be happy with $4.00 or a ten-fold increase.
Read it here:
Smart For Life Announces Initiation of Equity Analyst Coverage by Dawson James Securities
Also note, the Company isn't 'just' a brander and packager of health and wellness goods. They are also a manufacturer with two state-of-the-art manufacturing facilities (which we have visited) in Southern Florida.
This creates margins above the competition and can greatly help improve the margins of competitors which they do acquire, by bringing manufacturing in house – a win, win as some say.
Revenues increased to $14.1 million for the nine months ended September 30, 2022 compared to $4.8 million for the nine months ended September 30, 2021, an increase of $9.3 million, or 194.0%, due to the acquisitions completed in 2021 and the acquisition of Ceautamed that was completed in the third quarter of 2022.
The Company currently operates five subsidiaries including Doctors Scientific Organica, Nexus Offers, Bonne Santé Natural Manufacturing, GSP Nutrition (Sports Illustrated) and Ceautamed Worldwide. 
This is almost one of those, "why not own it" type of stocks. No hype, not high falutin technology that can be out moded, nor do they have to deal with getting an approval from the FDA. Just a nice clean business plan, in a nice environment to do acquisition run by nice yet aggressive people, who we have known for over 20 years. Like, why not be a shareholder? Look back three years from now and we could all be pleasantly surprised.
This is not for traders, in fact traders need not apply. This is for long-term, patient and intelligent (if we might be so bold) investors. Traders can find fun chasing some movie theater stock lol.
Should be a week for the report, in the meantime, they have a nice PowerPoint with pretty models and even prettier numbers.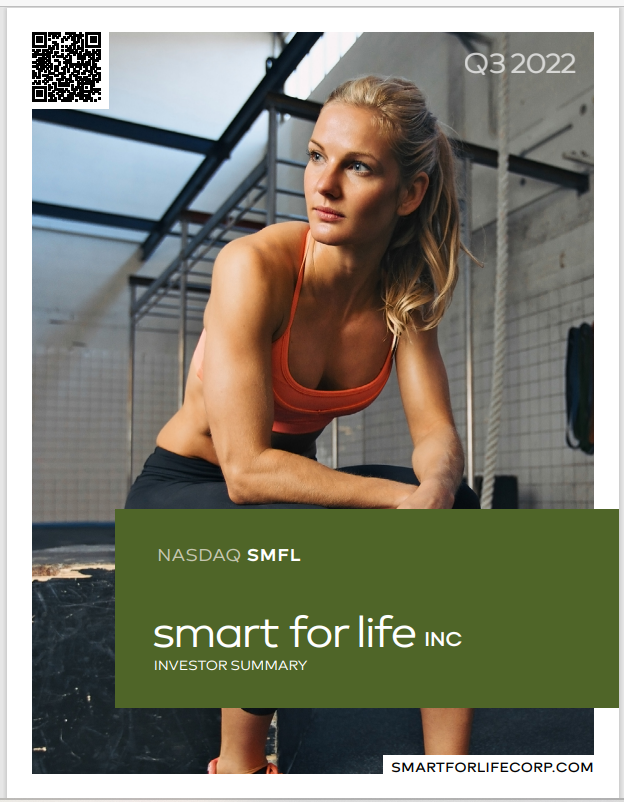 This post and press releases mentioned herein may contain information about their views of future expectations, plans and prospects that constitute forward-looking statements. All forward-looking statements are based on management's beliefs, assumptions and expectations of Smart for Life's future economic performance, taking into account the information currently available to it. These statements are not statements of historical fact. Although Smart for Life believes the expectations reflected in such forward-looking statements are based on reasonable assumptions, it can give no assurance that its expectations will be attained. Smart for Life does not undertake any duty to update any statements contained herein (including any forward-looking statements), except as required by law. No assurances can be made that Smart for Life will successfully acquire its acquisition targets. Forward-looking statements are subject to a number of factors, risks and uncertainties, some of which are not currently known to us, that may cause Smart for Life's actual results, performance or financial condition to be materially different from the expectations of future results, performance or financial position. Actual results may differ materially from the expectations discussed in forward-looking statements. Factors that could cause actual results to differ materially from expectations include general industry considerations, regulatory changes, changes in local or national economic conditions and other risks set forth in "Risk Factors" included in our filings with the Securities and Exchange Commission. Client, see report for full disclosure and declaimer details.
#SMFL, $SMFL