Saturday August 6th, Delray Beach
Exclusive cocktail hour with Super Bowl Champion and Dome Audio Founder Tim Wright.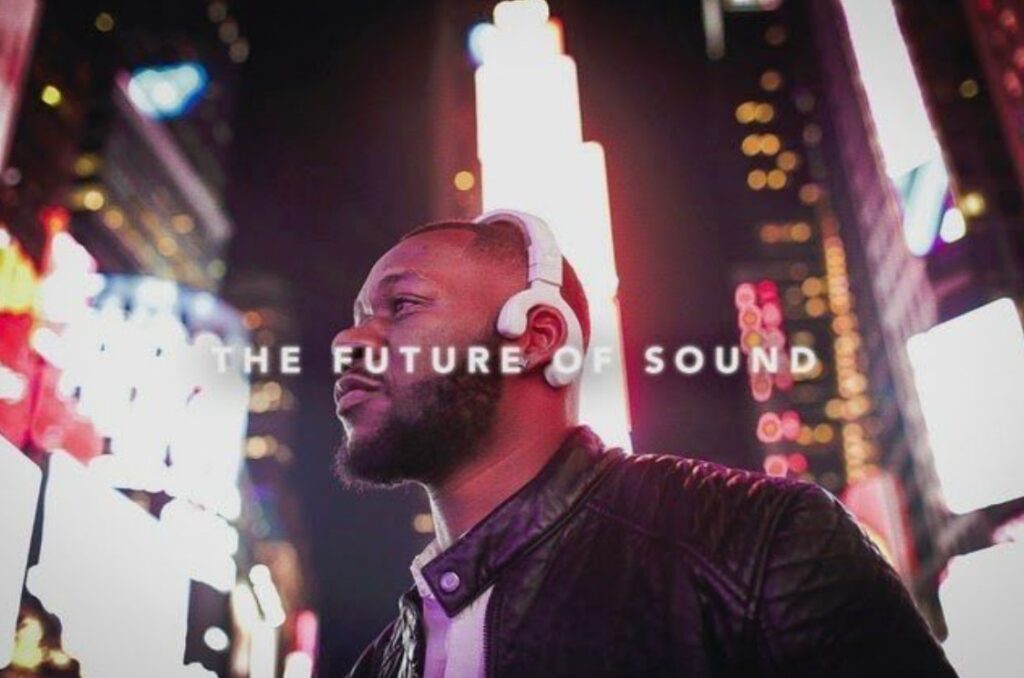 Discover investment opportunity and experience the world's first headphone technology developer to deliver full-fidelity bone conduction headphones that allow those who are deaf and hard-of-hearing to experience music as never before!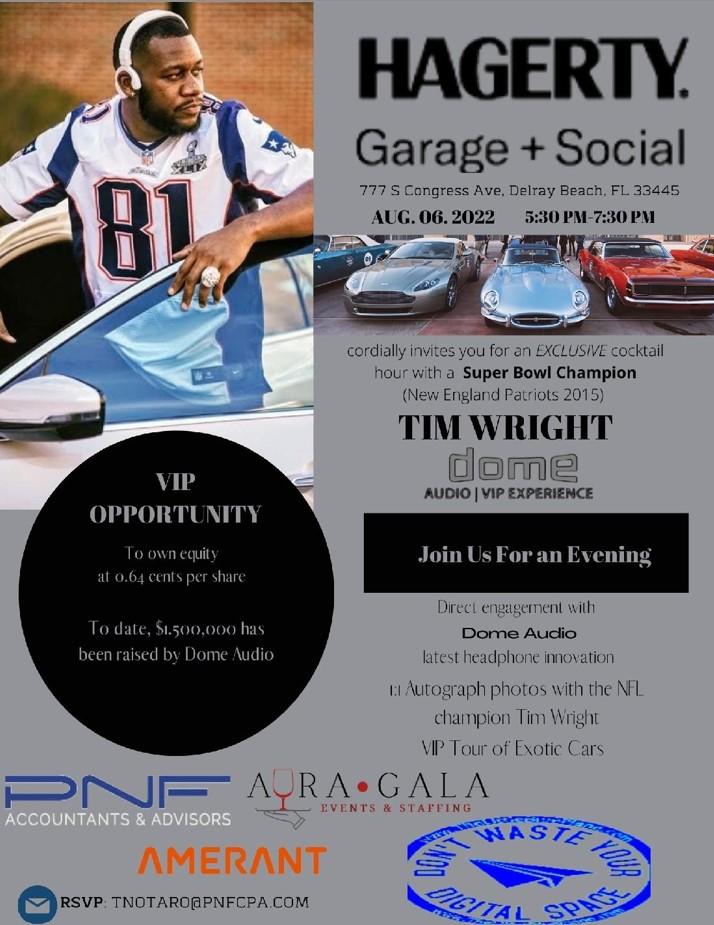 Or Contact Sophia Garceau @ 702-985-3592
The Ultimate OneSound Experience will take place at the famous Hagerty Garage and Social Club.
It's a world-class, multimillion dollar facility where they take car culture seriously. Each location features climate-controlled, dust-free garages with 24/7 security, plus premium social space to gather with fellow automotive enthusiasts. Garage + Social is a car lover's home away from home.
---
Sip exclusive and outrageously delicious 18 year old Barracuda Rum, courtesy of Roland Rick Perry and Good Spirits Distilling.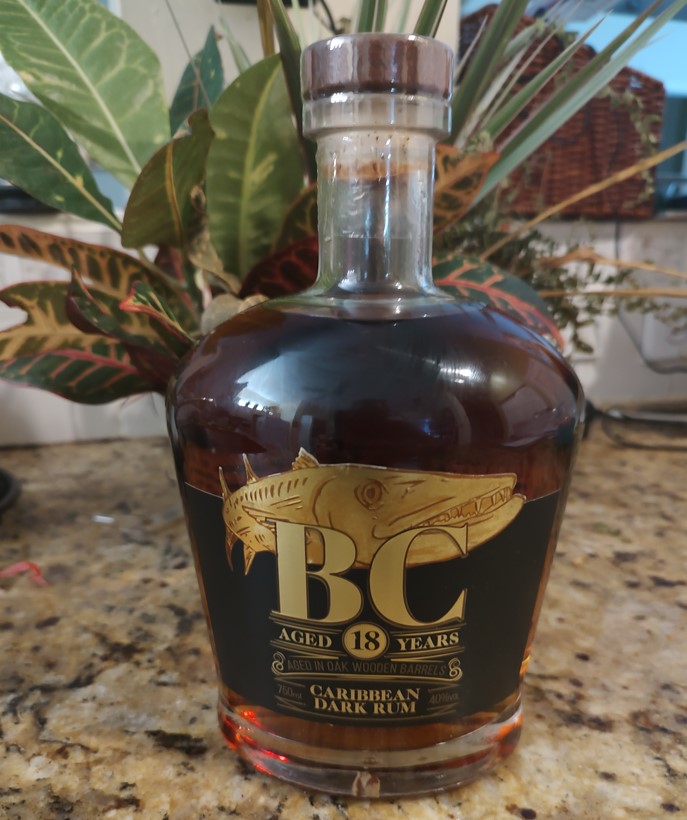 ---
DOME AUDIO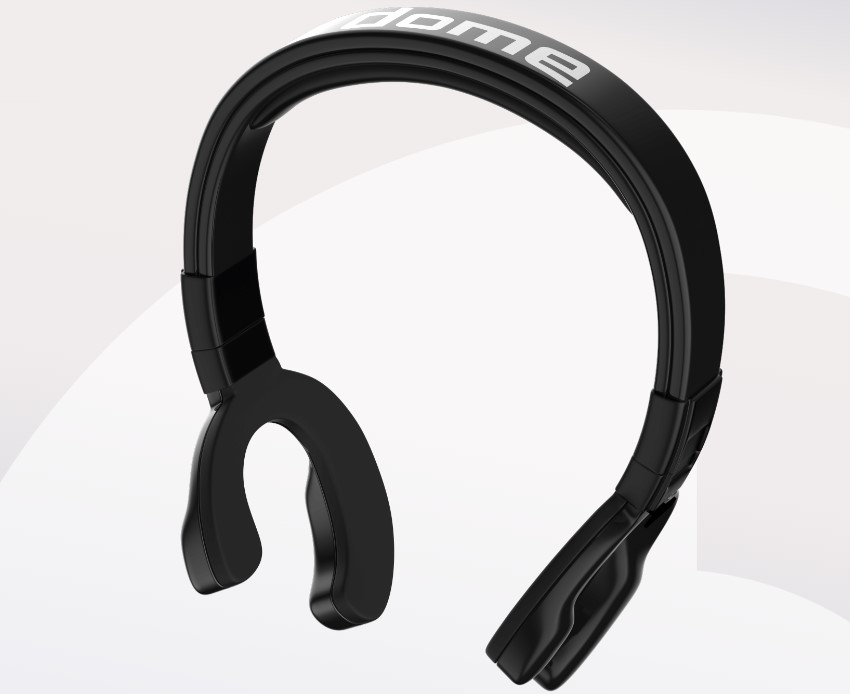 Dome's D4 headphones are the beginning of a wave of change in how people listen to music while experiencing the world around them. Their multi-patented design offers the ability to hear and experience-rich audio while allowing your ears to remain completely open. Walking and running in a crowded city might feel nice when you're in your world and can only hear the sound of a blazing beat or a provocative podcast… but what if someone needs to get your attention?
Dome Audio offers an innovative alternative to these issues through proprietary quad bone-conduction, Bluetooth, surround sound, stereo headphones, and interchangeable noise-isolation Dome Covers.
Dome is an experience of listening that doesn't lose our ability to experience the world around us.
---
Dome Audio visits Gallaudet University, the nation's most prestigious institution for the Deaf and Hard of Hearing,
---
---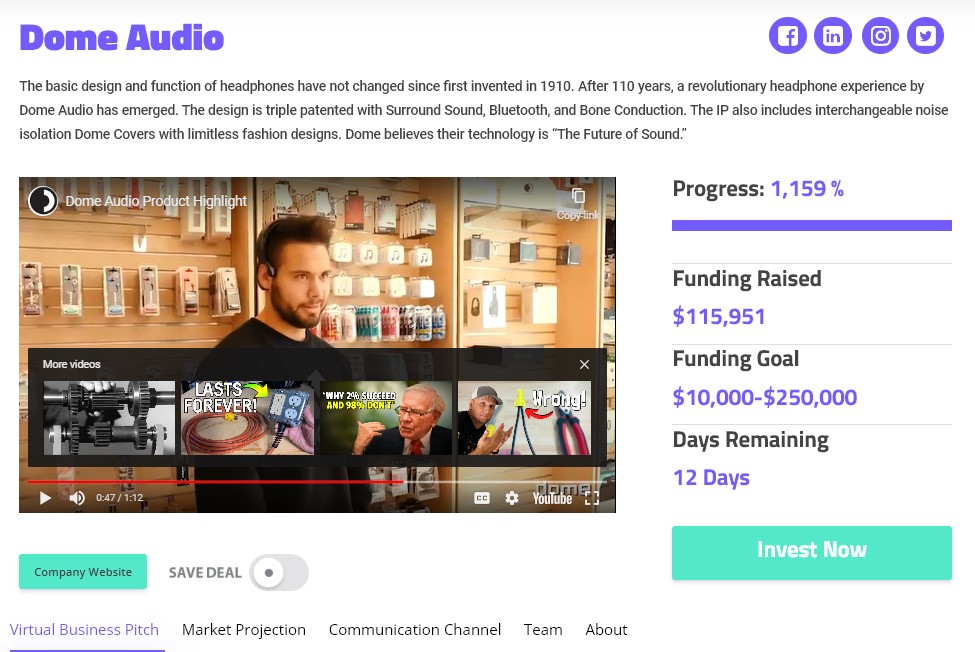 ---
See Offering Statement; A crowdfunding investment involves risk. You should not invest any funds in this offering unless you can afford to lose your entire investment.

In making an investment decision, investors must rely on their examination of the issuer and the terms of the offering, including the merits and risks involved. These securities have not been recommended or approved by any federal or state securities commission or regulatory authority. The U.S. Securities and Exchange Commission does not pass upon the merits of any securities offered or the terms of the offering, nor does it pass upon the accuracy or completeness of any offering document or literature.

These securities are offered under an exemption from registration; however, the U.S. Securities and Exchange Commission has not made an independent determination that these securities are exempt from registration.

Neither PicMii Crowdfunding nor any of its directors, officers, employees, representatives, affiliates, or agents shall have any liability whatsoever arising from any error or incompleteness of fact or opinion in, or lack of care in the preparation or publication of, the materials and communication herein or the terms or valuation of any securities offering.

The information contained herein includes forward-looking statements. These statements relate to future events or future financial performance and involve known and unknown risks, uncertainties, and other factors that may cause actual results to be materially different from any future results, levels of activity, performance, or achievements expressed or implied by these forward-looking statements. You should not place undue reliance on forward-looking statements since they involve known and unknown risks, uncertainties, and other factors, which are, in some cases, beyond the company's control and which could, and likely will materially affect actual results, levels of activity, performance, or achievements.

Any forward-looking statement reflects the current views with respect to future events and is subject to these and other risks, uncertainties, and assumptions relating to operations, results of operations, growth strategy, and liquidity. No obligation exists to publicly update or revise these forward-looking statements for any reason or to update the reasons actual results could differ materially from those anticipated in these forward-looking statements, even if new information becomes available in the future.