Bonafide Gold Rush in Ecuador as the World's Biggest Miners Race to Stake Claims in the Largest Land Grab in Gold Mining History.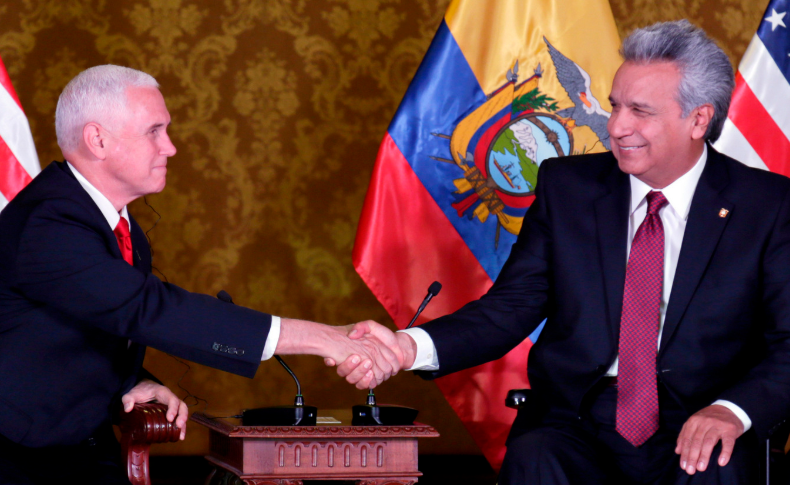 Resource-rich Ecuador has truly been barely touched by modern exploration techniques until the most recently elected President Lenin Moreno began to implement decidedly mining-friendly policies over the past three years.
This isn't a 'new-discovery' gold rush. This is a 'change in Government' fueled gold rush, that will make the California gold rush look like child's play.
The world's largest mining companies have known for decades that billions in gold, copper, and molybdenum lie below Ecuador's surface. They just weren't able to recover it, facing a hostile political environment, including a recently abolished 70% windfall profit tax established in 2009 by Past President Correa.
Up until the late 2018 repeal of the tax, billion dollar gold mining companies simply said, "Thanks, but no thanks."
Ecuador is an OPEC nation suffering from $50 oil like all OPEC nations and oil accounts for 40% of its exports. Despite the potential for political interference in the future, we believe this gold rush is here to stay. Ecuador is done suffering. It's 'Make Ecuador Great Again.'
Fact: The government in 2015 created the mining ministry and announced plans to promote 36 projects to produce gold, copper, and molybdenum estimated to be worth $200 billion. Near term, Ecuador plans to attract $3.7 billion in mining investments in the next two years, up from $270 million in 2018 and add $826 million to its tax coffers between 2019 and 2021.
IMPORTANTLY, while we recently become bullish on Gold, the opportunity here with Ecuadorian Gold and with Lucky Minerals is not dependent on rising gold prices. It simply has to do with finding Gold. Gold is priced at $1300+ an ounce and the experts agree, Ecuador will have the least expensive Gold recovery costs in the World.
If anything a rising price for Gold will simply act as a double-barreled upward force on the share prices of all 12 of the publicly traded companies listed in our report below that we have uncovered operating there.
During our research, we uncovered Lucky Minerals as the lowest priced and least expensive miner in the country, with a market value of $5 million. May the force be with us. Read our report below.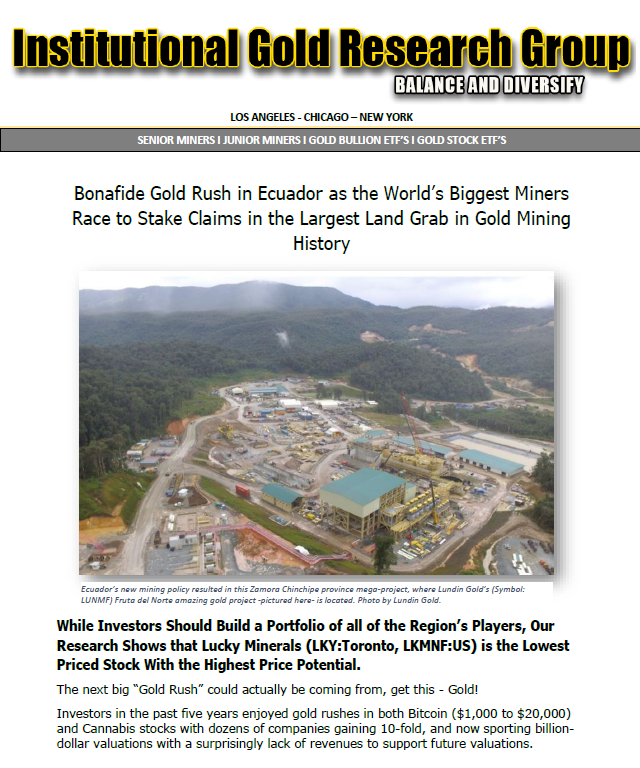 ---
Subscribe to the Institutional Gold Research Newsletter.
(Client, please see report disclaimer for disclosure details)