Internet Stock Review Adds Duos Technologies ($0.70) to Watch List. Graduates to OTCQX 6/20/19.
Duos Technologies Website. Presentation and Research Report Below.
---
LONG TERM CHART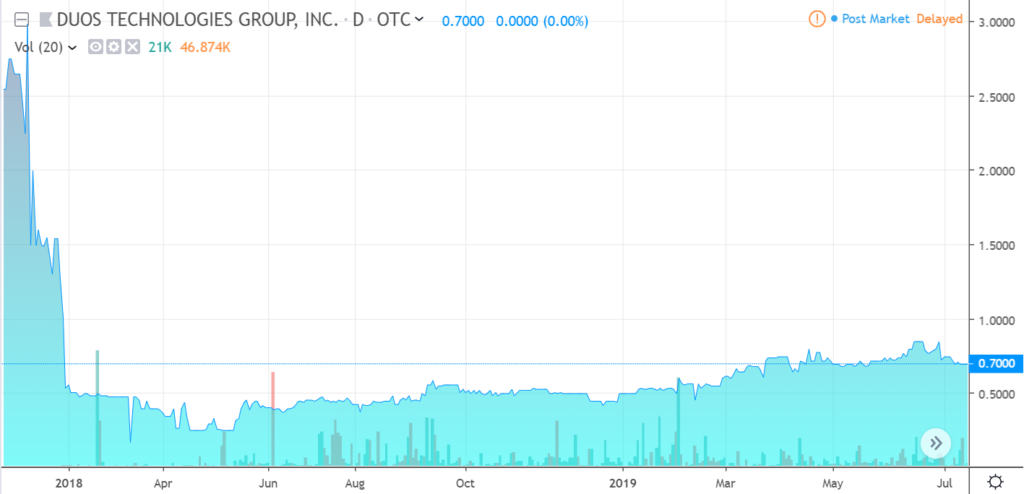 ---

In January 2019, DUOT launched an Artificial Intelligence program truevue360™ (Tv360). Business operations are in three business units: intelligent technologies, AI/machine learning platforms and IT asset management (ITAM).
Deep learning and AI enable computers to continuously learn new concepts from raw data, much like the human mind. Image or other data sources are connected in real-time to an artificial neural network (ANN) and automatically analyzed against conditions of interest defined by the end-user.
(Think China Airlines which can scan your face..)
DUOT has experience in designing, developing, and implementing intelligent technologies for rail, utilities, oil and gas, chemical industries, commercial and retail distribution and government sectors. The Company's products and solutions are field tested and ready to scale. Duos has a small number of large customers which include CN, CSX, BNSF, and Ferromex.
Canadian Railway Contract Awarded.
The primary target market is North America and current customers are Fortune 100 and 500 companies.
Its technologies integrate with its customer's existing business process and create actionable information to streamline mission-critical operations. Its target market is the largest transportation, industrial and retail corporations representing over $10 billion in total available market.
Its technologies have been verified by multiple government and private organizations including Johns Hopkins University Applied Physics Laboratory (JHU/APL), the Department of Homeland Security (DHS), and the Transportation Technology Center, Inc., a wholly owned subsidiary of the Association of American Railroads, and a transportation research and testing organization (TTCI).
The company has worked with these organizations over the past several years where we have supplied funded prototypes of its technologies to verify technology and operating parameters.
Tv360 is currently being staffed with development teams in the U.S. and European Union, where Duos has already employed a team of developers for the past four years.
Later this year, Duos expects to add a dedicated sales and marketing team to tv360 with a focus on selling the solutions created to existing and new customers and supporting the Duos teams in the growth of the existing business.
Duos' gross margins are 50% plus across all the businesses. At current burn rate, break-even is estimated at around $17-$18 million in revenues annually. This is on an operating basis.
ThinkEquity recently issued a price target of $2.00 on 4x forecast 2019 revenue of $16.5 million. The valuation multiple was estimated to be comparable to a peer group of emerging growth companies.
Contacts
Corporate
Tracie Hutchins
Duos Technologies Group, Inc.


904-652-1601




[email protected]


Investor Relations
Matt Glover or Tom Colton
Gateway Investor Relations


949-574-3860




[email protected]
Think Equity Report. Read details here: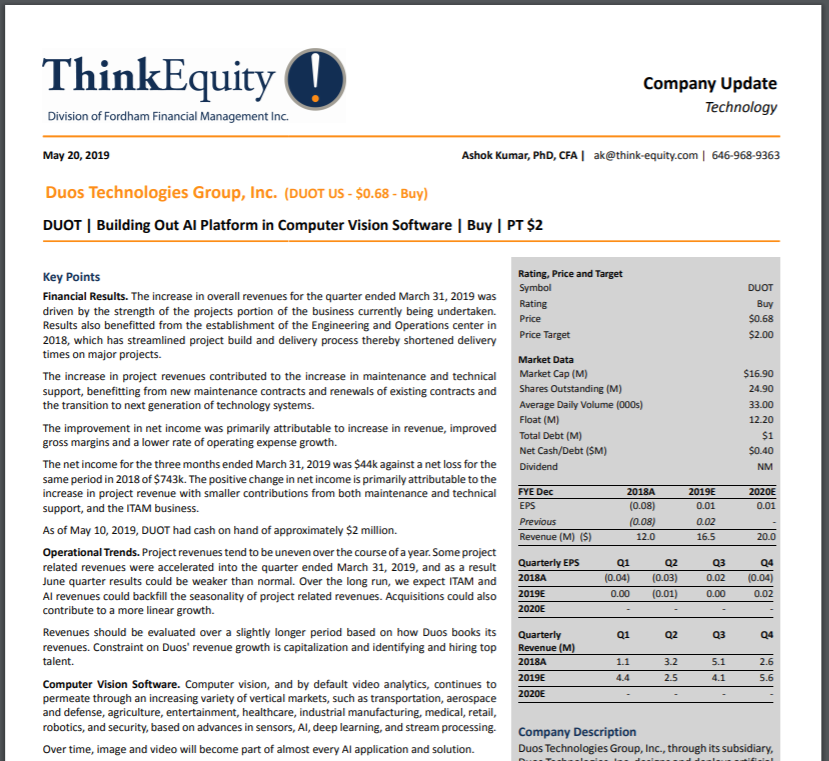 NOVEMBER INVESTOR PRESENTATION