We Are Temporarily Discontinuing Coverage on Dalrada Financial.
Great little company and we're up 400%. But with the market for small caps getting a bit sloppy, we are pulling back on some of our big winners – with the dreams of getting back in at a later date. Or maybe even at the same price or even higher, depending on the news!
September 2020: Adding Dalrada (DFCO) $0.09 to CoronaVirus Stock Watch List.
---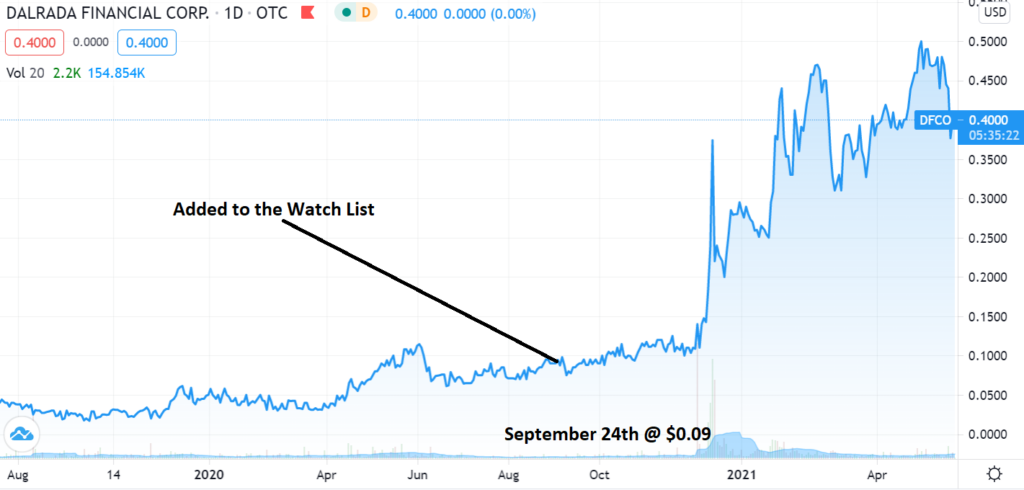 ---
RECENT NEWS
Dalarada Reports Numbers up 352%
Dalrada Corporation reported its financial results for the third quarter of the fiscal year 2021 (ended March 31, 2021). With revenues of $1,588,329, this represents a 352% increase compared to the same period in 2020 ($351,324). This is the Company's top-performing quarter since Dalrada shifted its mission to innovating global solutions in science, engineering, and technology in 2018.
Brian Bonar, Chairman & CEO of Dalrada, states, "Accelerating growth consistently amid the current business climate is a testament to Dalrada's perseverance. The Company's steadfast commitment to Corporate Social Responsibility and Inclusion is improving lives now and for future generations. Dalrada would like to thank its shareholders and the public for supporting the Company's mission as it continues to create alternative innovations that advance industries including clean energy, engineering, science & health, and technology."
FULL RELEASE: Dalrada Corporation Reports 352% Increase in Third Quarter 2021 Financial Results
Dalarda Genomics
Dalrada Health's Empower Genomics, has launched a custom labeled suite of genomics tests – Pharmacogenomics (PGx), Cannabis DNA, Nutrition & Diet, and Exercise & Fitness – as an information service for healthcare practitioners, researchers, and individuals to identify ways to improve overall well-being. Empower Genomics specializes in product development, testing, analysis, HIPAA-compliant technology, sales, and marketing. The need for precision medicine is worldwide. The global genomics market size is projected to reach USD 54.4 billion by 2025 from USD 22.7 billion in 2020, at a CAGR of 19.0% during the forecast period.
FULL RELEASE: Dalrada Corporation Launches Empower Genomics Subsidiary of Dalrada Health.
Disclaimer: Statements in this press release that are not historical facts are forward-looking statements, including statements regarding future revenues and sales projections, plans for future financing, the ability to meet operational milestones, marketing arrangements and plans, and shipments to and regulatory approvals in international markets. Such statements reflect management's current views, are based on certain assumptions and involve risks and uncertainties. Actual results, events, or performance may differ materially from the above forward-looking statements due to a number of important factors, and will be dependent upon a variety of factors, including, but not limited to, our ability to obtain additional financing that will allow us to continue our current and future operations and whether demand for our products and services in domestic and international markets will continue to expand. The Company undertakes no obligation to publicly update these forward-looking statements to reflect events or circumstances that occur after the date hereof or to reflect any change in the Company's expectations with regard to these forward-looking statements or the occurrence of unanticipated events. Factors that may impact the Company's success are more fully disclosed in the Company's most recent public filings with the U.S. Securities and Exchange Commission ("SEC"), including its annual report on Form 10-K. Of course, we signed them as a client. We were compensated with seven thousand five hundred dollars and are negotiating an appropriate equity-based compensation package. No way we want to let this one get away, without having a stake! See upcoming reports for additional disclosure and disclaimer details.