Fortress Bio (FBIO, $2.42) Up 43%, Citius Pharma (CTXR, $1.15) Up 109% and True Nature Holdings (TNTY, $0.043) Up 117%, Since Adding to Watch List in the Last Three Months. Who's better than us..
---
Fortress Bio (FBIO) $2.42 continues to trade higher on a series of news including license agreement with AstraZeneca and Cincinnati Children's Hospital Medical Center.
Adding Fortress to Biotech Stock Review Watch List @ $1.73.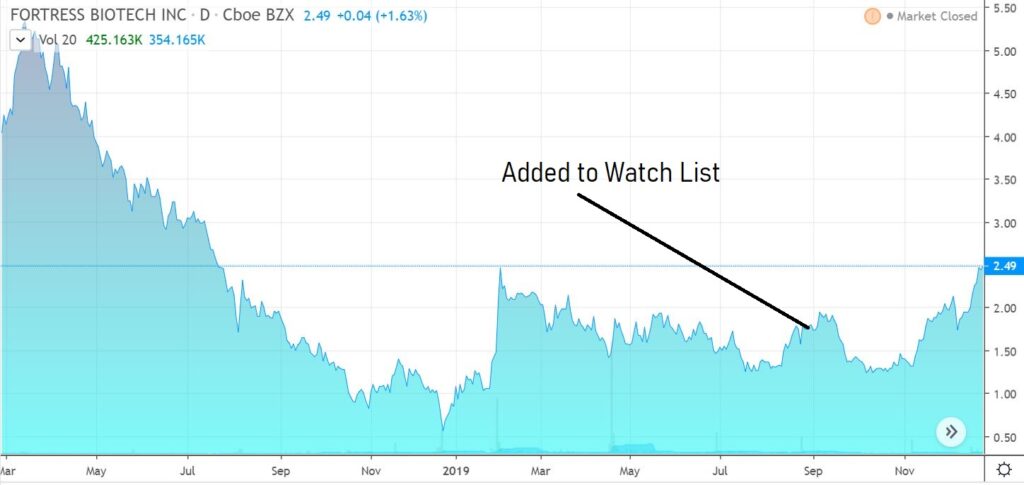 On December 23rd Fortress Bio announced that Baergic Bio, Inc. a newly formed Fortress partner company, has entered into an exclusive worldwide licensing agreement with AstraZeneca as well as an agreement with Cincinnati Children's Hospital Medical Center ("Cincinnati Children's") to advance clinical development in select central nervous system ("CNS") disorders.
---
Citius Pharma (CTXR) $1.15, continues to trade higher on trial-related news.
Adding Citius (CTXR) $0.55 to Watch List.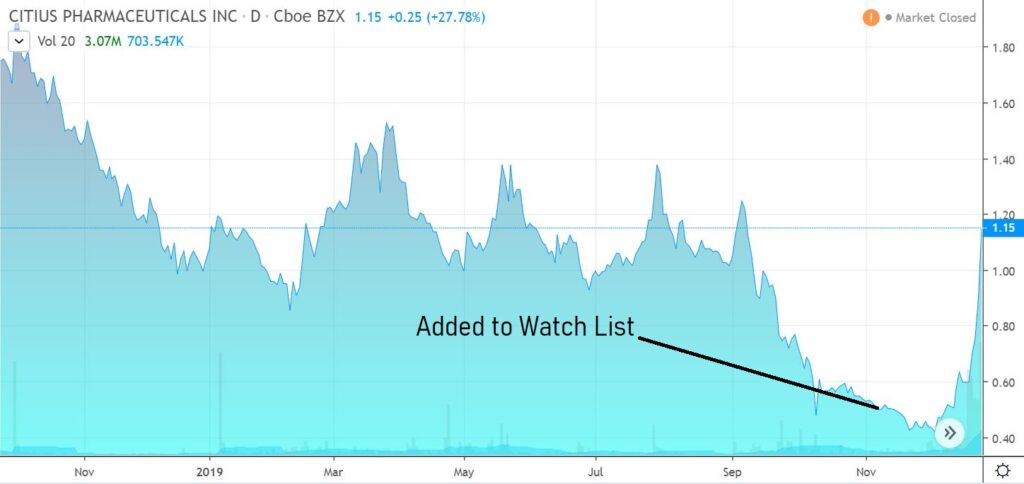 On December 19th the company issued news that "We are extremely happy and proud that the first independent expert review of the patient data in our Mino-Lok trial concludes that our study is on track." The next major milestone in the Mino-Lok trial, is expected in the first half of 2020. The market potential for an effective antibiotic lock therapy is estimated at $750 million per year in the U.S. and approximately $1.5 billion per year worldwide.
---
True Nature holdings (TNTY) $0.04 continues to trade higher as word filters out on their ambitious plans to operate as a Medtech incubator.
Adding True Nature (TNTY) $0.02 to Watch List.
True Nature|Mitesco (TNTY). Coverage Report Issued.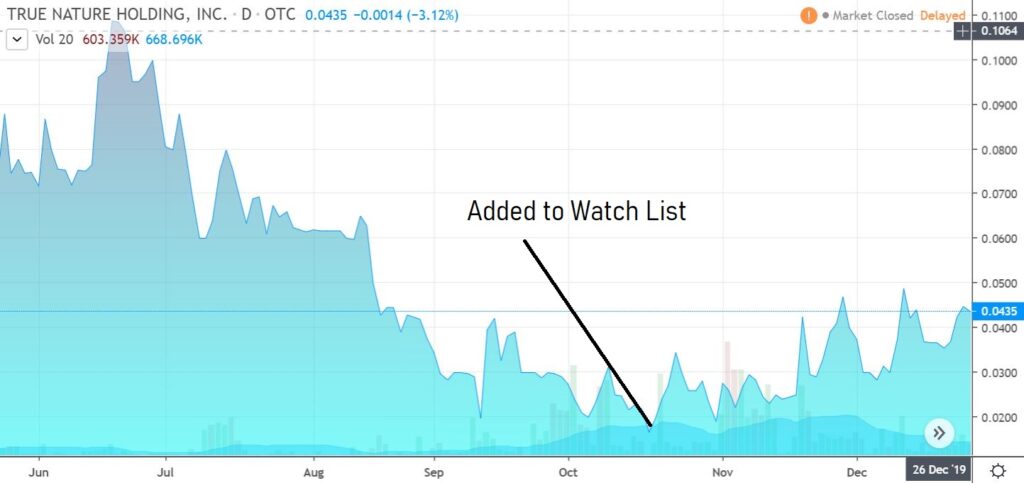 On November 5th, the company announced it is creating a new corporate entity, "Mitesco", to provide an innovation ecosystem for accelerating high-potential, later-stage startups across synergistic medical technology sectors, via a multi-country presence in North America and Europe.
---
Newly published report – a 12 pager!
New Report on True Nature Holdings Inc.
That's a lot of pages for a $0.04 stock but we've met management, and like the new strategy so much, we signed them as a client.
It's newly formed and under-capitalized at the moment, but the timing for the idea is perfect and the new management team is truly high-end and they didn't join the company to 'flip' the stock.
The short story is they're out to acquire (in whole or part) technology start-ups in the medical technology sector and just 'one' good find, could set the shares on a tear.
Assuming they effectively incubate and integrate the first one, it could lead to a rapid-fire string of deal announcements and plenty of attention from investors. We firmly believe that.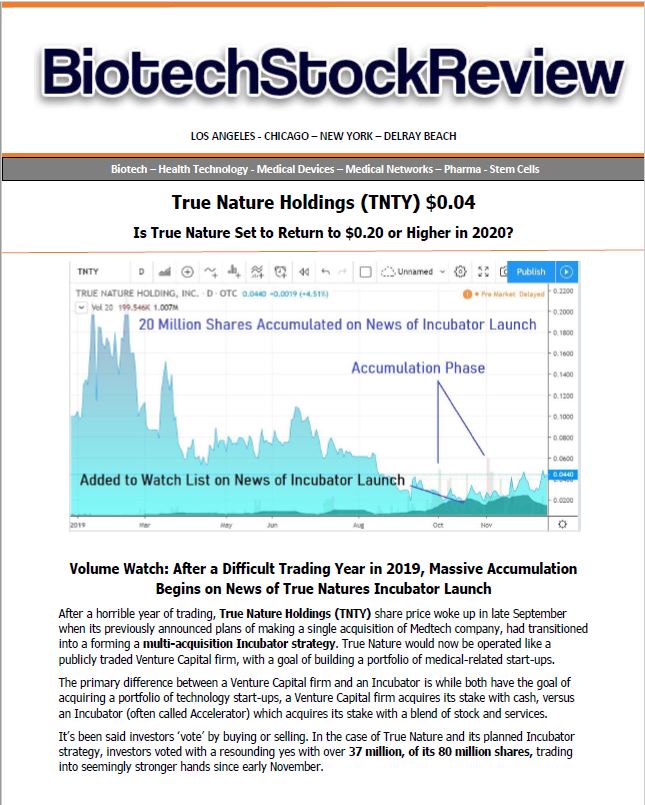 ---
Quite a fun quarter and we ain't seen nothing yet! Though of course, only time will tell. There is a $20 price target on Fortress Bio and a $7.00 price target on Citius Pharma from some Wall Street broker/dealers. No price target on True Nature but with a minuscule market capitalization under $5 million – any signs of traction could reward speculative investors quite well in our opinion.
True Nature is a client, please see report for disclosure and disclaimer details.