What Could Possibly go Wrong Investing in a Couple Billion Dollar Healthcare Giants?
Apparently Everything!
Cano Health (CANO) dropped 97.4%. While LifeWallet (LIFW) fell 99.3%. Wait, what?
Total losses $36.5 Billion in under two years! Who was in charge here?
Is there an opportunity to bargain hunt below?*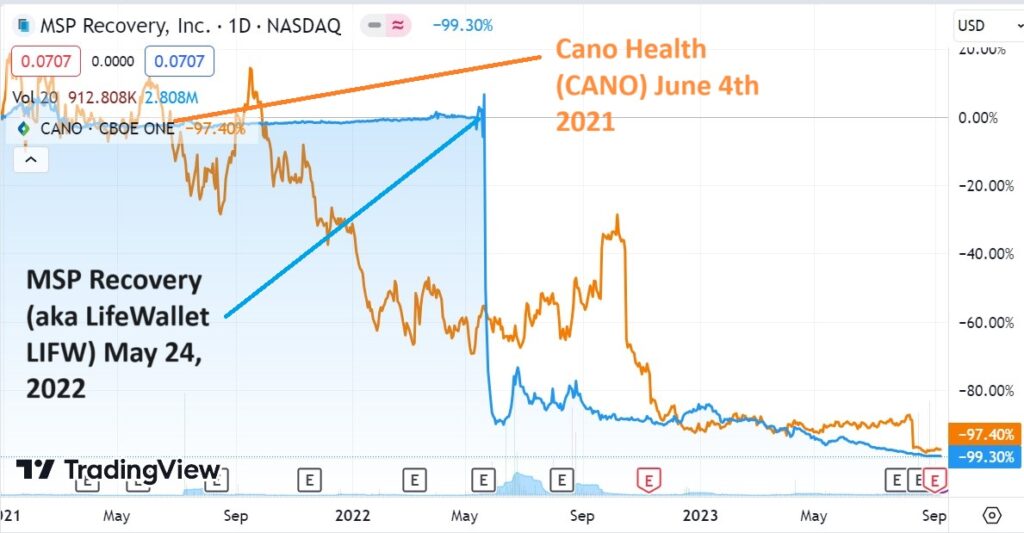 ---
SCOREBOARD
Cano Health (CANO).
IPO Date: June, 2021
IPO Value: $4.4 Billion
Current Value: $188 Million
Value Destruction: $4.2 Billion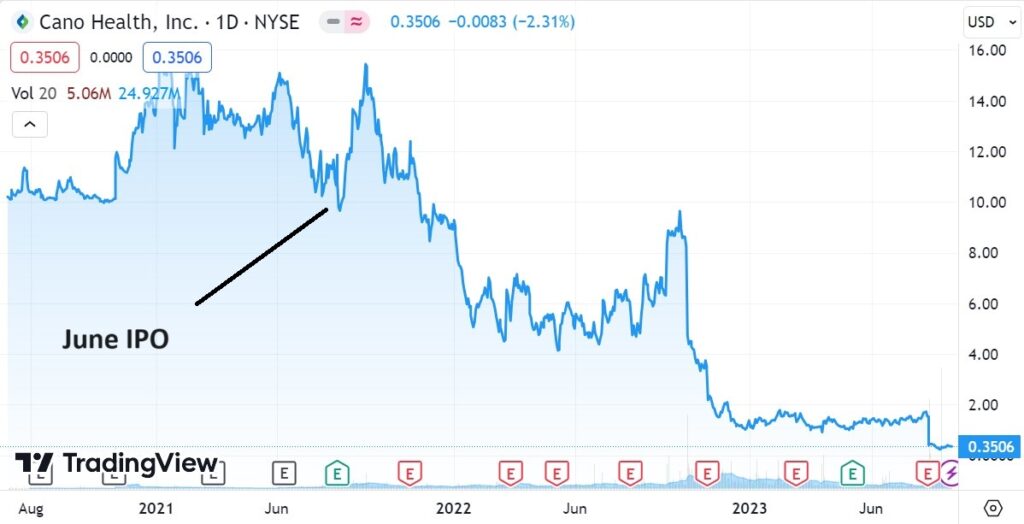 ---
LifeWallet (LIFW).
IPO Date: June 4th 2022 |
IPO Value: $32.6 Billion
Current Value: $243 Million
Value Destruction: $32.5 Billion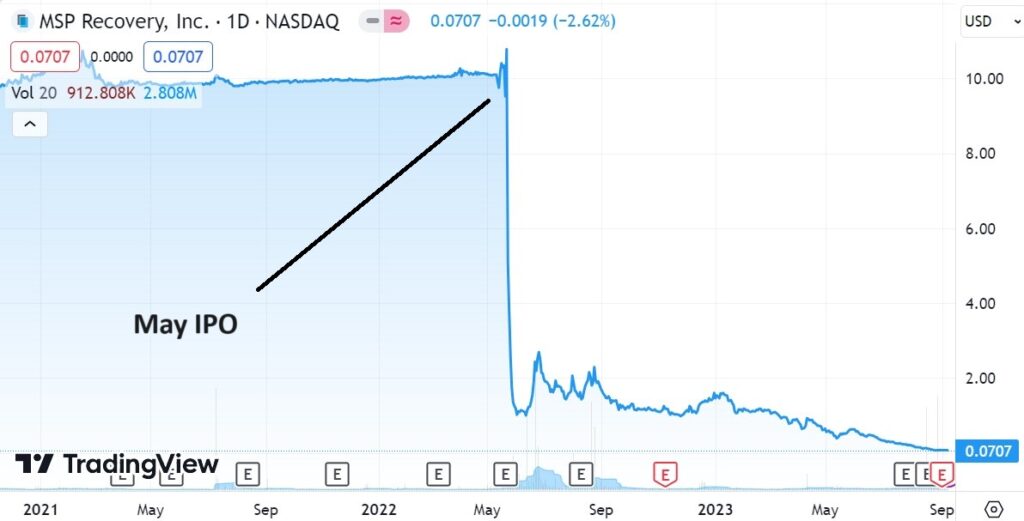 ---
NEWS
CANO HEALTH (CANO)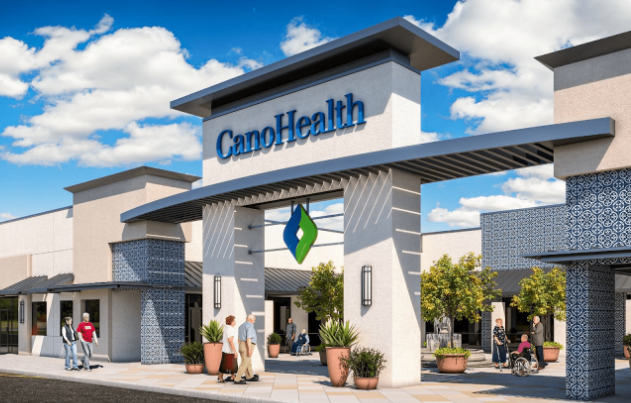 On the date of the Spac merger in June of 2021 Cano Health billionaire real estate investor Barry Sternlicht ($50 million personal stake in JAWS) stated "Cano is a great American success story, a story of passionate people, committed to serving the underserved communities in which it operates, providing better health care, at lower cost, with superior outcomes."
Adding, "It is led by equally passionate leaders, in Drs. Marlow Hernandez and Richard Aguilar. This is a story of a company that does well, and will surely grow, while doing good. We are delighted to join them in this journey."
Cano Health received approximately $1.4 billion of gross proceeds, including approximately $690 million of cash held in Jaws' trust account and $800 million from private placement (PIPE) investors including Barry Sternlicht and funds affiliated with Fidelity Management & Research Company LLC as well as funds and accounts managed by BlackRock, Third Point and Maverick Capital.
Then things turn sour, and Barry resigns from the board and says in his resignation letter, "I have never witnessed such poor corporate governance at any company, let alone a public company, and I have been involved in at least nine and served as chairman or CEO of six."
He also noted, "In total, we handed the company in excess of $1.4 billion in June 2021, less than two years ago. Fast forward to today, this management team has expended nearly all this cash, and the company has not enjoyed any demonstrable improvement in its core profitability."
Well alrighty then..
He also cited his displeasure with 'related-party' transactions including one with MSP Recovery (aka LifeWallet) LIFW – see below. We're wondering if this is a 'Florida thing.'
RELATED: Miami Beach Billionaire Barry Sternlicht Resigned from Cano Health in Fiery Fashion After the Company's Share Value Vaporized
(Oh, note there are rumors of a possible run from Humana or CVS, who had expressed some interest in the past. Cano does (did) have a few hundred clinics, so there is a long-shot chance, just saying.)
---
LIFE WALLET
This one is really looking terminal. Reading this is fun, but seemingly fruitless as an opportunity.
So here's some headlines for a commuter drive home.
Day of IPO, "We've come a long way since I launched MSP Recovery more than eight years ago with one simple goal: to disrupt this country's antiquated healthcare payment system and innovate solutions to help all Americans."
Adding "MSPR has discovered that the ingestion and processing of healthcare data is substantially fragmented and flawed." Founder and CEO, John H. Ruiz.
---
MSP Recovery to go Public via Nearly $33 Billion Mega SPAC deal (Reuters)
If the SPAC Craze is Over, it's Going out with a Bang (Bloomberg)
Mega-SPAC Mints a Billion Fortune That Collapses in Minutes, Plunging 69% Bloomberg – CEO was worth $34 billion for about 34 minutes (Forbes)
New Lawsuit Alleges John Ruiz's Company 'A Ponzi Scheme'
Feds Investigating John Ruiz's Record-Breaking LifeWallet SPAC Deal
Lionheart Capital CEO Ophir Sternberg (the SPAC that acquired LIFW) Partnered with LifeWallet CEO John Diaz, to Acquire the Cigarette Boating Company May 2021.
The same month they acquired LifeWallet. Hmm.
Note in the real world, investors didn't really lose $30 billion of fresh money in LifeWallet. John Diaz owns 65% of the shares, so he took the real hit. He was reportedly worth a billion before the IPO, then worth $34 billion the day of the IPO and then back to regular billionaire after.
Even at $0.07 his stock is worth still $148 million.
---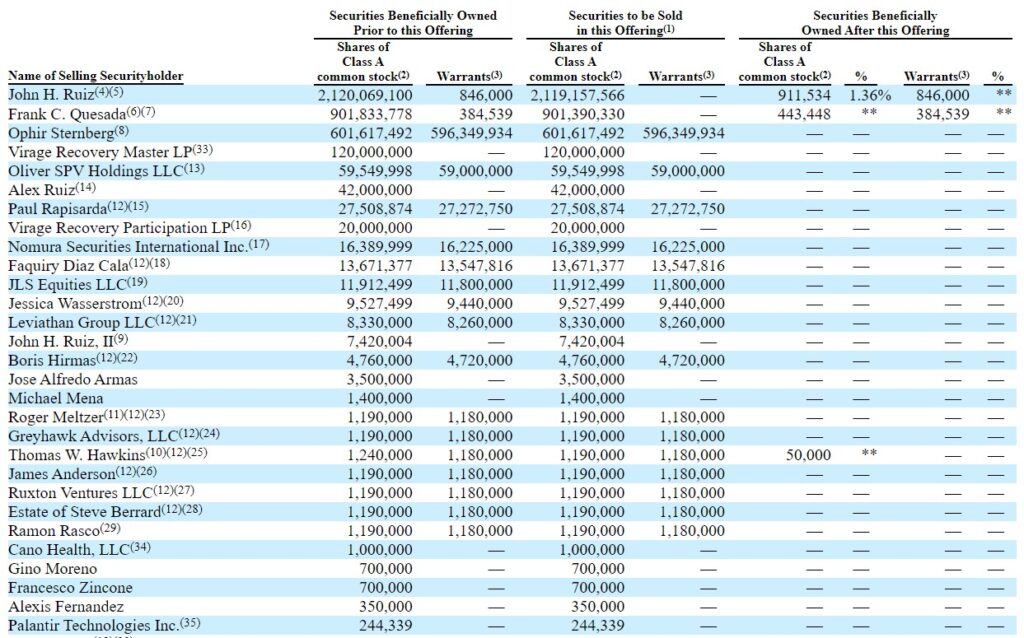 ---
We are still contemplating launching a BROKEN SPAC newsletter. But it's a little more work than originally contemplated.
We were under the original impression the collapse in share prices was primarily (like 80%) due the fact that they all went public without any the support from the aftermarket.
But we also believed that the SPAC organizers had done plenty of due diligence and vetted their underlying acquisitions. And that we'd pick up some incredible bargains, where and when no one else was looking.
But on second thought and looking at just these two, we might have been too optimistic about the vetting process. Though we still believe there area a lot of 'diamonds in the spac rough' out there.
---
*Answer, ah no.
Our standard disclaimer is that SEC filings are required reading. But with these two, we'd say don't bother, you might run the risk of finding something seemingly optimistic and just get yourself into trouble. Thinking "..it's down 99.3% how much further could it go down?"
Answer: 100%.