Both a bad day and a Good day for Psychedelics. The Psychedelic Sector Holds Firm.
Atai was founded in 2018 and went public in June 2021, raising net proceeds of $231.6 million at $15 per share. The funding signaled to us, that unlike the Stem Cell sector, Wall Street was cozying up to Psychedelics big time. We didn't like it, perse at $19, but it did tell us to begin to follow the sector! (Follow it down that is lol.)
That's it. $225 Million Raised by Atai (ATAI) Gets us Interested in the Psychedelics Sector.
It traded great out of the chute, hitting $22 before a water torture slide to $2.66, where we felt 'enough is enough' and added it to the 2023 Watch List last week. Knife juggling, bargain hunters, that we are.
First note this from an analyst report.
"If successful, there are ~300 million individuals who suffer from depression worldwide with approximately one-third resistant to front-line treatment. With only two therapies approved – Spravato and Eli Lilly's (LLY) selective serotonin reuptake inhibitor [SSRI] Prozac-Zyprexa combo Symbyax (now generic) – the opportunity is significant with antidepressant sales expected to exceed $8 billion by 2025."
Worth a shot — well, Hal yeah.
Atai was founded in 2018 and went public in June 2021, raising net proceeds of $231 million at $15 per share. Market cap at the peak, $3.6 billion. Market cap at $2.66 — $249 million!
So in essence we dodged at $3.3 billion loss.
So why not at $2.66, why not..
But then this, proving our timing while at times is great, it is far from impeccable — and why we never bet on FDA outcomes. We only bet how good things might become, post-approval.
ATAI Life Sciences' Drug Trial For Depression Fails To Deliver Expected Results, Stock Plunges 44%.
---

---
How the Sector Fared This Dark Day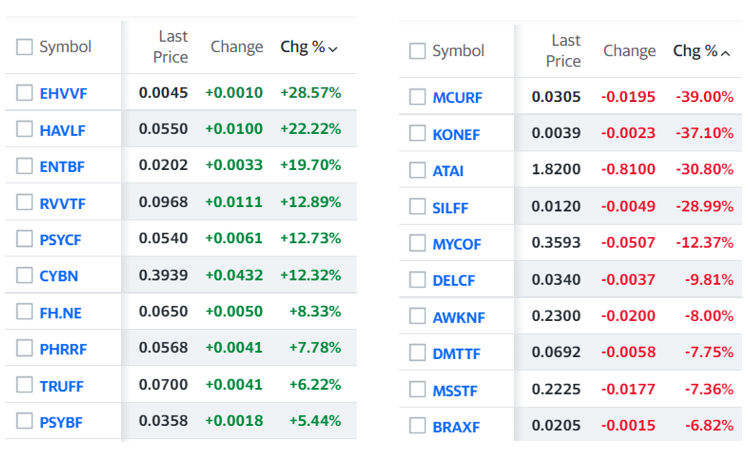 The Market Caps Across the Board Though, Have Shriveled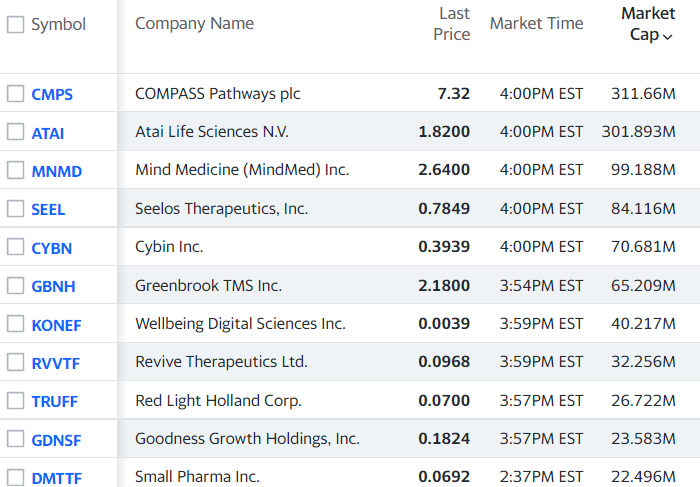 ---
RELATED
Recent street price targets range from $10 to $15 (see below).
Scrutinizing Psychedelic Stocks (Thank God there's a transcript to this grueling one hour podcast that can't be sped up. Who listens to these things anyway.)
Atai Life Sciences N.V.: A First Take, Buy (June 2022) $3.74 (dated but worth reading)
Math Over Myth: ATAI & Cathie Wood's Reverse Midas Touch
---
So our verdict..we're sure you're dying to know.
We've only done this a handful of times in the past 20-30 years, but we're doubling down on ATAI @ $1.80. So when we come out with our list of Top 10 Psychedelics, ATAI will hold two spots. Rationale forthcoming other than to say they have plenty more shots on goal.
But first we'll have to go back to drawing board on the rest of our picks, after this disappointing depression related news.
Not so much as it is related to ATAI, but rather news that Psychedelics in general may not as easily obliterate the current market for ineffective anti-depressants, as we had previously assumed (dreamt). Dang. We thought it was a shoe in, with what we've read from numerous John Hopkins studies.
Current list: ATAI (ATAI) $2.66 and Compass Pathways (CMPS) $8.03, Pharmather (PHRRF) $0.04, Silo Pharma (SILO) $3.50, and Revive Therapeutics (RVVTF) $0.08 to the Top 10 Psychedelic Watch List.
RELATED: The Subtle Art of Not Giving a F*ck: A Counterintuitive Approach to Living a Good Life
#ATAI
STREET TARGETS*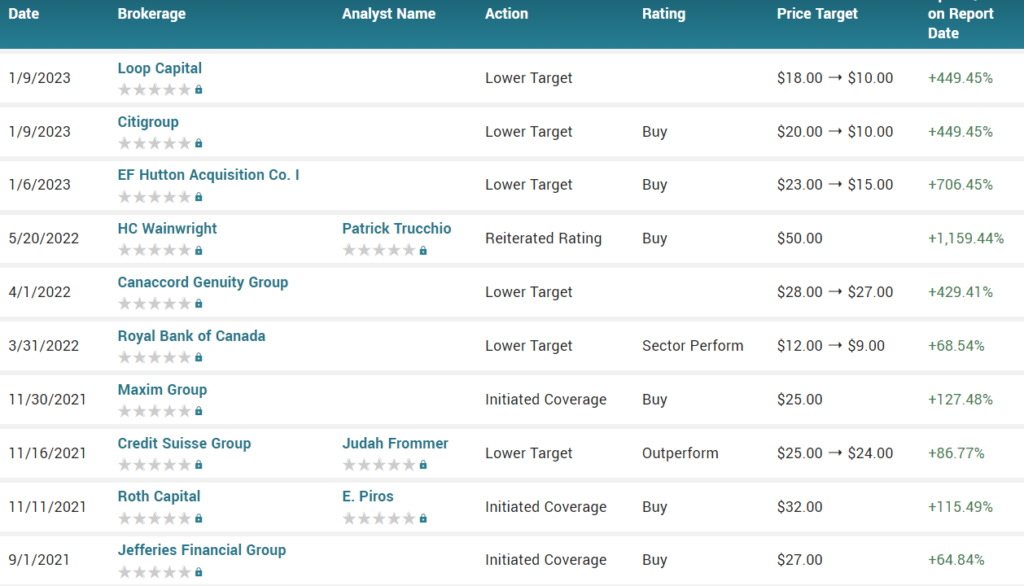 ---

*Garnered November 11th, 2023.
---
Forward-Looking Statements
This press release contains forward-looking statements within the meaning of the Private Securities Litigation Reform Act of 1995, as amended. We intend such forward-looking statements to be covered by the safe harbor provisions for forward-looking statements contained in Section 27A of the Securities Act of 1933, as amended (the "Securities Act"), and Section 21E of the Securities Exchange Act of 1934, as amended (the "Exchange Act"). The words "believe," "may," "will," "estimate," "continue," "anticipate," "intend," "expect," "initiate," "could," "would," "project," "plan," "potentially," "preliminary," "likely," and similar expressions are intended to identify forward-looking statements, although not all forward-looking statements contain these words. All statements in this press release other than statements of historical fact are forward-looking statements, including, express or implied statements relating to, among other things: statements regarding the trials, results and our expectations related to any subsequent steps concerning the PCN-101 (R-ketamine) studies, data, or related plans and objectives of management for future operations, capital expenditures and capital allocation. The forward-looking statements in this press release are neither promises nor guarantees, and you should not place undue reliance on these forward-looking statements because they involve known and unknown risks, uncertainties, and other factors, many of which are beyond our control and which could cause actual results, levels of activity, performance, or achievements to differ materially from those expressed or implied by these forward-looking statements.
The forward-looking statements in this press release are neither promises nor guarantees, and you should not place undue reliance on these forward-looking statements. These forward-looking statements are subject to a number of risks, uncertainties, and assumptions that could cause actual results to differ materially from those expressed or implied by the forward-looking statements, including without limitation: we are a clinical-stage biopharmaceutical company and have incurred significant losses since our inception, and we anticipate that we will continue to incur significant losses for the foreseeable future; we will require substantial additional funding to achieve our business goals, and if we are unable to obtain this funding when needed and on acceptable terms, we could be forced to delay, limit or terminate our product development efforts; our limited operating history may make it difficult to evaluate the success of our business and to assess our future viability; we have never generated revenue and may never be profitable; clinical and preclinical development is uncertain, and our preclinical programs may experience delays or may never advance to clinical trials; we rely on third parties to assist in conducting our clinical trials and some aspects of our research and preclinical testing, and those clinical trials, including progress and related milestones, may be impacted by several factors including the failure by such third parties to meet deadlines for the completion of such trials, research, or testing, changes to trial sites and other circumstances; we cannot give any assurance that any of our product candidates will receive regulatory approval, which is necessary before they can be commercialized; third parties may claim that we are infringing, misappropriating or otherwise violating their intellectual property rights, the outcome of which would be uncertain and may prevent or delay our development and commercialization efforts; and a pandemic, epidemic, or outbreak of an infectious disease, such as the COVID-19 pandemic, may materially and adversely affect our business, including our preclinical studies, clinical trials, third parties on whom we rely, our supply chain, our ability to raise capital, our ability to conduct regular business and our financial results. These and other important factors described in the section titled "Risk Factors" in our Annual Report on Form 10-K for the fiscal year ended December 31, 2021 filed with the Securities and Exchange Commission ("SEC") as further updated in our Quarterly Reports on Form 10-Q and our subsequent filings with the SEC, may cause our actual results, performance, or achievements to differ materially and adversely from those expressed or implied by the forward-looking statements. Any such forward-looking statements represent management's estimates as of the date of this press release. While we may elect to update such forward-looking statements at some point in the future, we disclaim any obligation to do so, even if subsequent events cause our views to change.
Company Contact
Allan Malievsky
Senior Director, External Affairs
PR@atai.life | IR@atai.life