Report Out Next Week. Head's Up.
Price and time-stamping our returning interest at $0.52.
We're headed to the Dawson James Investor Conference tomorrow to see a presentation from management. Always on the cutting edge of treating imminent health threats, we have been following, and been in and on the sidelines with Geovax, for close to a decade, maybe more.
Always a fast and powerful mover on news about FDA related developments, we have the feeling GeoVax (GOVX) is once again, about to enter into the exciting news cycle.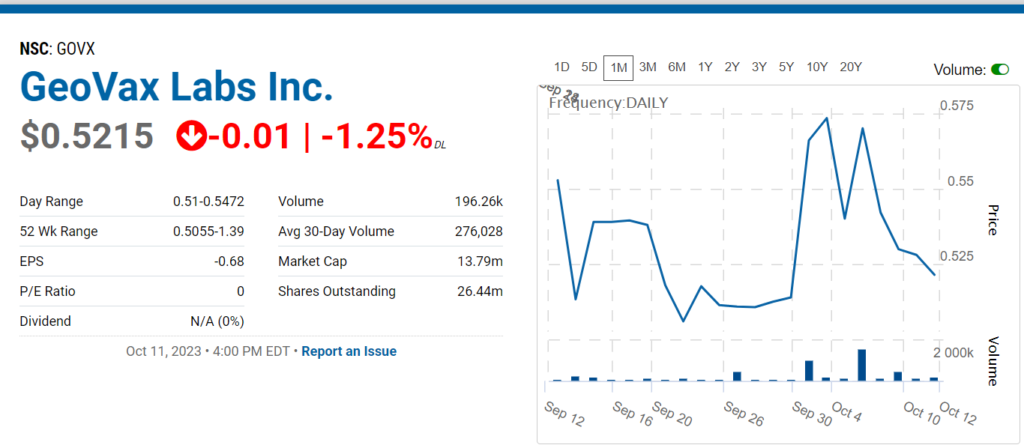 ---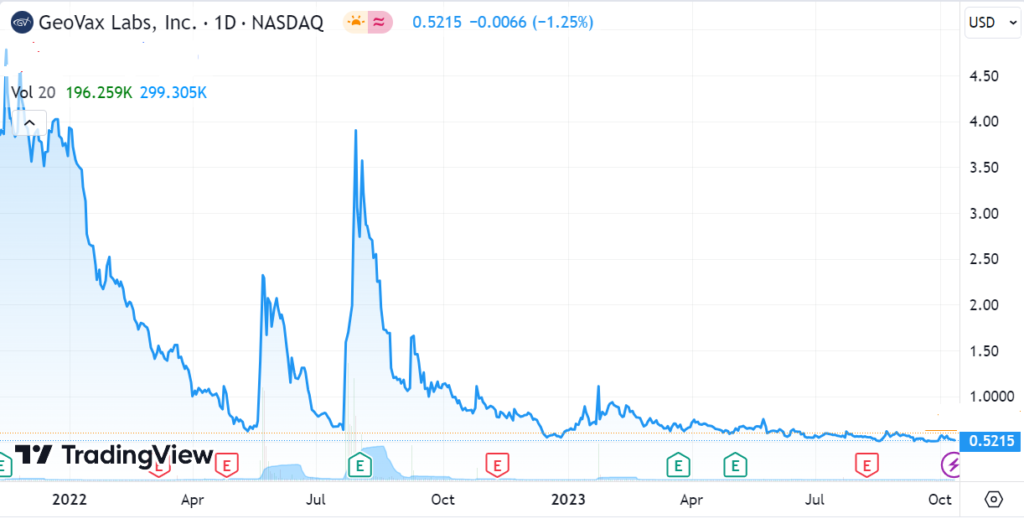 ---
RECENT NEWS
GeoVax Receives Notice of Allowance for Marburg Vaccine Patent
This patent allowance adds to our growing portfolio of wholly owned, co-owned, and in-licensed intellectual property, now standing at over 115 granted or pending patent applications spread over 24 patent families.
GeoVax Receives Notice of Allowance for HIV Vaccine Patent
GeoVax Receives Notice of Allowance for Malaria Vaccine Patent
GeoVax Presents Gedeptin(R) Clinical Data at the AACR-AHNS Head and Neck Cancer Conference
Gedeptin is GeoVax's lead product and what to spend most of your reading time on.
Gedeptin is a novel patented product/technology for the treatment of solid tumors through a gene therapy strategy known as Gene-Directed Enzyme Prodrug Therapy (GDEPT). In GDEPT, a vector is used to selectively transduce tumor cells with a nonhuman gene, which expresses an enzyme that can convert a nontoxic prodrug into a highly toxic antitumor compound in situ.
POSTER for you poster lovers, as we are.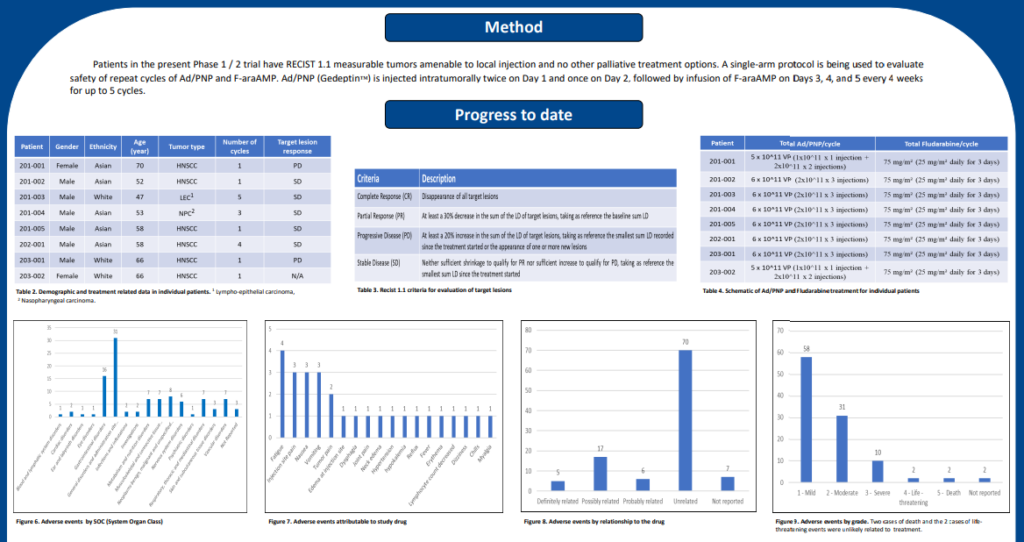 FULL GEDEPTIN POSTER
---
Forward-Looking Statements
This release contains forward-looking statements regarding GeoVax's business plans. The words "believe," "look forward to," "may," "estimate," "continue," "anticipate," "intend," "should," "plan," "could," "target," "potential," "is likely," "will," "expect" and similar expressions, as they relate to us, are intended to identify forward-looking statements. We have based these forward-looking statements largely on our current expectations and projections about future events and financial trends that we believe may affect our financial condition, results of operations, business strategy and financial needs. Actual results may differ materially from those included in these statements due to a variety of factors, including whether: GeoVax is able to obtain acceptable results from ongoing or future clinical trials of its investigational products, GeoVax's immuno-oncology products and preventative vaccines can provoke the desired responses, and those products or vaccines can be used effectively, GeoVax's viral vector technology adequately amplifies immune responses to cancer antigens, GeoVax can develop and manufacture its immuno-oncology products and preventative vaccines with the desired characteristics in a timely manner, GeoVax's immuno-oncology products and preventative vaccines will be safe for human use, GeoVax's vaccines will effectively prevent targeted infections in humans, GeoVax's immuno-oncology products and preventative vaccines will receive regulatory approvals necessary to be licensed and marketed, GeoVax raises required capital to complete development, there is development of competitive products that may be more effective or easier to use than GeoVax's products, GeoVax will be able to enter into favorable manufacturing and distribution agreements, and other factors, over which GeoVax has no control.
Further information on our risk factors is contained in our periodic reports on Form 10-Q and Form 10-K that we have filed and will file with the SEC. Any forward-looking statement made by us herein speaks only as of the date on which it is made. Factors or events that could cause our actual results to differ may emerge from time to time, and it is not possible for us to predict all of them. We undertake no obligation to publicly update any forward-looking statement, whether as a result of new information, future developments or otherwise, except as may be required by law.
Investor Relations Contact:
Rich Cockrell
CG Capital
404-736-3838
Media Contact:
Susan Roberts
202-779-0929