This is a company exploring the use of stem cells for a number of ailments. The lead program is (or was) for ALS or Lou Gehrig's disease until the FDA butch slapped their Phase III data in early November. Note they haven't raised the white flag on ALS yet, as stated in the most recent shareholder letter.
So a "you never know" chance remains.
Up until November, hopes were high and the share price ran from $4.00 to $17.00.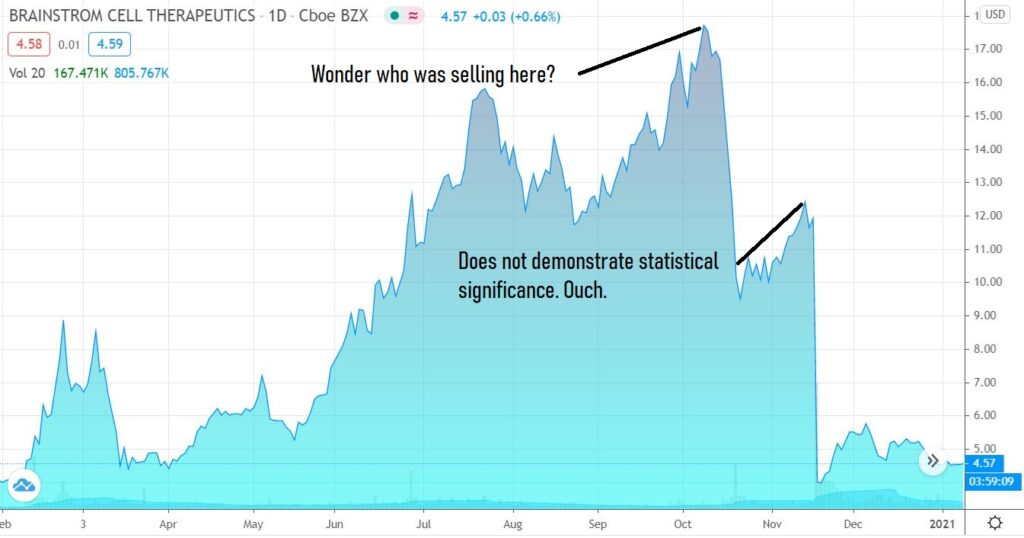 Other ailments targeted include Multiple Sclerosis (MS). "We have made excellent progress in our NurOwn clinical program in progressive MS, despite some delays in clinical trial enrollment due to COVID-19 healthcare restrictions. The next milestone will be the generation of top-line results from our fully dosed Phase 2 trial which we expect by the end of first quarter of 2021."
And Alzheimer's. "As part of our strategy to advance the NurOwn technology and expand our pipeline, we announced earlier this year a new clinical program in Alzheimer's disease. We intend to conduct a 52-week, Phase 2 open-label, proof-of-concept clinical trial to evaluate NurOwn in 40 participants with prodromal to mild Alzheimer's disease."
And drum-roll…Corona Virus!
"We were also pleased to announce a new program utilizing our exosome-based platform-technology for the treatment of severe COVID-19 infection and released proof-of-concept results from a pre-clinical study. In the pre-clinical study in mice, we demonstrated that intratracheal administration of exosomes extracted from Mesenchymal stem cells resulted in a statistically significant improvement (there's that phrase again) in multiple lung parameters. The results from this study have been accepted and will be published in a peer-reviewed medical journal in 2021. We are actively evaluating the next steps to determine the best path forward with our exosome platform."
A stretch? Maybe yes. But news from Miami related to stem cells and Corona this weekend, has us looking at all potential stem cell Corona plays. With a tad of luck and a flock of Robinhood traders, things could get real interesting, real fast here. For orphans/widows? Well, of course not.
Heads Up! Big News on Stem Cells & Covid This Weekend.
It's now trading at 'come to me papa' levels. lt looks like not too much more can go wrong from here. Well aside from they're spending cash like drunken sailors ($20 million spent in 3Q). They did have $36 million way back in October..
Read this is you're the scientific type in regards to Corona:
BrainStorm Announces Scientific Presentation of NurOwn® Exosome Preclinical ARDS Outcomes at the Virtual New York Stem Cell Foundation Conference
This, if you cant read between the lines, is a 'lady-luck' type idea. Good Lord we crack ourselves up.
Sort of sad, now that we know the results,below is a Zoom conference call with seven highly educated, highly credentialed talking heads. Blah, blah, blah..
Brainstorm's Alzheimer's Key Opinion Leader Event