Summary
Thirteen new preferred stocks were introduced during October offering an average annual coupon of 6.1 percent.
There are currently 125 high quality preferred stocks selling for an average price of $26.35 per share (investment grade, cumulative dividends) offering an average current yield of 5.3 percent.
U.S.-traded preferred stocks are now returning an average current yield of 6.4 percent.
n anticipation of a drop in rates, preferred stock buyers continued to push up the prices of previously issued higher payers. As the month came to a close, the average market price for all U.S.-traded preferred stocks was $26.02 per share, up $0.09 per share over the last month.
October's new preferred stocks
October's thirteen new preferred stocks are offering an average annual dividend (coupon) of 6.1 percent, an average current yield (which does not consider reinvested dividends or capital gain/loss) of 6.0 percent and an average Yield-To-Call (which does consider reinvested dividends and capital gain/loss) of 5.9 percent (using October 31 prices).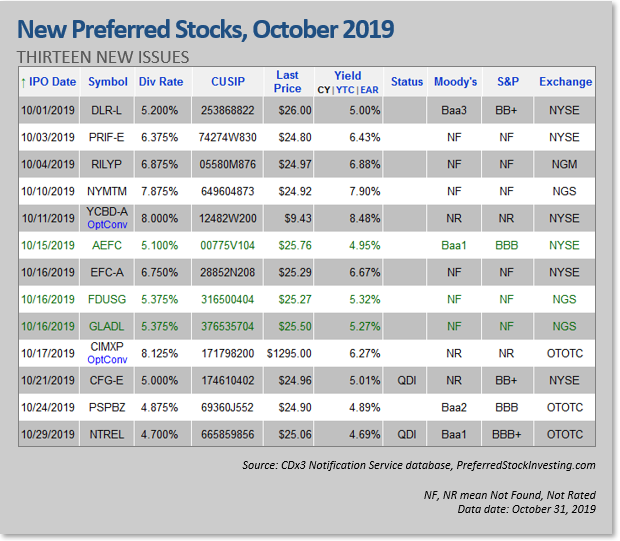 Note that I am using IPO date here, rather than the date on which retail trading started. The IPO date is the date that the security's underwriters purchased the new shares from the issuing company.
About the new issues
YCBD (YCBD.PA) is an unrated, optionally convertible traditional preferred stock issued by cbdMD, Inc. (YCBD) offering 8.0 percent cumulative dividends, paid monthly. Convertible preferred stocks come in two flavors – optional and mandatory. An optional preferred stock is one that can be converted to the issuing company's common stock at the option of the shareholder (although significant conditions and restrictions on the timing and conversion ratio typically apply).
Mandatory convertibles, on the other hand, are converted to the issuer's common stock at a certain point in time and/or under certain conditions whether you want them to or not.
Convertibles are typically issued by relatively new, and relatively speculative, companies with the idea being that the preferred shares provide them cash now which the company will presumably use to develop that Next Big Thing, making their common stock skyrocket, providing untold wealth and greatness for all of those who had purchased the preferred shares in the early days (or not).
cbdMD is a $105 million company founded in 2015 and produces marijuana-based products. An interesting but risky way to stumble into the ground floor of what could become a significant opportunity (dude!). But note that YCBD-A has failed to reach its $10 par value since its October 11 introduction (indicating overly gleeful, and perhaps impaired, judgement of what the market would pay $10 for by the security's underwriters).