Jun. 15, 2021 10:41 AM ET Citius Pharmaceuticals, Inc. (CTXR)
Summary
IDMC meets on June 29 for Superiority review.
Mino-Lok has no competition.
Price target increased to $10.
Mino-Lok has Fast Track designation.
Enough cash through commercialization.
About Citius Pharmaceuticals
Citius Pharmaceuticals (NASDAQ:CTXR) is a small pharmaceutical company dedicated to the development and commercialization of novel drug products for growing markets. Citius is currently advancing three proprietary product candidates: Mino-Lok, CITI-002 (Halo Lido), and CITI-101 (Mino-Wrap). They also have a therapy for treating ARDS, including ARDS associated with Covid-19. See product pipeline below.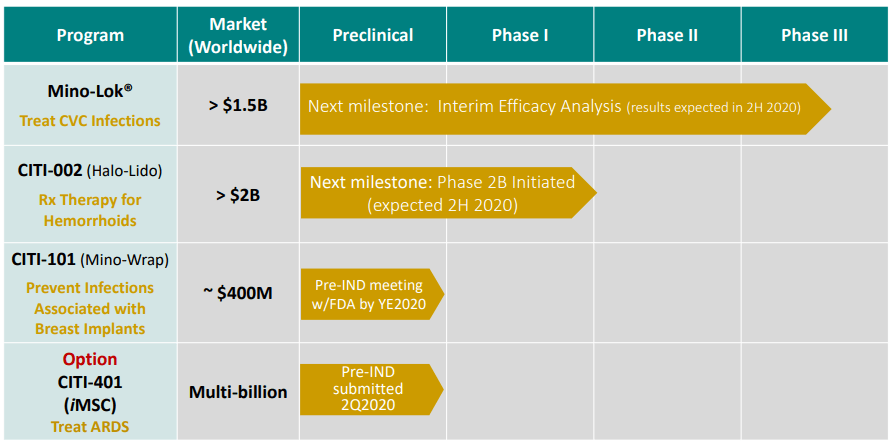 Source: Citius
This article will focus solely on their flagship drug Mino-Lok. However, there is a great fact sheet here to learn more about Citius.
Upcoming DMC Meeting
Last week Citius announced that it had achieved the next interim analysis milestone in its Mino-Lok Phase 3 trial. The Independent Data Monitoring Committee ("DMC") will meet on June 29, in accordance with the DMC charter, to review the trial data for safety, superiority, and futility.
At that time, the DMC will review unblinded study data and subsequently provide written recommendations to Citius within five business days.
The original DMC meeting was expected to occur in early May. This delay to late June is actually a great sign as this is probably due to less catheter failures for the Mino-Lok Arm.
We expect an announcement by Citius on the DMC's recommendation as soon as July 2 and as late as July 9th.
Furthermore, we expect the DMC's report will include a recommendation to halt the trial for superiority. This is the holy grail.
Moving Fast
If the DMC recommends a halt for superiority, things will move very fast.
Mino-Lok has Fast Track designation. Fast Track provides:
Expedited review of drugs that treat a serious or life-threatening condition and fills an unmet medical need.
More frequent meetings with FDA to discuss the development plan and ensure collection of appropriate data needed to support approval.
More frequent correspondence with FDA about the design of the clinical trials.
Rolling review allows for completed sections of the New Drug Application [NDA] to be submitted and reviewed by FDA rather than waiting until the entire application is compiled and submitted for review.
If halted, we expect that the NDA will be filed in Q3-2021.
Read Full Article here: Citius: Halt For Superiority On The Horizon?